Popsugar: Change the Way You Orgasm with the A-Spot
10 July 2019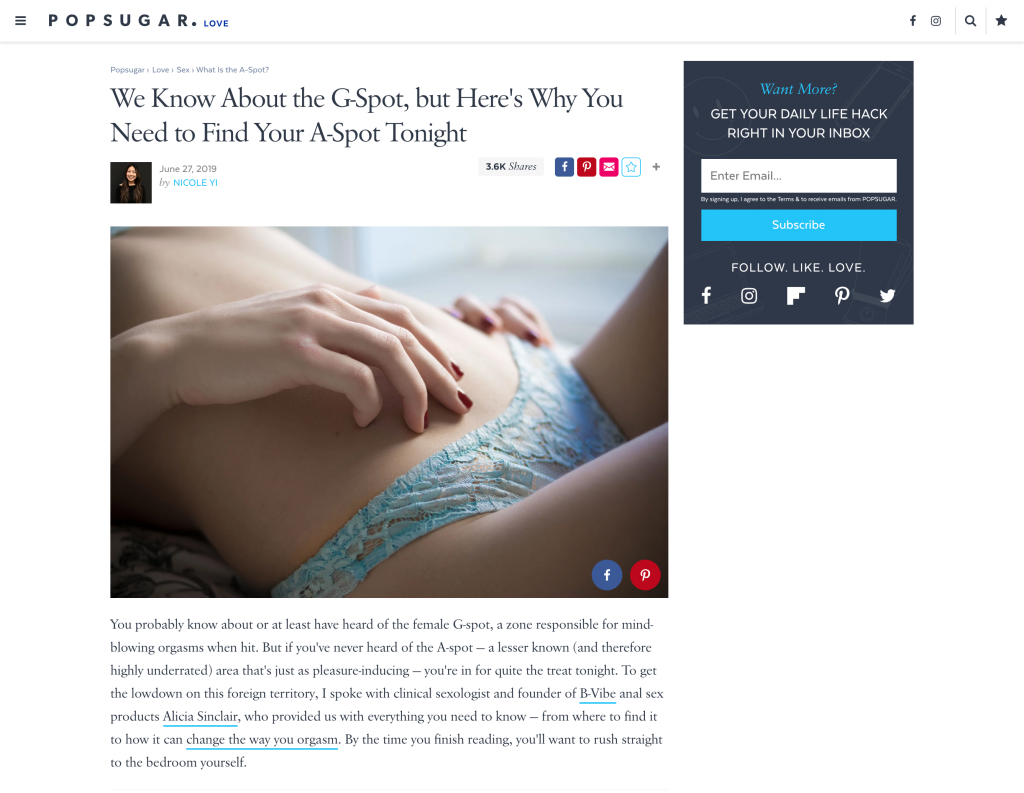 Nicole Yi's article —We Know About the G-Spot, but Here's Why You Need to Find Your A-Spot Tonight— featuring Alicia Sinclair, Founder of b-Vibe, Le Wand and The Cowgirl, was first published on Popsugar.
You probably know about or at least have heard of the female G-spot, a zone responsible for mind-blowing orgasms when hit. But if you've never heard of the A-spot — a lesser known (and therefore highly underrated) area that's just as pleasure-inducing — you're in for quite the treat tonight. To get the lowdown on this foreign territory, I spoke with clinical sexologist and founder of B-Vibe anal sex products Alicia Sinclair, who provided us with everything you need to know — from where to find it to how it can change the way you orgasm. By the time you finish reading, you'll want to rush straight to the bedroom yourself.
1. What Is the A-Spot?
Technically known the anterior fornix erogenous zone, the A-spot is a pleasurable patch of sensitive tissue right at the inner ends of the vaginal tube between the cervix and the bladder. According to Alicia, it's also referred to as the female degenerated prostate because of its precise location and ability to be stimulated similarly to the male prostate (or the male G-spot).
2. How Do You Find It?
Use your fingers to reach a little further back from your G-spot. "Curve your fingers into a bit of a hook and reach in about an inch, inch and a half inside the vagina, up if you were pointing toward your belly button, and the first patch of tissue almost feels little bit spongy — that's the G-spot," Alicia told us. "And if you go back about an inch to two inches — because every body's a little different — you'll sort of find little digits there."
3. What Are the Main Differences Between the G-Spot and the A-Spot?
Although both zones have similar sensations, most people like to use the area of the G-spot as an easy way to achieve a full-body orgasm and female ejaculation. Alicia said that stimulating the G-spot might be better for the main act, while the A-spot would be more ideal for foreplay. "The A-spot is more something for creating I would say greater intensity of sensation and lubrication," she said. "So, you may or may not experience an orgasm from the A-spot, but you might find that it heightens sensitivity and sensation." But if this proves to be a highly pleasurable area for you, you may also enjoy the climax of a lifetime.
4. What Are the Best Ways to Hit the A-spot?
Alicia also shared that she often suggests the area for penetrative anal play because of where it's located. "Sensation around that area can sometimes stimulate orgasms in the vagina," she said. "I always try to remind women that they can experience a lot of pleasure from anal play and part of it specifically is that sensation on the A-spot." Since the vagina in general most responds to pressure and movement over vibration (best for clitoral stimulation), positions that allow for deep penetration, like doggy style, are best for hitting the A-spot in particular. When it comes to using your fingers, Alicia said, "Rubbing on that area would provide lots of vaginal lubrication and also sort of heightens and prepares the body for sex," which is why it's especially great for foreplay.
5. Which Sex Toys Are Ideal For This Area?
Alicia recommended products specifically made to stimulate the G-spot. One in particular is the Pure Wand by Njoy, a curved toy with a different-size bulb on each end. "Depending on preference, you can use the smaller end, or perhaps when you feel more accustomed to that sensation, you might try the larger end. But that product is really fantastic for looking for those specific spots inside the body."
Get the good stuff
For more information and tips on how to marry pleasure and wellness, do subscribe to our newsletter.