Bustle: Alicia Sinclair Shares Tips on Using a Vibrator With a Partner
14 May 2018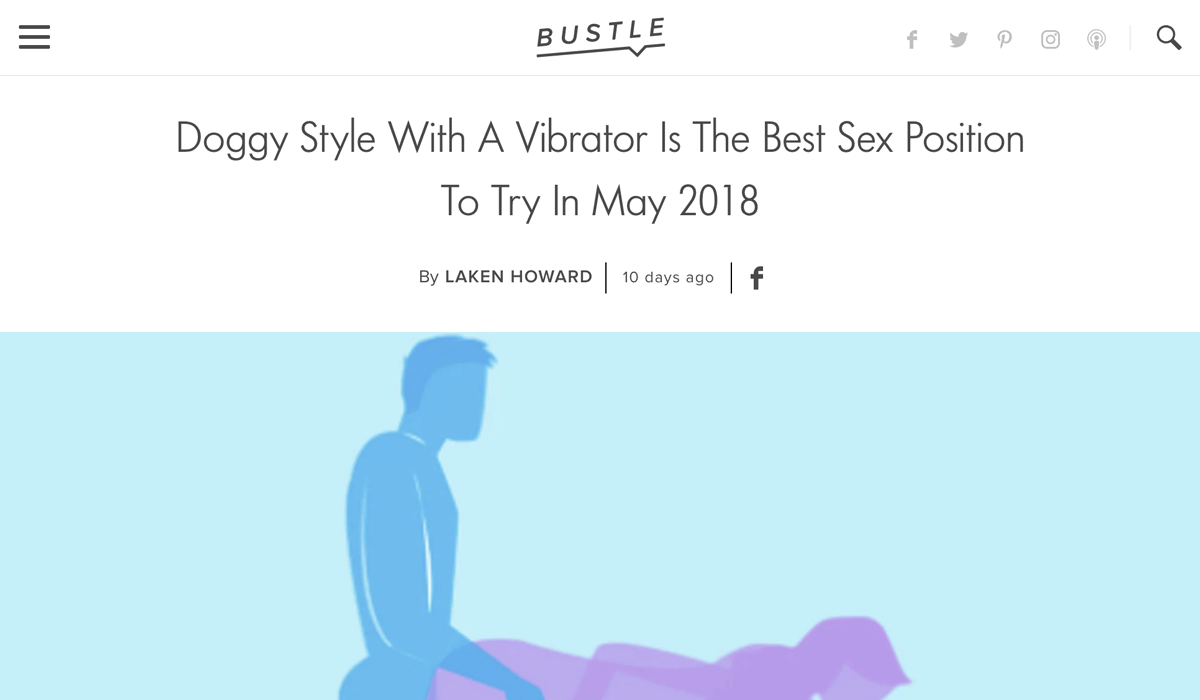 Laken Howard's article — Doggy Style With A Vibrator Is The Best Position To Try In May 2018 — featuring Alicia Sinclair, Founder of Le Wand, b-Vibe and The Cowgirl, was first published on Bustle. Image courtesy of Caroline Wurtzel/Bustle.
We've now officially made it to May (where has 2018 gone?!) which means that summer — and the opportunity to try out some hot new sex positions, both in and outdoors — is just around the corner. But the warmer weather is far from the only thing worth celebrating this month: May 1 also marks the beginning of National Masturbation Month, aka the perfect time for everyone to prioritize their pleasure and have as many orgasms as humanly possible along the way. If you want to pay your respects to the month of self-love, though, it doesn't necessarily *have* to be a solo activity: incorporating sex toys — and even using them on yourself — during partnered sex is a great way to spice things up in the bedroom.
"Exploring your body on your own is full of exciting possibilities, and letting your partner in on those secrets opens even more doors for pleasurable adventures," Alicia Sinclair, sex educator and CEO of b-Vibe, Le Wand and The Cowgirl tells Bustle. "Think of adding a toy like a sexy show-and-tell session, where you get to show your partner exactly what makes you feel best."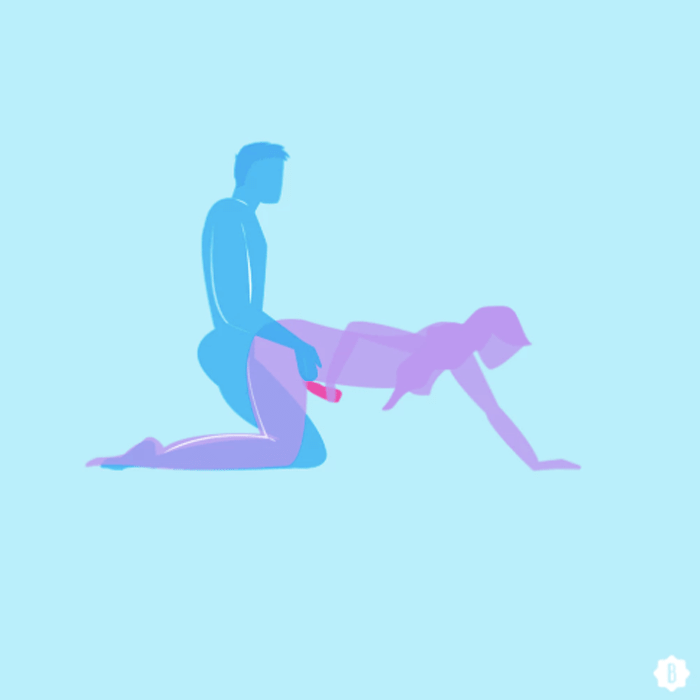 One sex position that's a must-try with your vibrator of choice? Doggy style, aka Millennials' favorite sex position.
On your hands and knees, have your partner enter you from behind as usual, then grab your favorite vibrator and go to town on yourself while your partner thrusts. It's a win-win for both of you: not only will you get double the feel-good sensations, but your partner will be super turned on watching as both of you work together to bring you pleasure — now that's what I call a team sport.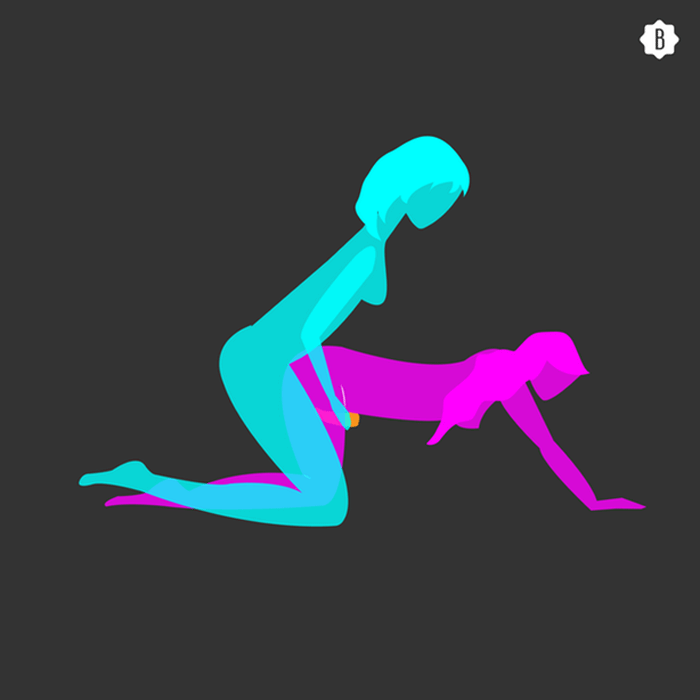 How To Use Toys In *Any* Position
The best news of all? Doggy is hardly the only position that works with the addition of a vibrator. You can use a vibrator in whatever position happens to be your go-to, of course, but according to Sinclair, fans of the cowgirl position (pictured below) will see some seriously sexy benefits by adding a toy into their rodeo routine.
"Try a twist on the cowgirl position with your favorite vibrator," Sinclair says. "Have your partner lay down, with their legs straight. While you straddle them and grind on top, use your favorite vibrator just as you would during solo time. You get the extra sensations of their fingers, penis, or a strap-on, and they get a full view of how you use your toys when they're not around."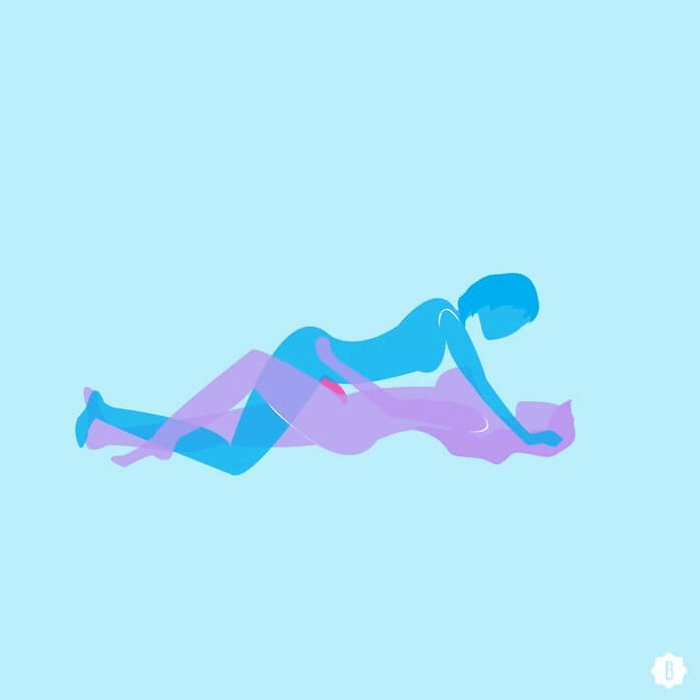 If you're looking for even more ways to freshen up your sex life using toys, you don't have to settle for just one vibrator: use National Masturbation Month as a ready-made excuse to treat yourself to a cool new sex toy or two, and then try using different toys (both on your own and during sex) to figure out what turns you on the most.
"Try different toys throughout the month of May to switch the sensations," Sinclair says. "[In cowgirl], with a bigger toy like a Le Wand vibrator, lean back with your hands on your partner's legs to give them a better view. If you're using an anal toy, try leaning forward and giving your partner better access to play with your nipples."
Another thing to remember? You don't have to use the vibrator only on yourself: ask your partner if they want in on the action, too! The two of you can also use a vibrator on your lesser known erogenous zones as some super sexy, pleasure-focused foreplay, too. Really, there's no shortage of benefits of using toys during sex (or opportunities to do so).
"Adding something new to any couple's sex life adds fun and excitement," Sinclair says. "The novelty of using a sex toy activates dopamine receptors — making sex all the more exciting! Vibration-induced orgasms are also often stronger, so everyone can feel satisfied."
So if you want to add some good vibes — literally and figuratively — to your sex life this month, riffle through your sex toy collection (or treat yourself to a new one) and don't be afraid to bust out your favorite vibrator whenever you need a little extra love, whether you're by yourself or with a partner.
Get the good stuff
For more information and tips on how to marry pleasure and wellness, do subscribe to our newsletter.