Cosmo Speaks With Our Founder About How Women Are Revolutionising Pleasure
05 March 2018
Below is an excerpt from the article "The Future of Sex is Female" by Faye Brennan in Cosmopolitan's print magazine. Read the full article here.
"The sex brands most people are aware of were created by men," says certified sex educator Alicia Sinclair. (Case in point: Fun Factory was founded in 1996 by two guys making dildos out of Play-Doh in their kitchens.) "Men aren't using these products themselves, so I don't think there's been a lot of thought on how the toys interact with women's bodies or what makes us feel sexy." That's why many vibes focus on two things – penetration or shaking hard (aka what a man assumes feels amazing to a woman) – and why a lot of them are ergonomically hard to hold or made of toxic or sketchy materials.
.
"Women are now creating toys that are based on their own experiences," adds Sinclair. And those toys are being marketed in sex-positive, inclusive, and empowering ways.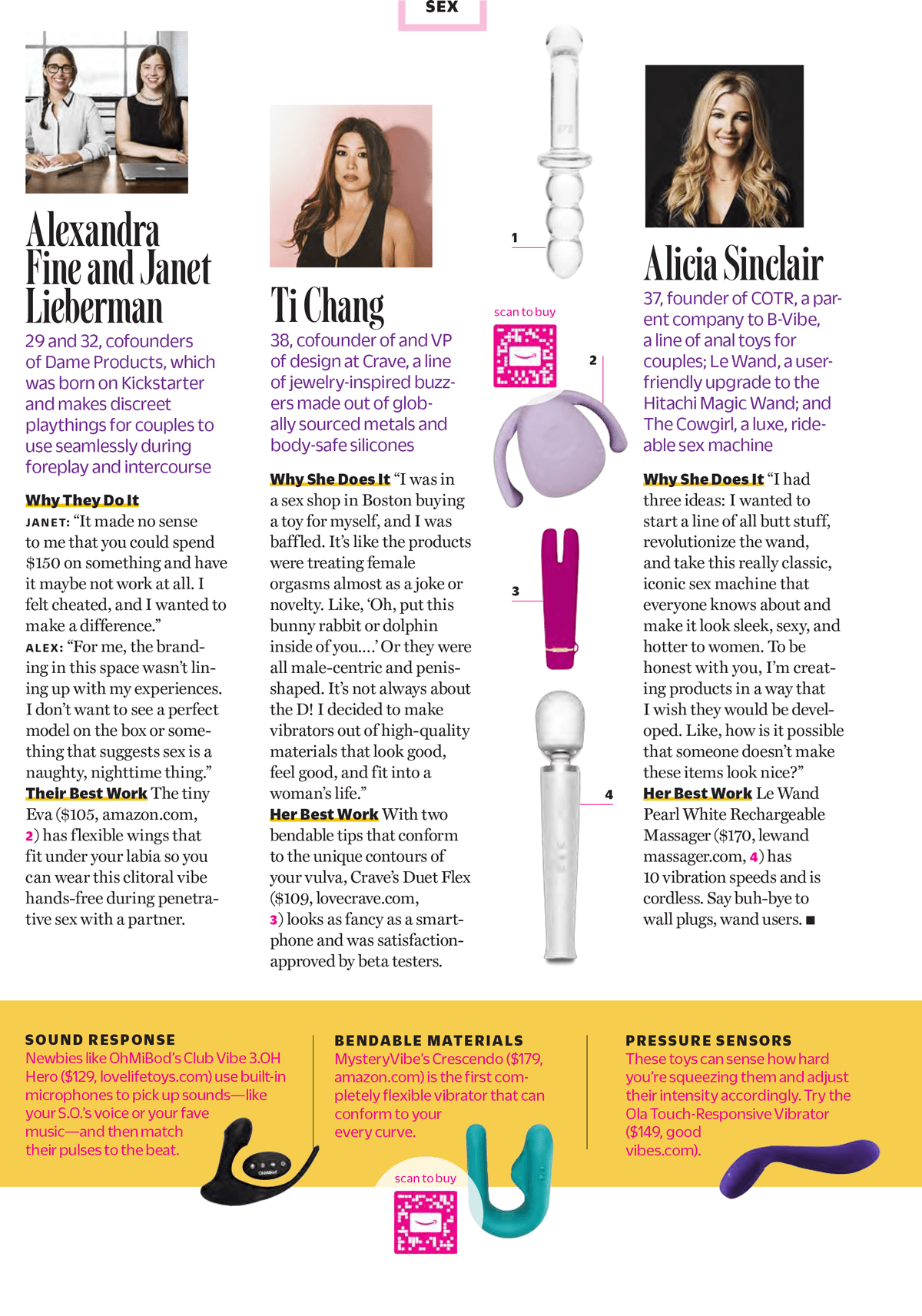 Alicia Sinclair
37, founder of COTR, a parent company to b-Vibe, a line of anal toys for couples; Le Wand, a user-friendly upgrade to the Hitachi Magic Wand; and The Cowgirl, a luxe, rideable sex machine.
Why She Does It
"I had three ideas: I wanted to start a line of all butt stuff, revolutionize the wand and take this really classic, iconic sex machine that everyone knows about and make it look sleek, sexy and hotter to women. To be honest with you, I'm creating products in a way that I wish they would be developed. Like how is it possible that someone doesn't make these items look nice?"
Her Best Work
Le Wand Pearl White Rechargeable Massager ($170, lewandmassager.com) has 10 vibration speeds and is cordless. Say buh-bye to wall plugs, wand users.
Get the good stuff
For more information and tips on how to marry pleasure and wellness, do subscribe to our newsletter.