Health Asks Alicia Sinclair for Lazy Sex Ideas
02 May 2018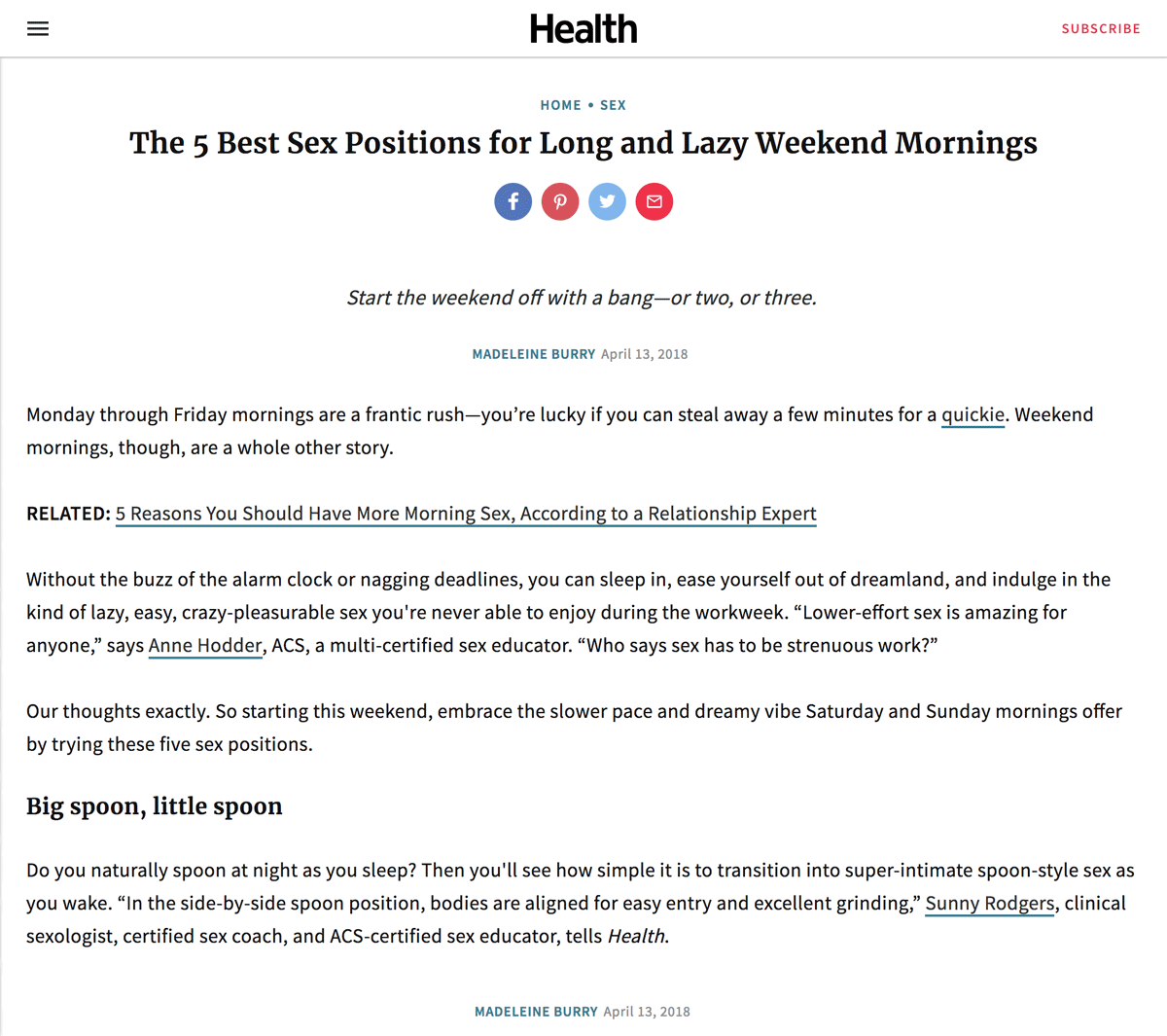 Madeleine Burry's article — The 5 Best Sex Positions for Long and Lazy Weekend Mornings — featuring Alicia Sinclair, Founder of Le Wand, b-Vibe and The Cowgirl, was first published on Health.com.
Start the weekend off with a bang—or two, or three.
Monday through Friday mornings are a frantic rush—you're lucky if you can steal away a few minutes for a quickie. Weekend mornings, though, are a whole other story.
Without the buzz of the alarm clock or nagging deadlines, you can sleep in, ease yourself out of dreamland, and indulge in the kind of lazy, easy, crazy-pleasurable sex you're never able to enjoy during the workweek. "Lower-effort sex is amazing for anyone," says Anne Hodder, ACS, a multi-certified sex educator. "Who says sex has to be strenuous work?"
Our thoughts exactly. So starting this weekend, embrace the slower pace and dreamy vibe Saturday and Sunday mornings offer by trying these five sex positions.
Big spoon, little spoon
Do you naturally spoon at night as you sleep? Then you'll see how simple it is to transition into super-intimate spoon-style sex as you wake. "In the side-by-side spoon position, bodies are aligned for easy entry and excellent grinding," Sunny Rodgers, clinical sexologist, certified sex coach, and ACS-certified sex educator, tells Health.
Adds sex educator  Bianca Alba, MPH: "It's also easy for your partner to drape his hand over your side to stimulate your nipples and clitoris, or kiss your neck." Your bodies are locked tight together, making you feel closer than ever. But you're both comfortably on your sides, so you can maintain the position for a long time without fatigue or muscle cramps setting in.
Lazy doggy style
Traditional doggy style can be hard-charging and primal. But this spin is all about comfort and pleasure, while still allowing your partner to penetrate deep. Stretch out on your stomach, so you're lying flat with your legs straight, suggests Alicia Sinclair, certified sex educator and CEO of The Cowgirl, b-Vibe, and Le Wand. Have him enter you and spread his body on top of yours as he thrusts. "[He] can then stay relatively horizontal as well, resting on top," says Sinclair.
For more support, put a pillow under your hips, suggests Sinclair. Your partner can reach around and stimulate your breasts and nipples; he (or you) can also play with your clitoris, or you can leave a small vibrator between your legs and keep your hands free. That consistent clitoral stimulation, combined with the way his penis can tease and stroke your G-spot, will work you both up to an intense orgasm.
69 side by side
Who says lazy sex can't include oral sex? The great thing about 69 is that you can both stay horizontal on the bed or under the covers as you align your bodies and treat yourself to seriously pleasurable mouth moves. "[69] requires very little physical exertion while both partners are pleasured," Alba says. To really enjoy it and make it last, don't pressure yourselves to think a simultaneous orgasm is the end goal.
The cross
This position is also known as the "T" for the letter your bodies will form. Have your partner lie on his side, and you'll lie perpendicular to him, with your knees draped over his waist, as you align your pelvises so he can enter you. What makes this so lazy? Each partner's body is entirely supported by the mattress, NYC-based sex therapist Stephen Snyder, MD, author of Love Worth Making: How to Have Ridiculously Great Sex in a Long-Term Relationship, tells Health.
So yes, the T is a sexy position—ideal for either of you to stimulate your clitoris with your hand—but it's also really comfy and exertion-free. "No one's squishing anyone else, so you can hold this position together for a long time," says Dr. Snyder. It's also nice for sustained eye contact, he adds, as your eyes are far enough way to really gaze at each other and feel closely connected.
Rocking chair
Have your partner sit up in bed comfortably and lean against the headboard. Climb on top, facing him, and either wrap your legs around his torso or place them outside his hips. Once he's inside you, you can control the depth and pacing, as you slowly rock your bodies in tandem.
"This position allows for non-strenuous sex play with easy access to tender erogenous areas like the ears and neck," says Rodgers. Having him kiss and lick these hot spots will intensify the pleasure you feel, and the slower you rock back and forth on each other, the slower you'll work up to orgasm. Once you're at the brink, however, expect it to be explosive.
Get the good stuff
For more information and tips on how to marry pleasure and wellness, do subscribe to our newsletter.