introduction to crystal pleasure tools
Do you believe in magic? There's nothing more magical than exploring your deepest sensual desires and finding the explosion of ecstasy that you've been craving for. And the help of a pleasure tool you can truly connect with can take you on that journey of self-discovery.
Technology has introduced us to a wealth of powerful vibrators and other powered toys that can bring you to orgasm within minutes. But if you're looking to take a more mindful approach to your exploration of sexual pleasure, Le Wand's Crystal Pleasure Tools can help you to establish a connection between mind, body, and spirit.
Spiritual workers have long utilized crystals as tools to help one connect to the energies within them, often referred to as chakras.
These natural stones can provide a sense of grounding and security, which is important when exploring one's sexual pleasure.
They can help to create a foundation upon which to build the confidence to explore and express your sexual needs and wants, empowering you to embrace your sexuality and shamelessly bask in all of its pleasures. Regardless of whether you believe in the healing powers of crystals, there is no denying that the brain is the biggest, most powerful sex organ in the body.
Whether you're embarking on this exploration by yourself or with a partner, this complete guide to Crystal Pleasure Tools will prepare you for your pleasure journey, with valuable information and tips to put you in the frame of mind that's most conducive to letting go of any inhibitions.
history of crystal healing
Crystal healing is said to date back to ancient times when it was used by the Sumerians of Mesopotamia in their magic formulas, as well as by ancient Egyptians, who wore them as jewelry.
Today, crystal healing is mostly known as one of a variety of methods that are part of a holistic health movement, particularly for Reiki, energy healing, and massage.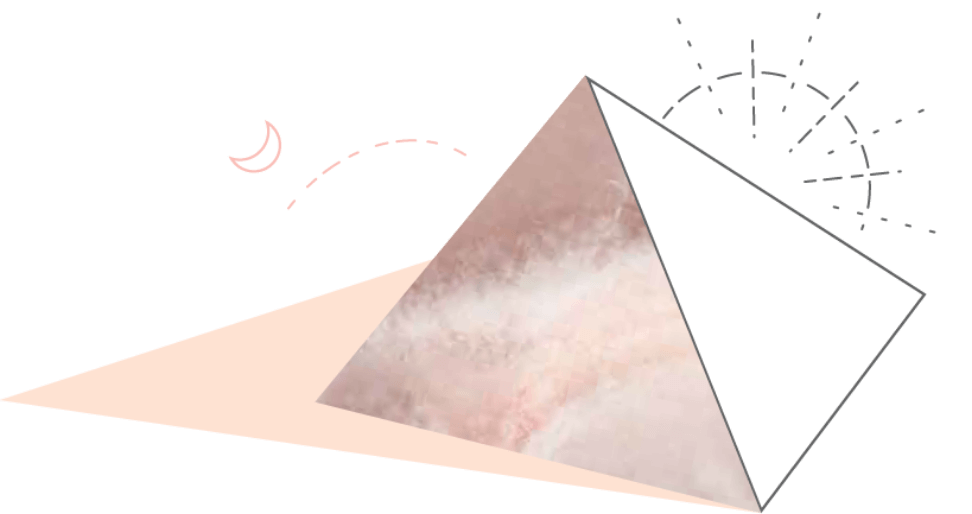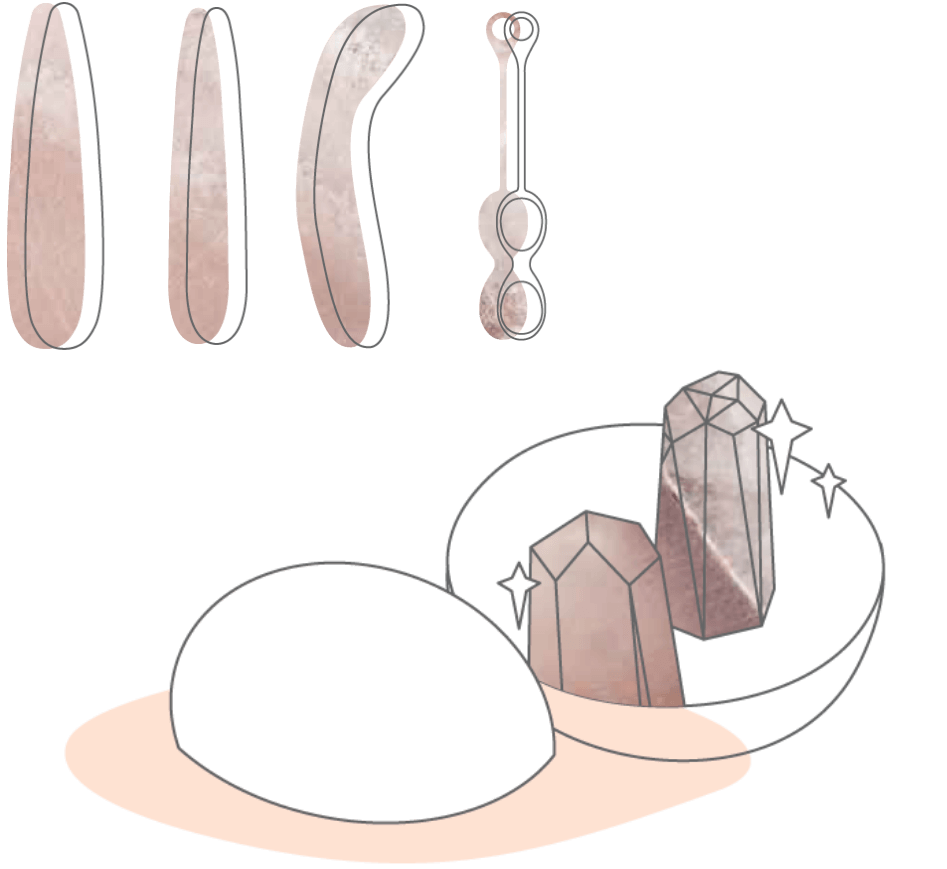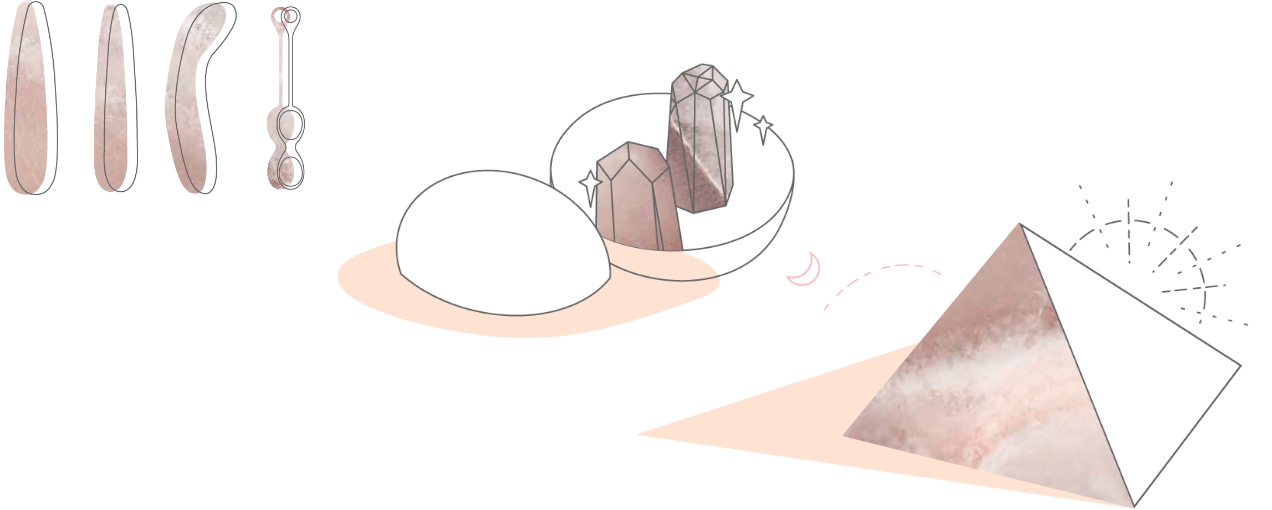 Crystals are used to induce relaxation, and for those that follow the philosophy of their healing powers — which is based on old-school concepts inspired by Asian and Hindu traditions, along with Buddhism — crystals can support the alignment of your seven chakras to keep the spiritual, mental, emotional, and physical health of your body in balance.
Ancient Sumerians, Egyptians, Greeks, and other cultures throughout China and Mexico have turned to crystals for protection against evil and disease — as well as to promote luck, strength, and calmness. There are different crystals for different purposes with origins that date back to ancient traditions around the world.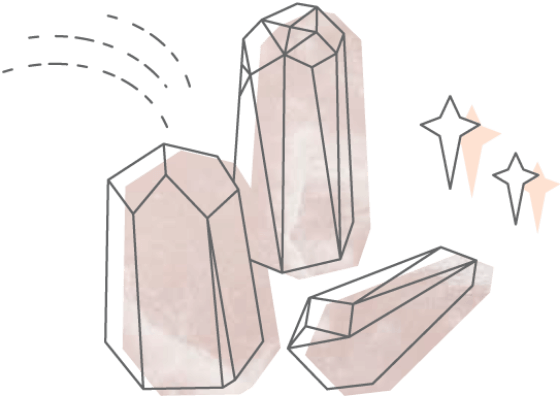 The two most popular crystals are Rose Quartz and Black Obsidian — both of which were utilized by ancient civilizations and continue to provide a source of protection for those who work with these crystals for healing purposes.
Rose Quartz
Rose quartz has been used to symbolize love as far back as 600 BCE. According to Greek mythology, rose quartz was created when Ares, the God of War, attacked Aphrodite's lover, Adonis. When Aphrodite tried to save him, she became caught on a briar bush, causing her and Adonis to bleed and together stain with white quartz pink. In another Greek legend, Cupid and Eros brought rose quartz to humankind, hoping that its pink color would inspire love and desire in mortals.
Rose quartz is a stone of the heart, a crystal of unconditional love. It carries a soft feminine energy of compassion and peace, tenderness and healing, and nourishment and comfort.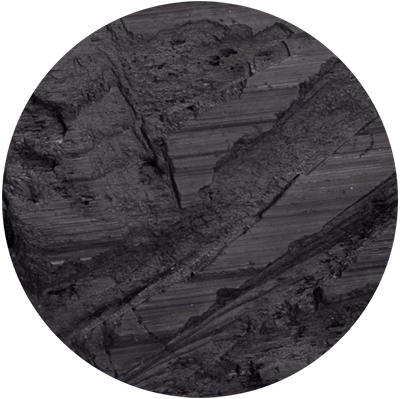 Black Obsidian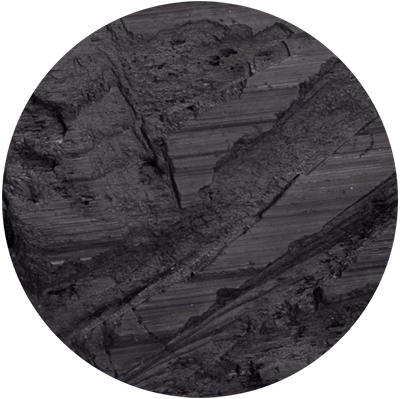 Black obsidian dates back to 700,00 BC and was first used as a material for weapons and mirrors. In ancient times, obsidian was believed to be a fragment of Satan's claw, and while darkness in stones is often associated with negativity, black obsidian has overcome that misconception. It is widely recognized as a powerful crystal for protection, helping to clear the buildup of psychic smog within the aura by acting as a psychic vacuum cleaner. It protects and cleanses your aura of disharmony, negative attachments, old patterns, and negative emotions, helping to unearth any negative thought patterns that are standing in the way of your personal and spiritual growth. In addition to protection and releasing negativity, you can use the black obsidian properties for root chakra healing and grounding.

benefits of using crystal pleasure tools
What are the benefits of using crystal as a sex toy material? Crystals are believed to have beneficial health properties that can take effect simply by holding them or placing them on your body. Certain crystals are said to alleviate stress, while others improve concentration or creativity. However, because there have not been many studies on crystals' benefits, there isn't any scientific data to back up the benefits that many people experience.
What can be proven, however, are the vast benefits of a healthy sex life. Sexual stimulation, including masturbation, reduces stress and releases tension, enhances sleep quality, boosts concentration, elevates mood, relieves pain, and improves sex.

Using Le Wand Crystal Yoni Eggs can strengthen pelvic floor muscles to alleviate menstrual pain, recover from childbirth, improve urinary incontinence, as well as enhance sexual pleasure and help you reach orgasms with more ease.
On a spiritual level, the crystals used in the Le Wand Crystal Pleasure Tools collection are believed to have many benefits. Rose quartz is said to provide comfort and heal emotional wounds, dissolve fears and worries, stimulate creativity in the bedroom, and can help attract love, romance, and intimacy. Alternatively, black obsidian is said to provide emotional stability and self-control, promote clarity, and help to overcome stress.
With all of the healing possibilities associated with crystals and sex, there's really no reason not to give them a try!
two most common types of crystal pleasure tools
1. Crystal Wands
Crystal Wands come in different sizes and shapes. Choose from a large or small wand in gorgeous rose quartz or black obsidian, or the Crystal G-Spot Wand that's perfectly curved to target the G-Spot with its bulbous tip that provides full coverage for firm, deeply stimulating internal massage.
The large and small wands in the Le Wand Crystal Pleasure Tools collection are beautifully crafted with a shape that includes one smaller, rounded end and a more robust end that not only makes it easier to hold, but its broad surface can also be used for soothing external massage.
Each wand comes with a silicone stopper with texture to provide external stimulation when the wand is inserted, and adds a flat base to the wand for safe penetration. No matter which wand you choose, each one is amazing for internal stimulation whether you're aiming for the G-spot or want to explore internal stimulation. The Crystal Pleasure Tools are designed for vaginal penetration and should not be used for anal pleasure.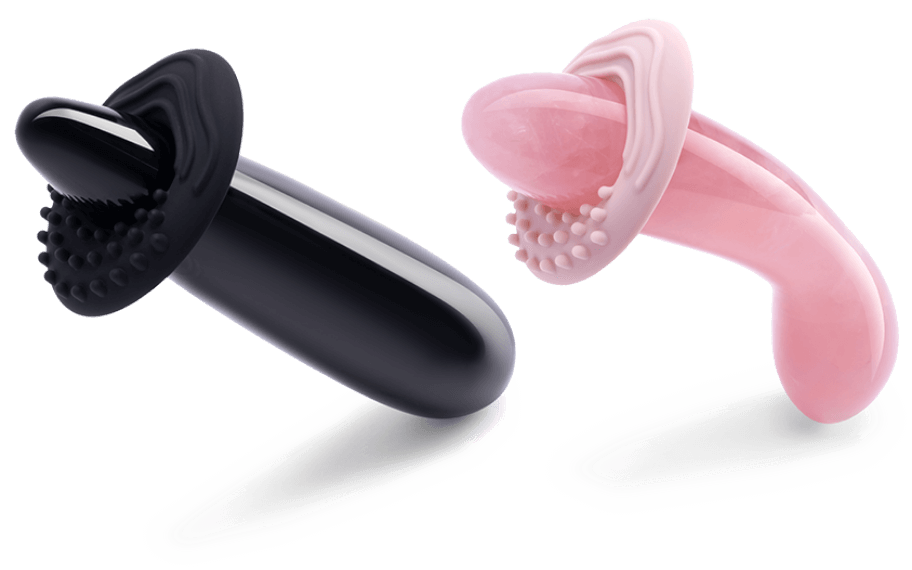 2. Yoni Eggs
Within the Le Wand Crystal Pleasure Tools, you will find a set of yoni eggs. In Sanskrit, the word "yoni" is typically interpreted to mean "vagina," "vulva," or alternatively, "origin" or "source."
Yoni eggs have been around for more than 2,000 years, and started as a Taoist practice in ancient China that involved the use of a jade egg to strengthen the vagina. The yoni is considered the place from which one can channel and transmute their chi (life force energy.) Yoni eggs are a helpful tool for helping to restore the elasticity of the vagina after childbirth, and can also help to produce natural lubrication by stimulating the Bartholin glands inside the vagina.
Strengthening the pelvic floor also helps to enhance sexual pleasure, alleviates menstrual discomfort and can improve urinary incontinence.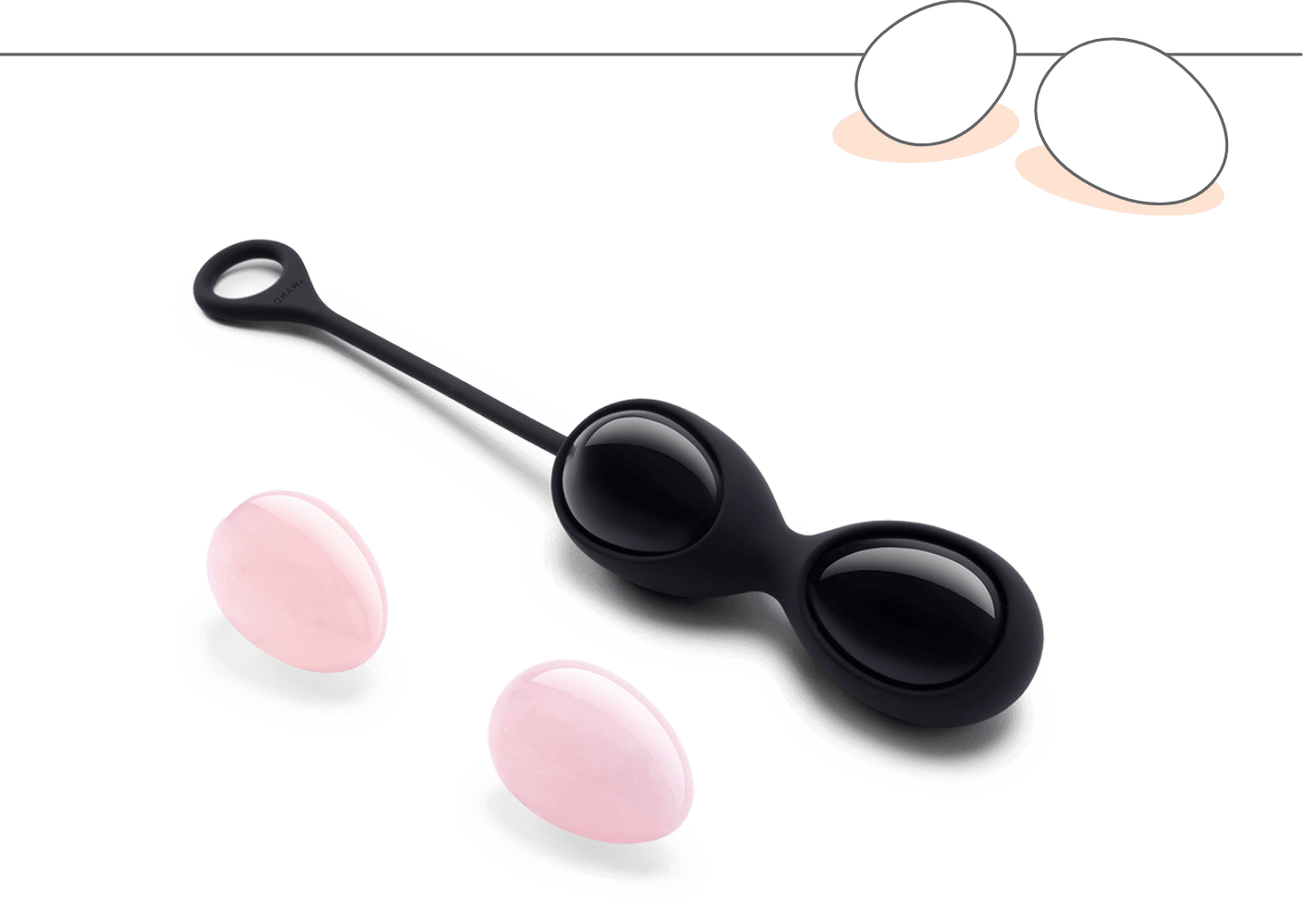 How to Use Yoni Eggs
To use yoni eggs for pelvic floor exercises, insert one of the eggs or both — whichever feels right for your body. Le Wand Crystal Yoni Eggs can be used with the included silicone sleeve for easy insertion and removal. Use lubricant carefully — yoni eggs can get slippery. Insert the eggs and take a deep breath, inhaling for a count of five while clenching your kegel muscles. Then, breathe out for another count of five while releasing your kegel muscles, almost as if you are trying to expel the egg from inside you.
Then, breathe out for another count of five while releasing your kegel muscles, almost as if you are trying to expel the egg from inside you.
For beginners, you can try doing these exercises while lying down and work your way up to using them while standing, and even doing your kegel exercises while you do other activities, such as chores around the house. It is recommended to do these kegel exercises for 15-20 minutes at a time.
To remove your yoni eggs, disengage your kegel muscles as you use the silicone sleeve's ring to gently pull them out. If you're using the yoni eggs without the silicone sleeve, you can extract the egg through "birthing" — which is when you push the egg out using your muscles, taking your time without using much extra force. Clean your yoni eggs after every use.
crystal pleasure tools for beginners
1. Before Using Your Crystal Wand or Yoni Eggs
Just like any other sex toy, keeping your crystal pleasure tool clean is of the utmost importance. ''While crystal is a body-safe material, it's important to remember that it's a natural material — from the earth — that can be porous.''
Some crystal materials are less dense and therefore, more porous, with the potential of being absorbent. Rose Quartz and Black Obsidian are both denser materials and less prone to absorption. Since crystals may be porous or have "closed porosity" — meaning that pores lay on the surface of the stone but would be very difficult for bacteria to seep through to the center — it's better to take a proactive approach to make your crystals last longer by cleaning and caring for them directly after use. Additionally, if you are sharing your crystal with a partner you are not fluid-bonded with, we suggest placing a condom over the product.
Le Wand Crystal Wands and Yoni Eggs have a smooth, seamless surface that makes them extremely easy to clean. Cleanse with a mild soap and warm (never boiling) water.
crystal pleasure tools for beginners
2. Connecting With Your Crystals
If you want to spiritually connect with your crystal, you can also cleanse its energy prior to use. Burn sage and allow the smoke to cover your toy, as well as set it on a bed of flowers and herbs or keep it near selenite (a crystal that's used for energy-clearing). You can also charge up the energy of your crystal toy with sunlight or the light of a full moon.
crystal pleasure tools for beginners
3. Using Your Crystal for Sexual Play
Turn your masturbation session into meditation by setting a time for your sensual self-care. Masturbation gives you the opportunity to develop a relationship with yourself and honor your body with pleasure and self-love. These self-love sessions can allow you to learn to love your body and all of its unique qualities. Show yourself some love as you would for a romantic partner — before jumping into the action, set the mood with candles, music, and anything else that you love to indulge in.
Not only can masturbation help you to establish a better relationship with yourself, but it also has all kinds of health benefits. Sexual stimulation, whether alone or with a partner, can reduce stress and depression, as well as helps to regulate the immune system and lowers blood pressure.
crystal pleasure tools for beginners
4. Best Positions to Use Your Crystal Pleasure Tools
Lying on your back is a comfortable position for inserting yoni eggs, plus you can use your hands to maneuver any of the crystal wands to hit all of the spots that are craving a pleasurable touch. You can always use lube to make penetration easy and pleasurable.
Holding a mirror to your vagina can give you a powerful visual of your strength during kegel exercises, or to admire the beauty of a vagina being pleasured.
You can self-pleasure while you're sitting up, lying on your stomach, and even while on your knees. Experiment with different positions to find what works best for you. Le Wand Crystal Pleasure Tools are also water friendly, so get wet and wild with it in the bathtub or shower if you so choose! And again, these items get slippery when wet, so be careful when handling them.
crystal pleasure tools for beginners
5. Using Crystals With A Partner
Besides using your crystals solo for a magical experience, they are perfect for couples to enjoy together.
Incorporate the wands into your foreplay with a relaxing full-body massage, or use them for penetrative play or mutual masturbation with your partner. Communicate with your partner about how it feels to have them handling your pleasure and let them know if you want it deeper, slower, or faster. You and your partner will learn a lot about each other's preferences this way.
The beauty of toys for penetration is that they can be combined with external stimulation for explosive results. Just imagine, the firm, sleek, and curved tip of the Le Wand Crystal G-Spot wand massaging you internally, while you use a finger or vibrator against your clit… that's a recipe for an orgasm right there!
aftercare and storing your crystals
After using the Le Wand Crystal Wand or Yoni Eggs, whether alone or with a partner, take a moment to reflect on the experience and bask in all of the pleasurable sensations that you have just felt. If you're with a partner, share with each other what you experienced; and if you're by yourself, you may even want to take a moment to journal about what you felt and thought about the solo act.
When you're all done with playtime, wash your toy with soap and water, and store your pleasure tool in the included soft pouch or simply keep it out as part of your décor. With their gorgeous, discreet shapes made from beautiful, captivating Rose Quartz and Black Obsidian, Le Wand's Crystal Pleasure Tools will make you want to hide them in plain sight.