Saved by the Vibe #4: Squirting Set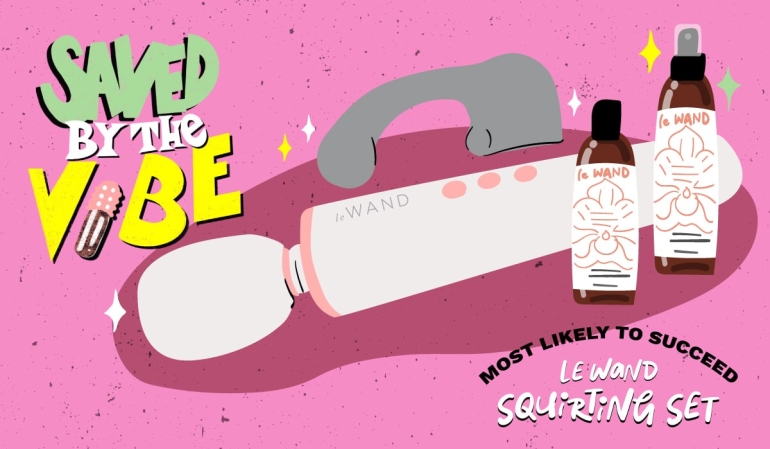 Last Updated: Oct 15, 2021
Do we get the vibe yet? (Pun intended.)
Superlatives are not just for eighteen-year-olds making definitive statements on each other's half-baked personalities and uncertain futures! It's high time the rest of us reclaim the yearbook spirit and start giving superlatives to people and things that have actually earned them!
Here at Le Wand these toys have put in the hours, the hard work and have earned the status and permanence that a superlative brings. This month especially we present to you a title that rarely a senior in high school is able to live up to when crowned with it, they simply crumble under the pressure. A title that belongs only to those who have proven themselves in this harsh, cold, dog-eat-dog world.
Success is a tricky thing to define, it's impossible to measure objectively. Success is directly interdependent with one's goal. If one is able to buy a house in Malibu by themselves with their hard-earned riches but their life goal was to have many children, are they truly successful alone in that house? I mean, I'd take the house in Malibu, but the point is we have only "succeeded" if we have achieved what we set out to do. Nobody is more likely to succeed than those who state their goals explicitly and work towards them with vigor, which is why nobody deserves this title more than Le Wand's Squirting Set.
The Squirting Set knows exactly what it aims to do, and oh buddy, does it have good aim, indeed. With precise clitoral and G-spot simultaneous stimulation, this set promises to do what so many confident humans on dating apps like to also promise, but the important difference is that this set delivers. When looking to collaborate in business or pleasure, a good thing to ask yourself is: do we share the same goals? As a goal-orientated gal myself, I have to say it has been an absolute pleasure doing business with this set.