|
Masturbation Mythbusting
|
Product Knowledge
8 Stainless Steel Sex Toys Myths, Busted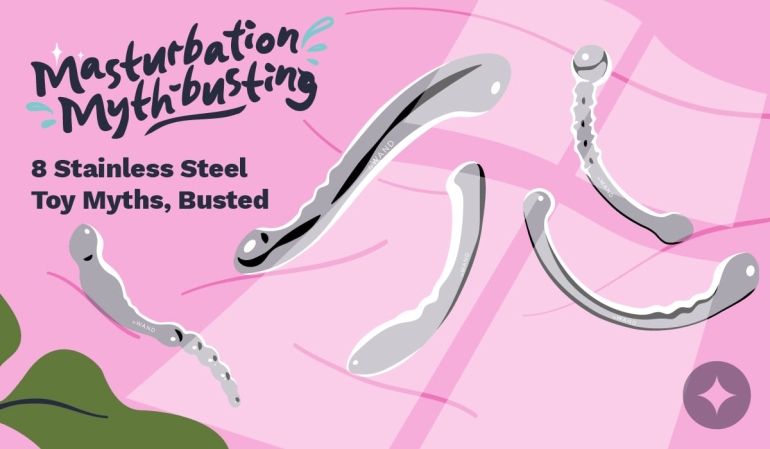 Last Updated: Oct 15, 2021
If you haven't already gotten your hands, hiney, member, or muff on a stainless steel sex toy, you're late to the Pleasure Party.
No shade intended—in all likelihood you haven't yet pressed "order" because you've got some preconceived notions about what stainless steel toys are and are not. To help you sort facts from fiction, we put together this list of 8 stainless steel sex toy myths.
Trust, once you read these nuggets you'll want to buy yourself a plus 1 and to hit up the party ASAP.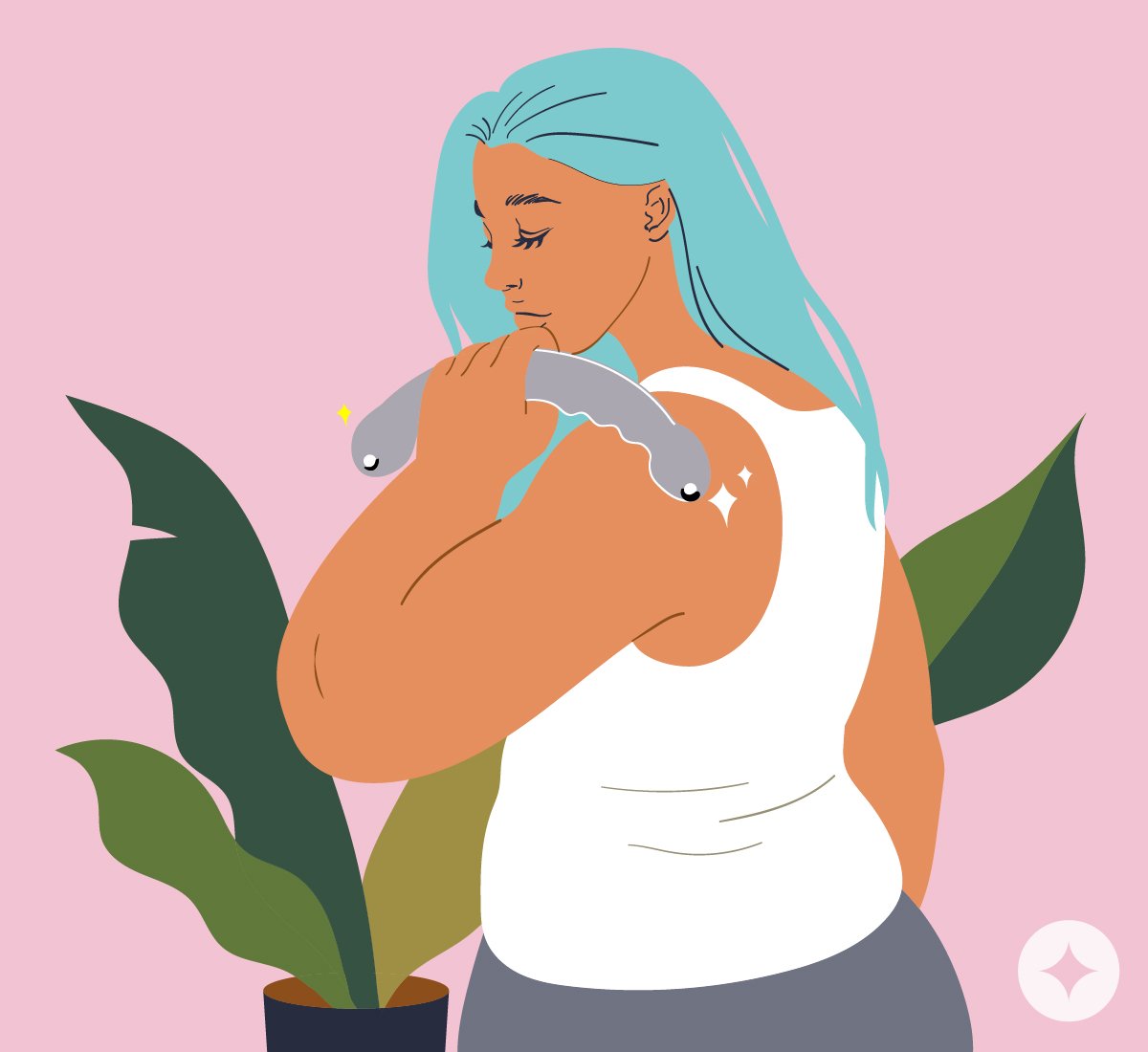 Myth: Silicone is the *only* body-safe sex toy material
While it's true that medical-grade silicone—that's the kind of silicone all Le Wand vibrators are made from, BTW—is body-safe, it's untrue that that's the *only* body-safe material!
As clinical sexologist, Dr. Megan Stubbs Ed.D, author of the forthcoming book Playing Without a Partner: A Singles' Guide to Sex, Dating, and Happiness puts it, "If it's safe to cook on, it's likely safe to put in your body." Other body-safe materials include: Pyrex, borosilicate glass, ABS plastic, and (drum roll please!) stainless steel!
The most obvious benefit of using a body-safe sex toy is that because you can get it completely clean, the risk of introducing infection-causing bacteria to your bits is basically zero. (Bacterial vaginosis who??).
Another benefit is that they're so much easier to share with a partner you're not fluid-bonded with. A quick rinse with warm water and fragrance-free soap between uses is all you need to make this toy totally shareable.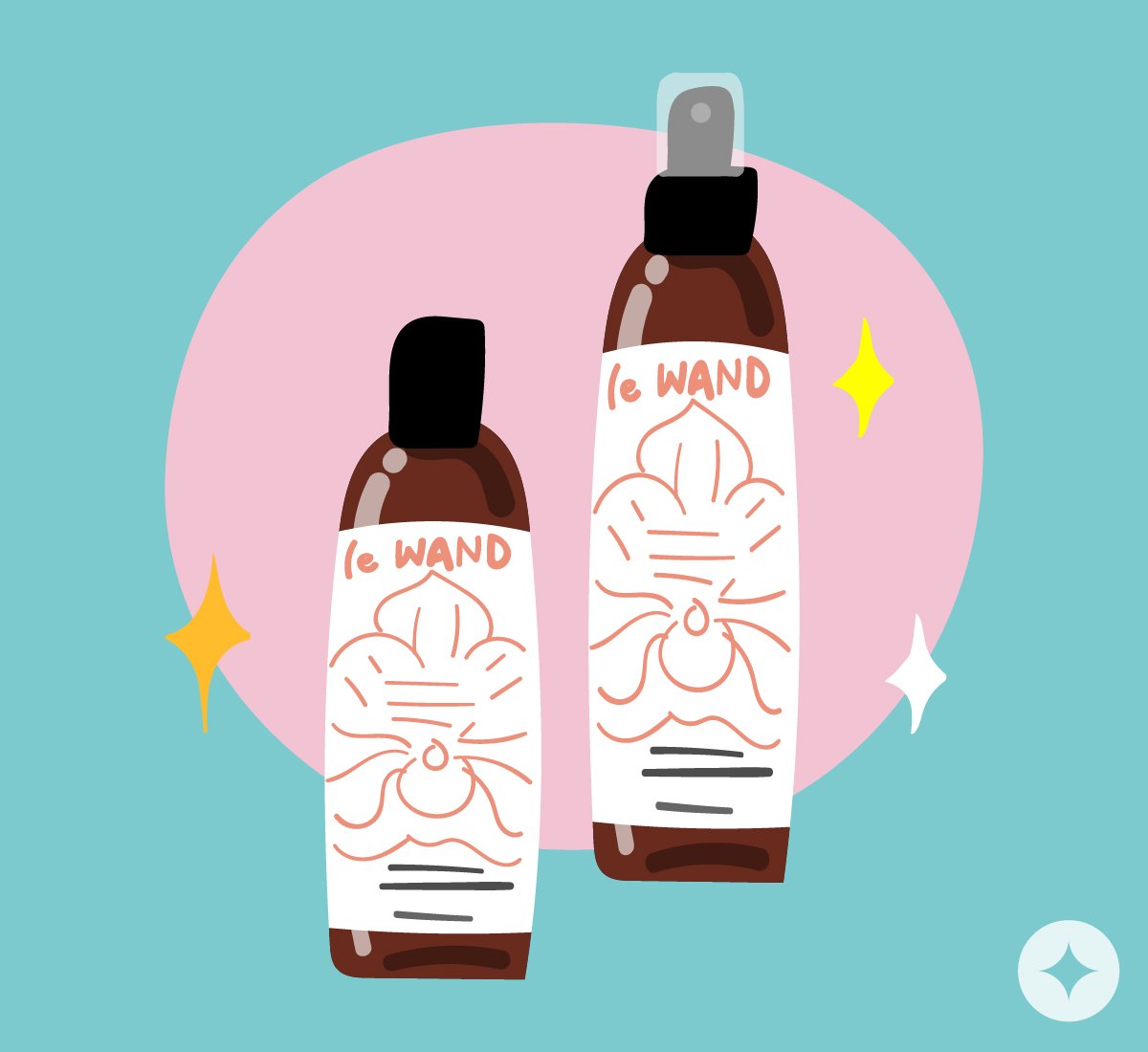 Another option is to spray on a sex toy cleaner (like the Le Wand Intimate Organic Toy Cleaner) and wipe it clean with an old Tee.
"You can also pop the steel toy in the top rack of your dishwasher and run it without dish detergent," says Stubbs. (Depending on your dish detergent, the fragrances can be too harsh for your delicate internal tissues).
Myth: Stainless steel sex toys can't vibrate, so they don't feel good
Whether they're buzzy or rumbly, vibrators can be an ahhmazing addition to solo, partnered, and multi-partnered play. In fact, one 2019 study of vibrator use is overall greater sexual well-being. But that doesn't mean vibrators are the only feel-good addition to the bedroom—they're not.
A vibrator alternative, stainless steel toys can be used to fulfill feelings of wet, warmth, or cold, as well as sensations of thrusting, fullness, sliding, gliding, and pressing.
Because of this, pleasure-seekers who find vibration annoying, itchy, or irritating (more common than you might think!) may actually enjoy these non-motorized toys more than their buzzy counterparts.
More than just being different than vibrators, stainless steel toys are superior in certain instances. For example, "the G-zone and prostate both tend to respond well to pressure, motion, and the sensation of fullness which is more easily achieved with a steel wand than a vibrator," explains queer sex educator Andy Duran, the education director for Good Vibrations.
He explains: The often-curved shape of the toy allows you to more easily apply the requisite pressure, while the weight and density inherent to steel toys makes it better at delivering consistent firm touch than toys made out of softer materials (like silicone, for example).
Myth: Stainless steel sex toys are for internal stimulation only
Yes, stainless steel sex toys are exceptional at delivering the kind of pressure that internal hot-spots respond well to.
But when combined with lube, the sensation of the smooth steel on external genitals can be incredibly enjoyable for some, too, says Duran. The clitoris and taint in particular, according to him, have the capacity to respond well to the sensation of swiping, pressing, swirling, and even tapping from the toy.
Genitals aside, stainless steel wands also stunt-double as massagers, providing pleasurable pressure along tight back, trap, and butt muscles.
Myth: All stainless steel wands feel the same
Cue Gwen Stefani because saying all sex toys made from stainless steel feel the same is as b-a-n-a-n-a-s as saying French fries, mashed potatoes, and tater tots all taste the same because they're made from potatoes.
The shape, texture, length, girth, and weight of the stainless steel toy all impact how the toy will feel externally or internally.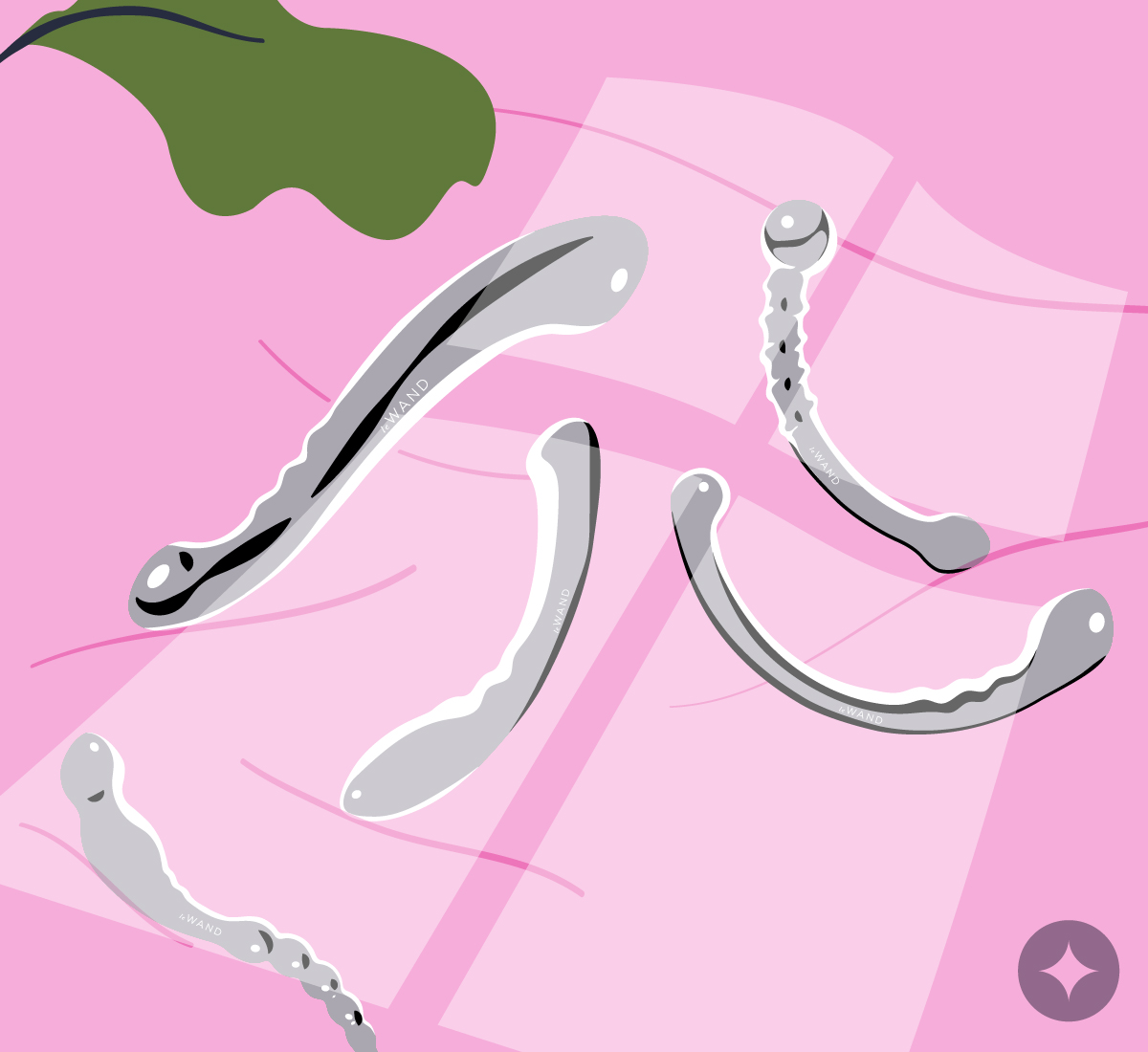 The Swerve which features a string of rippled beads, will feel much different than the Bow, which features a bulbous end followed by a swirling string of texture instead. Even the Arch and Contour, which are similar in shape will feel different due to their different girths.
To pick the toy for you, Stubbs recommends thinking about what sensations you already know you enjoy and finding a steel toy that delivers a similar sensation. Enjoy feeling stuffed to the brim? Check out the Contour. Love anal beads? Buy the Swerve.
Myth: You *don't* need lube with stainless steel sex toys
Stainless steel may move over your body more smoothly than silicone toys, but store-bought lubricant can still enhance the sensation. Lube increases the ease with which a toy can slide in-and-out, or glide side-to-side, says Stubbs. (Related: The Scoop On Lube).
Best Part: Steel toys is that they can be used with all kinds of lubricants, including silicone-based lubricant which is superior for anal play!
"Massage candles and arousal oil are also a great addition to play with stainless steel toys," she adds.
Myth: Stainless steel sex toys are *only* solo sex toys
Due to the fact that they're not harnessable, there's a myth that stainless steel dildos are for solo sex only. But that hodge-podge is that: myth. Stainless steel sex toys can absolutely be used on a partner—in way more ways than one.
"You might use the wand on your partner internally while you pleasure them externally with your mouth," says Stubbs. "Or you might have your partner use a metal wand on your butt while you pleasure yourself."
Even using the wand as a massage tool on your partner can be incredibly erotic. When paired with a massage oil (like Olivia's Boudoir French Massage Oil) you can use it as you might use a massage stone to work through back knots," says Duran. Hello, Mx. Romance!
Myth: ALL stainless steel sex toys are anal-safe
It is not the material that determines whether or not something is anal-safe, it's the shape! In order for a toy to be anal safe it needs to have a stopping point that keeps the toy from getting lost in the body.
That's the reason butt plugs (like the b-Vibe Snug Plug, for example) have a carrot-top head, the flared base secures the plug outside the body. While stainless steel butt plugs will usually sport a similar stopping point, stainless steel wands that are anal-safe sport a significant curve instead.
"For C-shaped or S-shaped wands to be anal-safe, it needs to have a prominent curve that is more significant than the curve of the anal canal," says Duran.
Anal-safe Le Wand steel products include: Bow, Hoop, and Swerve.
Myth: Stainless steel is only good for room temperature play
Confession time: I've never heard of room temperature play, nor have I ever heard anyone spew this nonsense. But (!!) I wanted to make sure to share that one of the reasons stainless steel sex toys are so darn wonderful is that metal holds temperature. That means these Babes can be used for temperature play.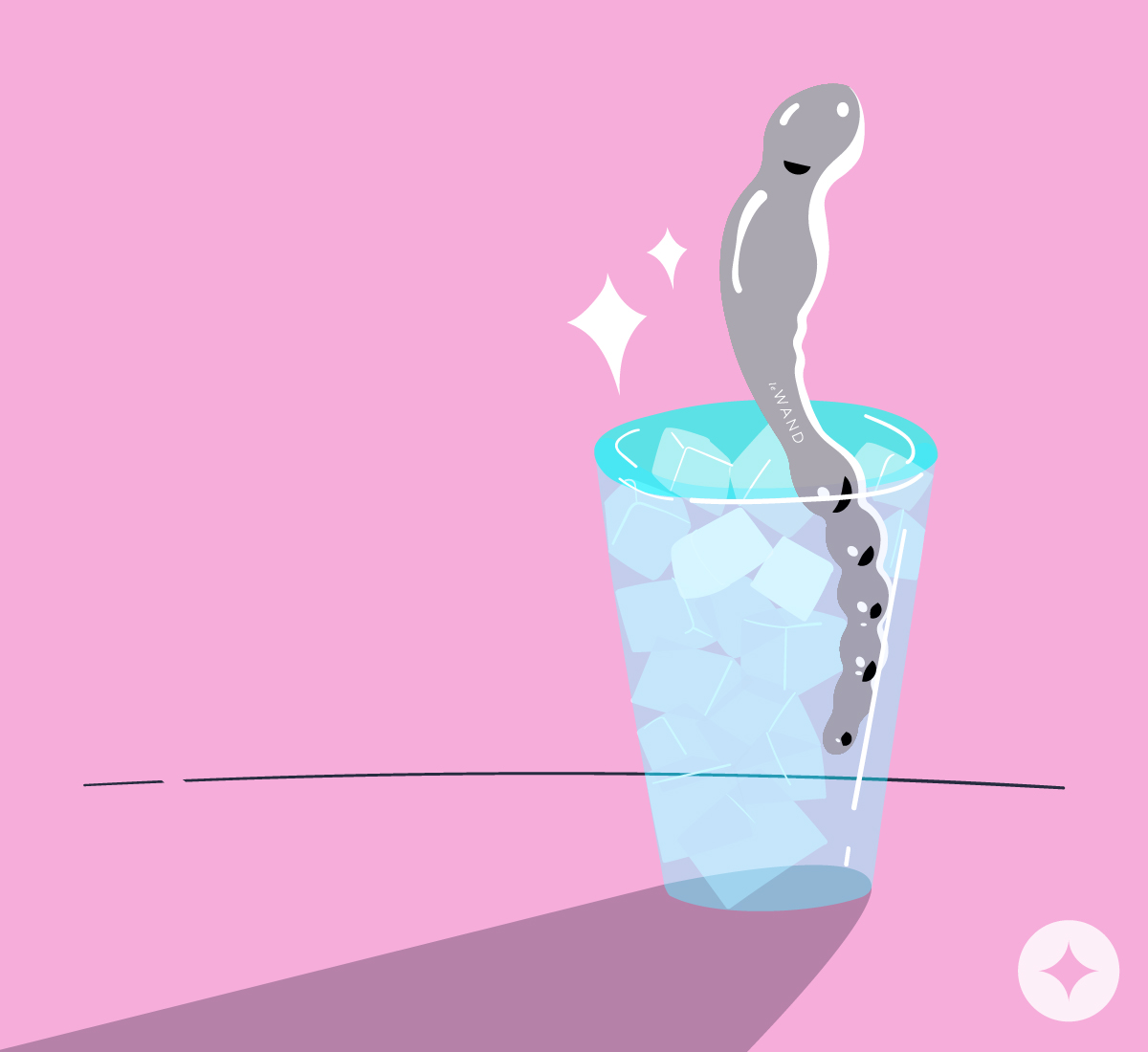 The act of intentionally using different temperatures to ignite your senses, temperature play can bring a sense of adventure into the bedroom. (See More: The Ultimate Guide to Temperature Play).
Stubbs says one of her favorite things is to "dunk a steel wand in a cup of warm water before bringing the warmth to [her] body." While I prefer the sensation of rubbing a steel wand on my clit (with lube!) after it's been in the freezer for a few hours.
Whether you go up or down a few degrees, do your bits a solid and check the temperature on your inner forearm first.
Still have more questions on stainless steel toys? Check out this Stainless Steel Sex Toy Guide. Or better yet, spend some time perusing the collection!