How To Become a Sex Educator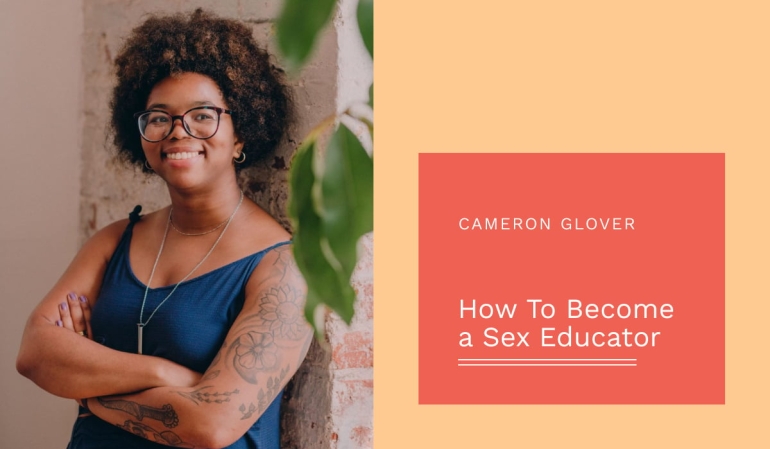 Last Updated: Mar 09, 2021
But of course, there are so many others who dream about getting into the sex education field but know exactly where to start.
That's where this article comes in.
I started my own sex educator journey back in 2016. At the time, I was a part-time freelance writer and full-time dreamer. I knew that I wanted to change the world and that I wanted to impact people in a deep way and help them to move through changes to better themselves and their lives.
But I wasn't sure exactly what that would look like.
Even though storytelling and writing fulfilled me, I started to wonder if that was everything for me. So one day, I hopped on Google and literally searched, "How do I become a sex educator?". Today, there are SO many resources available to answer this question, but in 2016, it wasn't as easy to find.
I sat down and asked myself:
How do I want to impact people and move through this field?
For me, I chose to join a certification program so that I could learn the skills to work directly with clients and gather the confidence in the experiences and insight that I already had that would help me to stand out in the field. But at my core, I had the idea that I wanted to deeply help people move through a transformation as my North Star.
Today, I'm a certified sex educator and carving out my own path as the Sex Ed Business Coach. My career is fully centered on supporting sexuality professionals in finding their own North Stars and building fulfilling, profitable careers out of doing exactly that (that's what led me to create my coaching program and eBooks). But it all started with knowing that I could make a deep impact doing this work.
How to become a sex educator
If you're wondering how you can start your own journey doing this work, I want to share with you three of my biggest pieces of advice so that you can stop feeling insecure and start stepping into your power:
1. Invest in yourself (and your mindset)
Being a sex educator can be lonely work. You have to deal with a lot of sex-negativity, rejection, and confusion about the validity of your work. That's why it's important to be clear about who you are, why you want to do this work, and how you can create support for yourself even when things get hard.
One of the things that I ask my clients is "How can you surround yourself with evidence of what you believe is true?"
If you believe that the work that you do as a sex educator is valuable, important, and needed, then don't be shy about putting yourself in situations where that belief is affirmed.
Join online communities where other sex educators are. Follow sex educators on your social media and engage in their work. Share their content. Share your thoughts, opinions, and journey with others... even if you're "just starting out".
And when it comes to the things that you may need additional support with — like learning how to make money, build yours website, or present at a conference — don't be afraid to invest time, energy, and effort into that. Because when you invest in yourself, you're able to get back that investment a hundredfold.
2. School isn't everything
There's a lot of emphasis on going to school to be certified or study to become a sex educator. But there's no specific roadmap that you need in order to do this work. This isn't like becoming a teacher or doctor.
So you have to shift your mindset out of the traditional "go to a good school > get good grades > will be hired to do a good job" mentality that a lot of us grow up with.
Becoming a sex educator will require you to be trained and knowledgeable on your topic of choice and how to work with people. But that training can happen outside of a classroom. So do your research.
3. Forge your own path
So many sex educators find themselves stuck because they focus too much on what they lack.
- "I'm not as experienced/knowledgeable/famous enough as other educators"
- "I feel like an imposter" or "I don't feel like I deserve to lead people through this work"
- "I'm not sure what I need to do. I need someone to tell me."
All of the tips, strategies, and insights in the world won't be able to lead you to what you want to accomplish without this one core truth:
There is no skipping doing the work.
The truth is that nothing can get you to where you want to be faster than knowing that you will learn the fastest by taking action.
Everyone starts with zero followers, zero email list subscribers, zero blog readers. Everyone feels like an imposter, or doubtful, or insecure about themselves at some point. All of these feelings don't go away when you make a certain amount of money, grow your community to a certain number, or reach any goal that you're setting for yourself now.
But the difference with this is that you continue to evolve.
When these things arise for you, you learn new ways to navigate and work with and through them.
If you want to become a sex educator, you have to be comfortable with forging your own path. Because there will be things that you try that won't resonate for you, or may need pivoting to work for your clients. And that's okay.
There is no guidebook or roadmap to doing this work. In fact, there is no "one" or "right" way to become a sex educator... only the right way to you.
So go out there and take action.
Start that blog. Listen to that podcast. Research that program. Fill out that application for an internship or mentorship.
All of the steps that you can take now will lead you to where you want to be. But it all begins with taking that first step.
How are you working on becoming a sex educator? Let me know on Instagram @thecameronglover!