An Interview with Bethany Stevens – A Disabled Queer Sexpert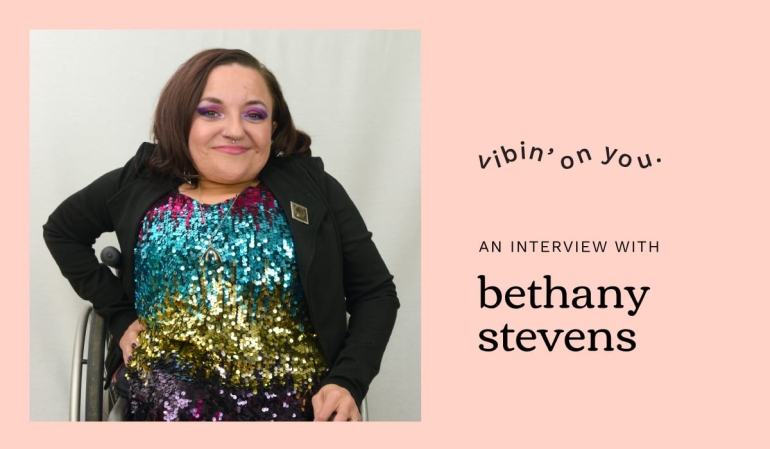 Last Updated: Mar 09, 2021
Hi Bethany! We have recently become such big fans of your platform, @disabethany. Can you tell us a little bit about how you got involved in sex education & research?
Thank you so much for interviewing me and liking my Instagram! I just started learning about it after my most recent students in the Spring of 2019 convinced me to get on the platform to stay in touch with them.
My history with sexuality is one of absolute adoration for sex talk, giving sex advice from age 11, but not considering it a job possibility until I was nearly done with law school. Three pivotal life moments happened in the Spring of 2005 to shift my focus from law to sexuality:
1) I hosted a hot conference about disability and sexuality at the University of Florida featuring former adult film start, Bridget the Midget Powerz. I realized how much I LOVE and excel at talking about sex.
2) I lost faith in the law to create social change as I made it through the program, and finally...
3) A man that I was deeply in love with committed suicide because he could not deal with the pain of his penis not functioning typically after a spinal cord injury.
His death created a sense of urgency in me to act on sexuality work in the disability communities because people don't suffer in isolation thinking ableist thoughts alone. People think in patterns. In 2006, I finished Law school and moved to California to get a Masters Degree in Sexuality Studies and pass the California Bar Exam. Since then, I have gone on to study Sexual Health under former Surgeon General Dr. David Satcher at Morehouse School of Medicine. I taught in public health and now am completing my Doctorate Degree in Sociology with an emphasis on the pleasure politics of disabled people.
It's my hope that through work like mine and other disabled peoples' efforts, we can curb the pain of normative sexual expectations and help non-disabled people to "crip" or use lessons from disability to enhance sexual pleasure. Disabled sex is innovative and hot because it often must play outside the prescribed box, thus liberating the rules of the game and sole genital focus in pleasure play.
We obviously know that representation matters, and that's no different in the sexual health and wellness space. As a disabled sex-positive person, how can companies like ours do better to create safe space for disabled folks?
You are doing a great job already featuring people that I respect in the field. Knowing who you embrace to promote your product or brand is really important these days; more of us look to who is figured in their marketing to decide whether we want to purchase from them. When I see company advertising filled with skinny white non-disabled cis people, I know it lacks the values that I can get behind.
For disability-specific representation, it's crucial to remember that disability intersects with ALL aspects of society and wheelchair users only constitute about 1% of the disability population. Disability offers a unique way to really show all aspects of society by highlighting us. Regardless, including people from various races, sizes, ages, and types of disabilities engage me as a consumer. It means that the company can actually imagine their consumes are not just the eurocentric skinny model of beauty that puts pressure on all of us in unhealthy ways.
Diversity in representation helps provide space for reflecting on self-love because we are figured as role models or people to look up to. It's profound to have that moment of seeing yourself reflected in the media. With regard to textual messaging, it's important to listen to disabled people in how we reference ourselves - just like with other groups. Trust us when we say what is discriminatory and what is useful.
Although there is no real consensus among our diverse group of people, euphemistic references to disability are widely panned. In attempting to try to be nice about framing disability, euphemisms for disability remove the politically potent nature of the word. It's not a bad word, you can say disability! We are not people with special needs (they are civil rights that everyone deserves) nor are we differently-abled (we experience a very specific system of power around disability; to say we are differently-abled is to depoliticize disability). Treating disabled people like people is really key to making disabled people feel included. Oh and for goodness sake, if you want to feature disability in advertisements, please use real disabled models rather than non-disabled people with mobility aids.
What is something you wish non-disabled people knew about disabled folks when it comes to sex and pleasure?
Goodness, several things. For the average person, I would want them to know "yes, it works and yes, I can feel down there" because strangers are often curious enough to ask me.
For therapists and educators in the sexuality world, I would love for y'all to use the basic tenet of sexuality outreach — meet people where they are — when working with disabled people. There is an assumption that sexuality professionals need to know all these specific details about diagnoses and have specific training to even deal with us and that's just sad. As a born disabled person with many disabled friends, I still don't know all diagnoses nor are allies encouraged to.
If you allow yourself not to be swept away by ableist assumptions that those of us with visibly apparent disabilities are desexual and not interested in sexual activities and that those with mental and intellectual disabilities are hyposexual in monstrous ways, it helps talk to us about sexuality in comfortable ways. Truly, it would be useful to know disabled people are dealing with the same dating crap as most of the dating world. If the mystic that we are somehow distinctly different from everyone else was lifted, more people would realize how wonderful disabled people are as lovers and partners. The revolution will be sexy and consensually pleasurable!
In your ideal world — what would the future of sex education look like?
It would be pleasure and agency focused. When I teach undergraduates about sexuality, I'm struck by how much they sound like they have no control over their pleasure. The fear and shame around sexuality persist, despite culture changing rapidly and sex selling even more than before.
People need to understand that sexuality is an integral part of our personhood, it's part of our social expression, and it's impacted by social politics. Instead of just teaching the biology of sexuality in partitioned ways, holistic learning about the entire body systems, how to achieve pleasure, how to reduce harm in activities, and how to communicate sexually would be a dream. Teaching everyone that they have the right to "yes" just emphatically as they have the right to say "no" would be the kind of agency that I wish to see from young people.
We are obsessed with your "Corona look of the day" on IG! What prompted you to start documenting your style in this way?
Aww, thank you! It's a passion project of my wife and I during quarantine. The project started with lockdown as I took photos of my parts of my body to highlight scars and other aspects of my disability that have triggered self-hatred in the past. In many ways, I'm working through internalized ableism to practice body love in this project. Around May, Sara started taking the photos and their format changed to emphasize on wonderful compositions and styling my wardrobe as though it's a costume collection. The rationale for the project is to teach people how to practice love toward disability and the relevance of diversity in representation.
Celebrating the beauty in disability and loving disability is in direct response to the treatment of poor, BIPOC, aging, trans, and disabled people in COVID times. Too many of us are being denied treatment and testing while also being subject to this awful protests rhetoric of why it's ok to "kill the weak." It's been emotionally draining to see these protest signs that call for the death of many of my chosen family members and I. The fabulosity of the photos is daily resistance to the notion that disabled people have no quality of life, not hot, or not worthy. For Libra season, as we approach my 40th birthday, we will be doing fan favorites over again in our new dining room studio. Please check out the on IG and leave your thoughts on the styling on my YouTube channel!