|
Product Knowledge
|
Toys & Tools
Same Toy, Different Uses!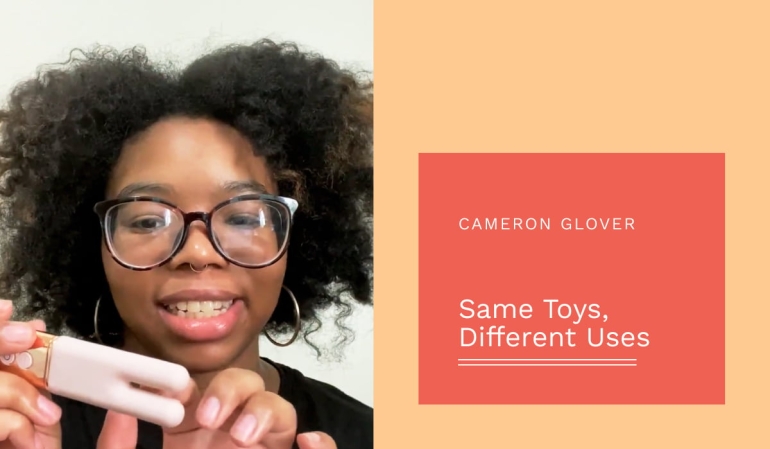 Last Updated: Mar 09, 2021
Being a sex educator has its perks.
There's a lot of variety on the market when it comes to sex toys, and it can be really overwhelming to navigate through. Do you want a vibrator or a dildo? Does a toy being cordless or using an adaptor really make a difference? What kind of cleaning and sterilization routine will it need? How is this different from the other toys that you already have at home?
Being a sex educator means that I've been able to try out my fair share of toys. And after a while, I came to realize that newness isn't everything.
It's important that you're able to get the most out of what you have, sex toys included.
When it comes to what's inside of my toy drawer, I'm mindful of the space that one-trick toys take up. That's why I'm all about investing in toys that have multiple uses so that you can use it in as many different ways as possible.
Because let's face it — it can get really old really quickly getting off using the same technique every single time, even if it's with a toy that you love. Variety and experimentation can let us discover new things about ourselves and what we enjoy, helping us to see an old favorite toy in a new light.
As someone that tries to get the most out of the toys that I do keep — especially since there are so many that come my way — I wanted to share a few of my favorite and how I recommend breathing new life into them, especially if it's gotten really boring to use them while we're spending so much time at home.
So let's talk about the different ways that you can use what's already inside of your drawer.
Rechargeable Wand
The OG for a reason. The rechargeable wand is a class that's resonated with people through the ages... and for good reason.
Most people only see wand toys as a motorized way to get off genitally, but it has so many other uses. In fact, when beginners come to me, I often recommend that they get started with this type of toy because they'll be able to really get the most out of it.
Firstly, wand toys are great for playing with sensation across the entire body. The motorized head is great for peaking yourself to orgasm directly, sure. But you can also use it topically as well on your skin and other erogenous zones that don't get as much love.
Stainless Steel Sex Toys
I have a confession to make: it takes a lot to impress me when it comes to toys at this point.
I didn't expect to be as smitten with stainless steel sex toys as I am. But after one use, I knew I was a believer.
Stainless steel toys can be really intimidating, especially if you're a beginner because of the material and shapes. But that's also the reason why they're such great investments into your toy rotation.
They provide an interesting mix of sensation, temperature, and texture to add to the sexual experience. Personally, I'm a fan of the Le Wand Hoop because of its beginner-friendly curve, ribbed texture, and ability, to go along with so many other things — like lube.
What's really great about stainless steel sex toys is their adaptability. You can use them anally or vaginally, and because it's made completely of metal (with no batteries or electrical components), you can utilize a wider variety of support items as well. And they're just as great when you use it on yourself or someone else.
How many times have you gotten a toy that claimed to be "water-resistant" only to find out right in the middle of getting off that it... wasn't?
I've used my Hoop in the bath and on dry land in my bed and have enjoyed it equally. Plus, the different ends of the toy make it easy to experiment with different sensations and weights on and inside of your body.
Mini Vibrators
So the last two toys are for those that wand good staples. But sometimes, you just want to grab something cute, compact, and reliable to get the job done. So I want to talk about mini vibrators.
A lot of people assume that minis are only good for travel or quickie-type sexual experiences. But they can do a lot more than that... And the reason for that is because of it's biggest benefit: their size.
Because they're often built to fit in the palm of your hand (literally), it makes things a lot easier to grasp, adjust, and shift during the sexual experience. And additionally, I love how well they're able to pinpoint sensations — so you can be really precise about where you want to feel the rumble of the vibrations.
Personally, I'm a fan of Le Wand Deux. The duel-ended tip makes for really good precision and adds a new kind of impact for you when you put specific body parts in between the two tips. But I also enjoy how this allows for more creativity within the sexual experience because you aren't restricted or confined by the toy's size and mobility. So that means that if you want to adjust your positioning (lay on your stomach vs. on your back, have both legs in the air or non, hump vs. thrust... the list goes on) to try something new, you can do that and you don't' have to worry about clunky wiring or awkward accidental hitting the power button just when things were getting good.
So don't discount how powerful mini vibrators can be just because of their size.
There are a lot more types of sex toys that can make a home in your drawer than just these three types. But if you have these staples in easy reach, then you'll be able to do a lot more when it comes time to have some solo care time.