Ask Eva August Survey Findings on Sex Toys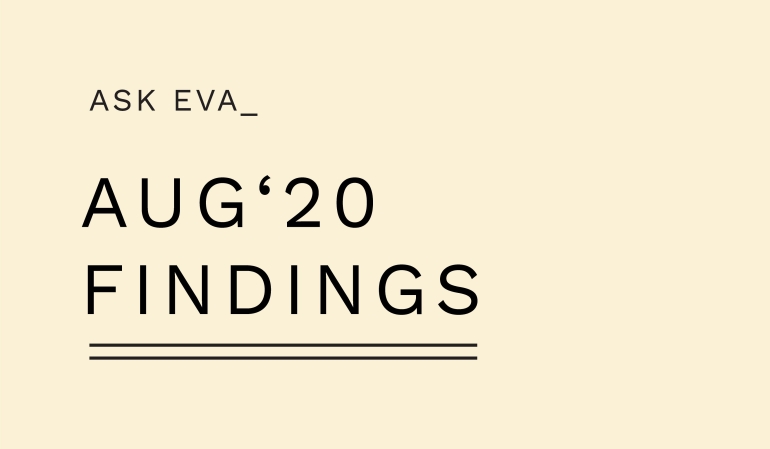 Last Updated: Mar 09, 2021
It only took us a couple of months, but we finally dedicated an #AskEva to sex toys! All about features you like, what kind of toys get you going, and how you like to use them.
Participants' Gender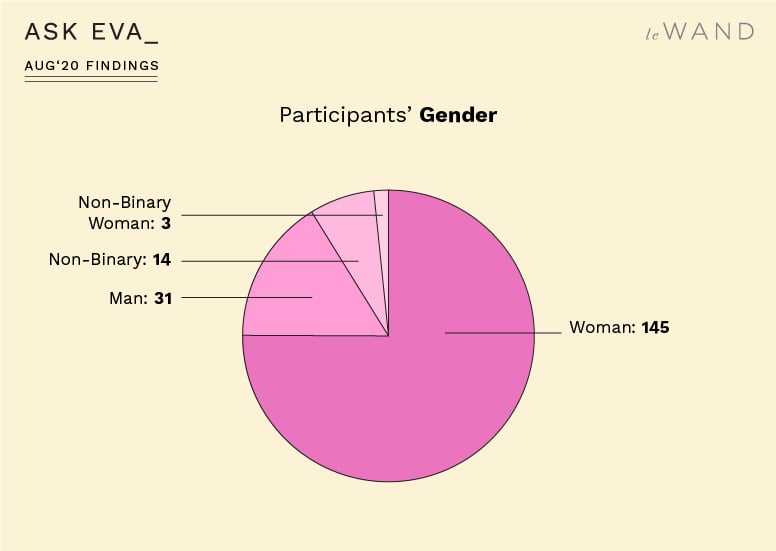 For this survey, we had 193 participants, 75.1% women, 16.1% men, 7.3% non-binary, and 1.5% non-binary women. 89.6 % was cisgender, 9.4% of the sample was transgender and 1.0% didn't know.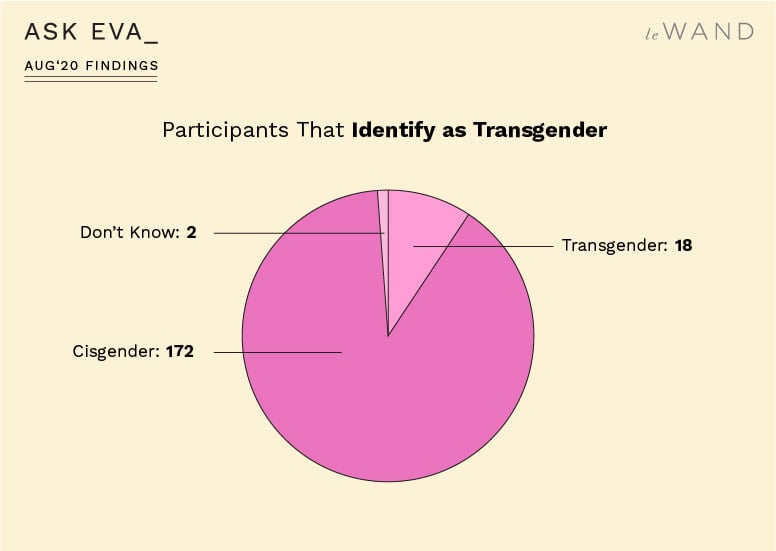 In terms of sexual orientation, the most common labels chosen by participants were straight (33.0%), bisexual (26.1%), pansexual (10.3%). 6.1% of the participants were demisexual. Many participants chose multiple labels to describe their sexual orientation.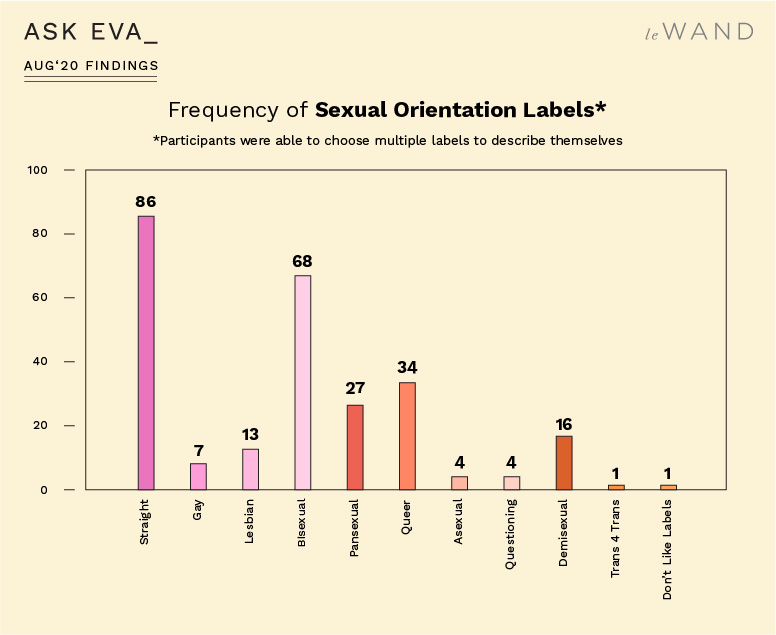 Sex Toy Preferences
Let's talk about sex toys! To learn about your sex toy preferences, we started by asking generally what toys you preferred. Coming out on top were vibrators, preferred by 42.5% of participants. This included wand vibrators (23.8%), bullet vibrators (17.9%), clitoral vibrators (0.4%), and rabbit vibrators (0.4%).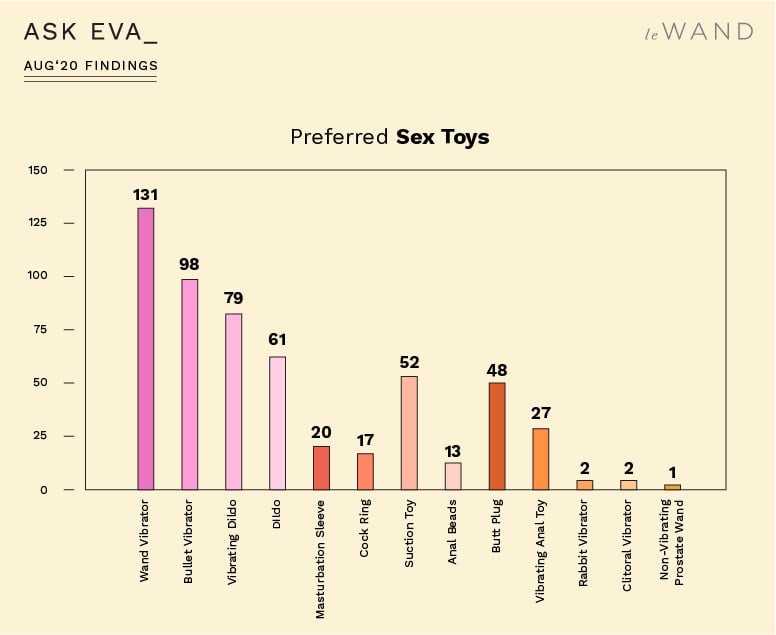 Next common were dildos, chose by just over a quarter of the sample (25.4%), and including vibrating dildos (14.3%) and dildos (11.1%). Anal toys were preferred by 16.0% of respondents, including butt plugs (8.7%), vibrating anal toys (4.9%), and anal beads (2.4%). Suction toys were included in their own category and were also common at 9.4%.
These findings are actually quite similar to a previous study of mostly Canadian cisgender women's sex toy usage (Wood et al., 2017), which also had vibrators in the top spot at 54.53% followed by dildos at 21.26%.
Beyond what type of sex toys participants preferred, we also asked about all the other important elements of the sex toy experience - including the type of vibrations, areas of stimulation, vibration strength, and different sex toy features.
Sex Toy Materials
Getting into the details, let's start with sex toy materials. Not all sex toy materials are created equal, so we asked what types of body-safe (non-porous and non-toxic) materials participants preferred.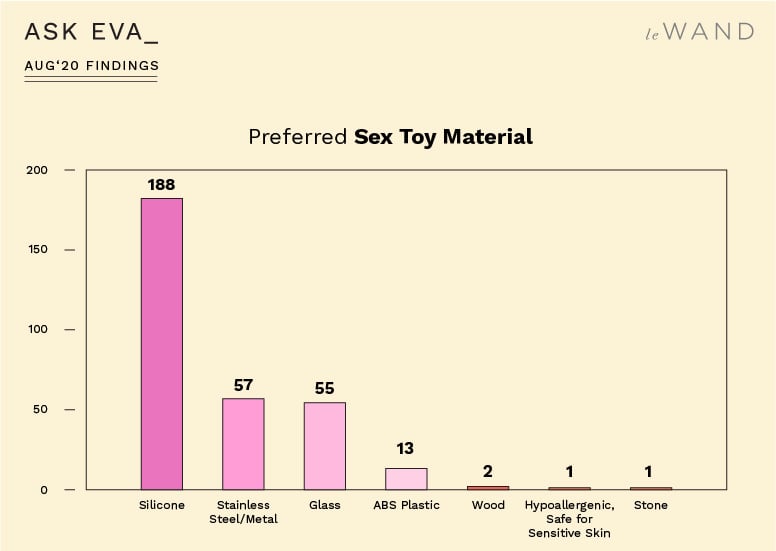 Over half of the respondents chose silicone toys (59.3%), followed by stainless steel/metal (18.0%) and glass (17.4%). Other options include ABS plastic, wood, stone, and materials designed for sensitive skin. Most of Le Wand's toys are silicone and stainless steel, so there are lots to choose from!
Stimulation Preferences
In terms of where people liked sex toys to stimulate their genitals, 52.1% of participants preferred both internal (i.e. vagina, anus, etc.) AND external (i.e. vulva, penile, testicles, etc.) stimulation. Another 40.6% preferred external stimulation only, with 6.8% loving some good ol' internal sensations. Plus one person who said they didn't use sex toys on their genitals.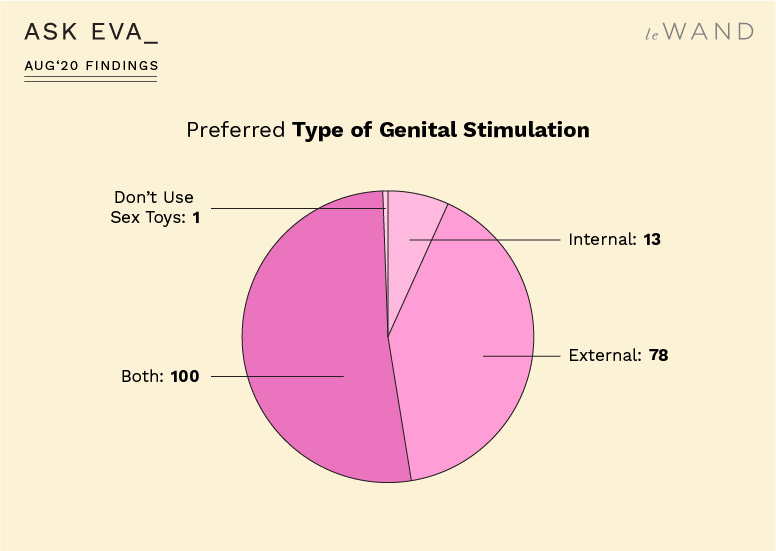 These results might be explained by research on which kinds of stimulation leads to orgasm! According to research by Dr. Laurie Mintz on cisgender women (who made up the majority of our sample), external stimulation and a combination of internal and external stimulation are associated with orgasm, with only 4% of cisgender women experiencing orgasm from internal stimulation alone (Mintz, 2017).
Vibration Preferences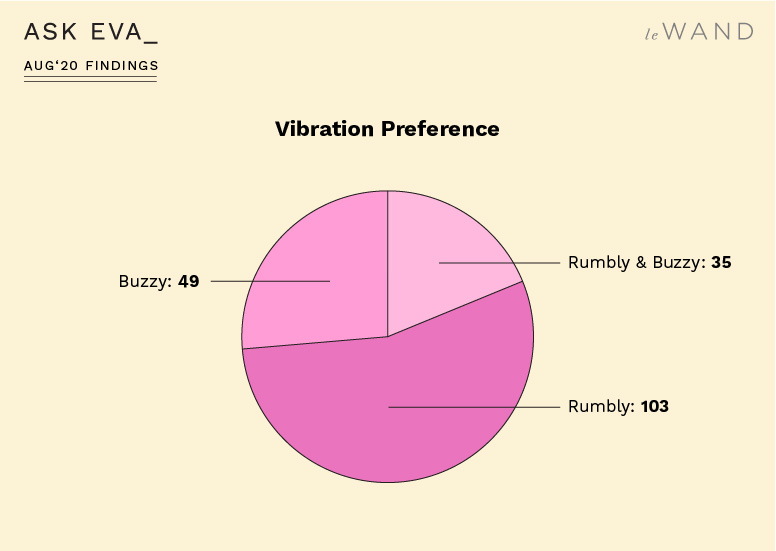 What about the types of vibrations? Rumbly vibrations were the clear favorite with 55.1% of participants rating them as their preferred type of vibration. These are lower pitches that can feel like a deep massage of the genitals. Approximately a quarter of participants preferred higher pitch, buzzy vibrations (26.2%), while 18.7% liked both.
Anal and Non-Anal Specific Vibrators
Participants had lots to share about the vibration strength for anal and non-anal specific vibrators. Regarding non-anal specific vibrators, respondents had a preference for stronger vibrators, with 50.6% preferring strong, followed by 37.4% preferring medium vibrations. 10.1% went with light vibrations and 1.9% weren't non-anal vibrator fans.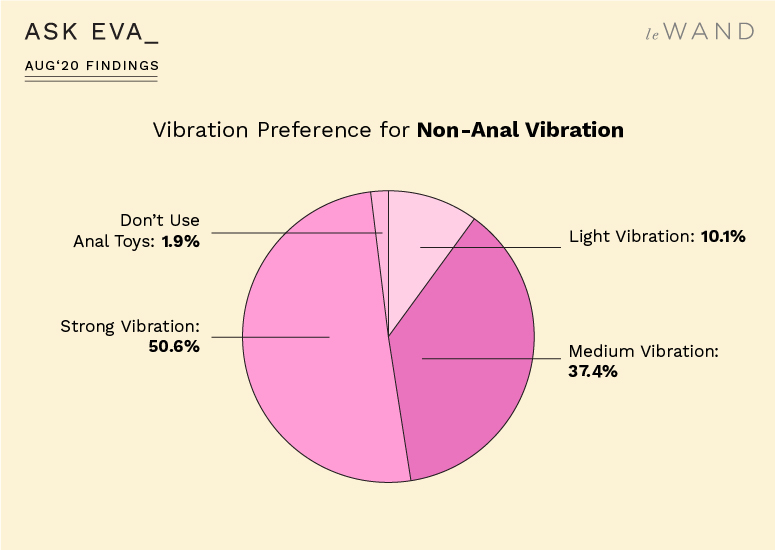 For anal toys, while preferences were more evenly dispersed among light (14.8%), medium (18.7%), and strong vibrations (12.9%). Approximately half of the respondents didn't use anal vibrators (53.6%).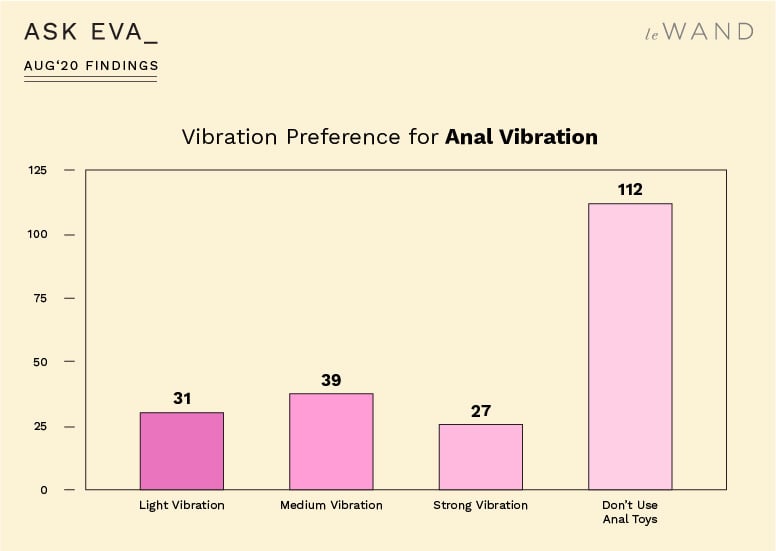 With all different kinds of sex tech innovations being created, we also asked participants about various new types of stimulation being created, including rotation and thrusting.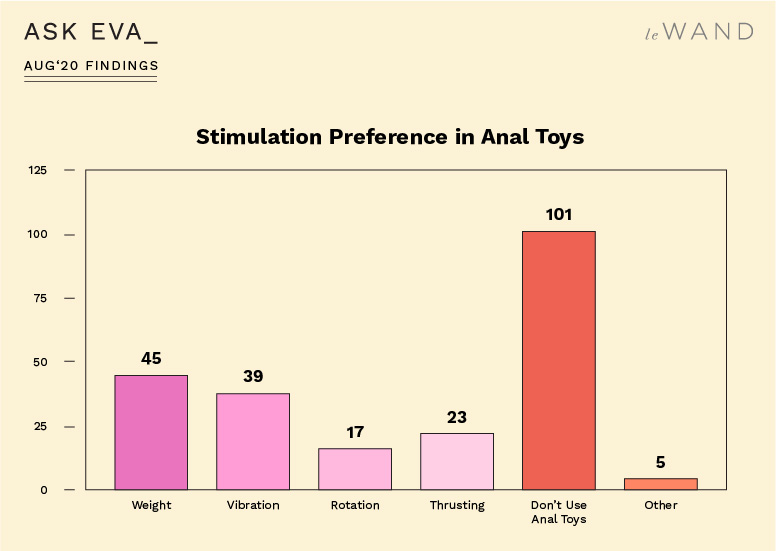 Nonetheless, vibration was still among the top preference for stimulation, with 50.7% for non-anal specific vibrators and 17.0% for anal toys. Weight was also a hit among anal toys at 19.6% citing it as a preferable sensation, as was thrusting among non-anal specific vibrators at 20.5%.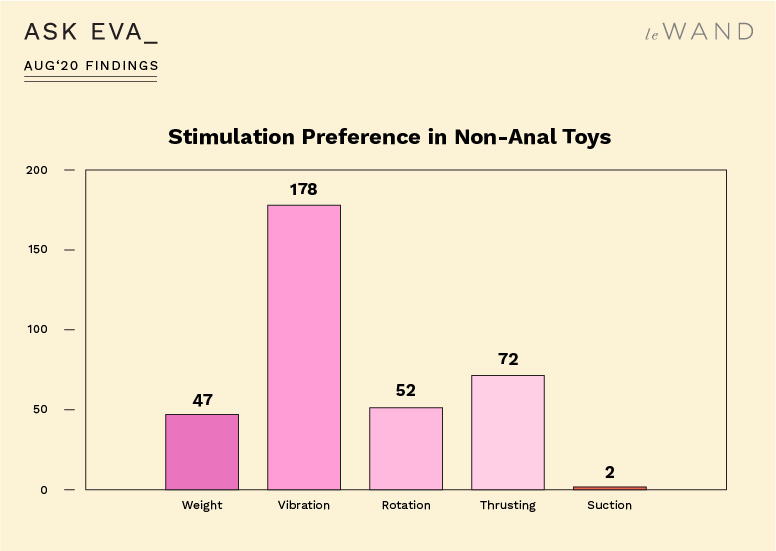 Temperature Play
Lastly, we asked about temperature play! A type of sensation play wherein individuals can heat or cool sensations on their gentials or body in sexual contexts.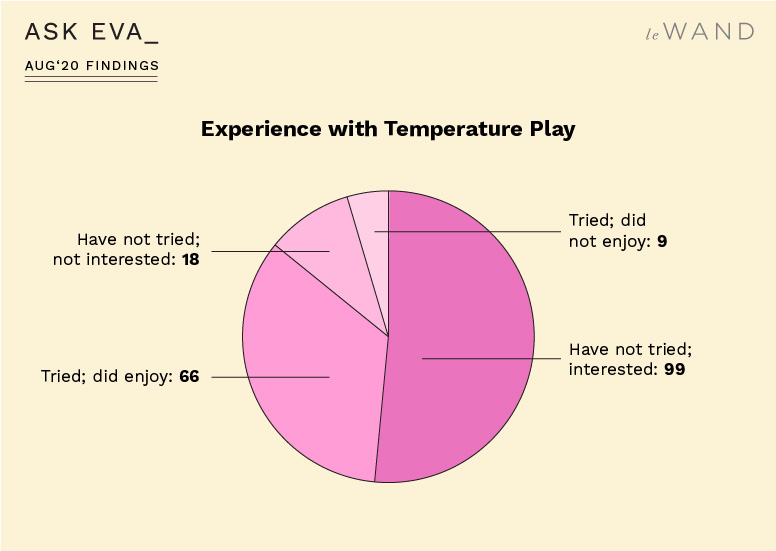 More than 3/4 of participants were either temperature play novices, but interested in exploring (51.5%), or experienced players looking for more (34.4%). 14.1% of respondents either weren't interested or had explored temperature play previously and hadn't enjoyed it.
A huge thank you to everyone who participated in this month's survey! One of the aims of #AskEva is to learn more about your experience of solo sexuality and sex toys so we can help you have the best experiences possible. So thank you for helping us help you!
References:
Mintz, L. (2017). Becoming cliterate: Why orgasm equality matters--and how to get it. HarperCollins.
Wood, J., Crann, S., Cunningham, S., Money, D., & O'Doherty, K. (2017). A cross-sectional survey of sex toy use, characteristics of sex toy use, hygiene behaviours, and vulvovaginal health outcomes in Canada. The Canadian Journal of Human Sexuality, 26(3), 196-204.