Ask Eva July Survey Findings on Travel, Vacation, and Sexuality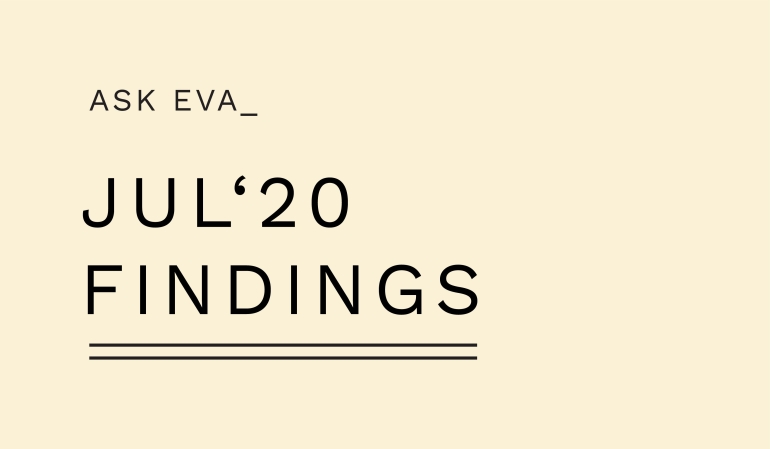 Last Updated: Mar 09, 2021
Happy summer! For most of us, summer is looking a little bit different this year - no festivals, no international travel, maybe even no big barbecues with the neighborhood. But that doesn't mean that we've stopped getting curious here at #AskEva! Whether it be reminiscing about summer vacations and travels past, or thinking about small-scale getaways, we wanted to explore the link between sex and vacation for this month's survey.
For many years, the link between sex and travel have been documented in both tourist marketing and sex research. So much that the term "the four S's" was coined to describe their relationship - sun, sea, sand, and sex (Milhausen et al., 2020; Crick, 1989; Hobson & Dietrich, 1994). Much of previous research has focused on the phenomenon of increased sexual risk-taking among vacationers, such as people not using condoms as consistently. Besides this, the literature has focused on changes in partnered sexual behavior on vacations. Some studies have found that individuals on vacations are more likely to have multiple sexual partners and more casual sex (Milhausen et al, 2020), but that experience isn't universal!
Some people might have more sex (and more adventurous sex), others might feel obligated to have sex because "it's vacation!", and others might not have any partnered sex at all when traveling with family or kids (Berdychevsky, Poria & Uriely, 2013). But all of these findings are still about sex with other people - WHAT ABOUT SEX WITH YOURSELF?? As advocates for self-pleasure and the power of masturbation, we decided to dive right in. Do people's solo sex habits on vacation mirror partnered sex ones? Are people have better solo sex on vacation? And what makes the best sex toy for travel?
54 individuals participated in this month's survey, so keep in mind that these findings can only give us a small glimpse into people's solo sex vacation experiences.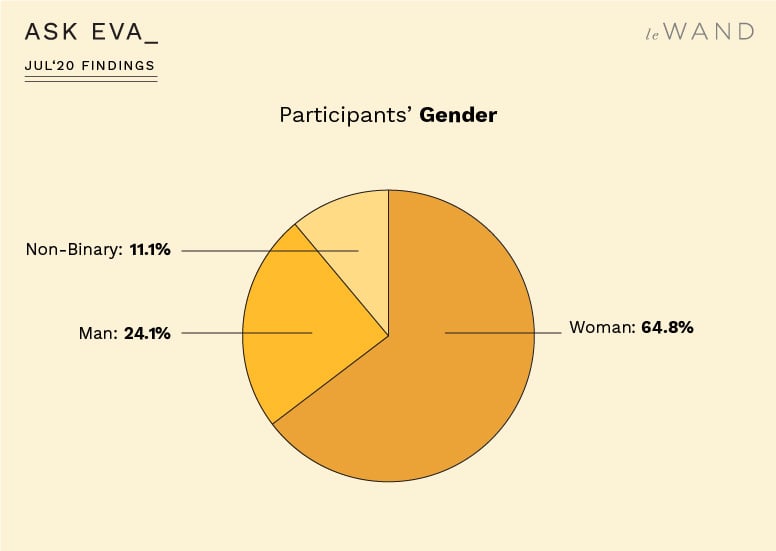 64.8% of participants were women, 24.1% were men, and 11.1% were non-binary (one individual was a non-binary femme). 17% of participants identified as transgender.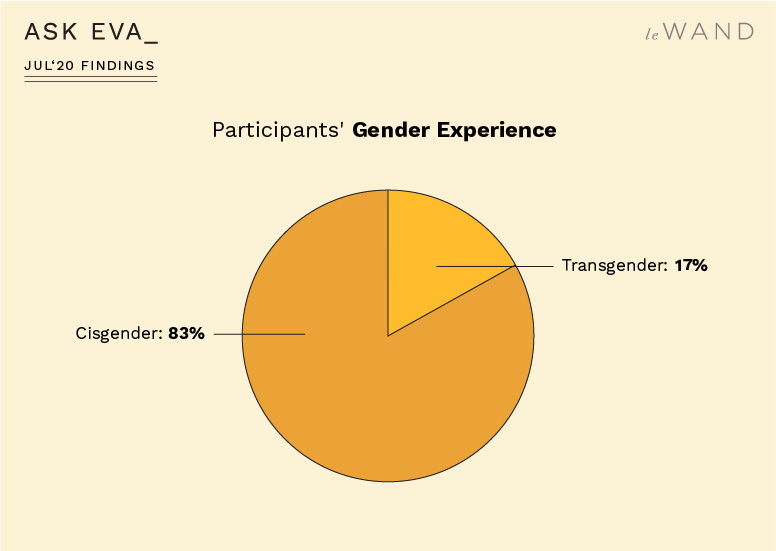 In terms of relationship status, the group was nearly evenly split between those who were single or casually dating (42.5%) and those who were in a relationship, engaged, or married (57.5%).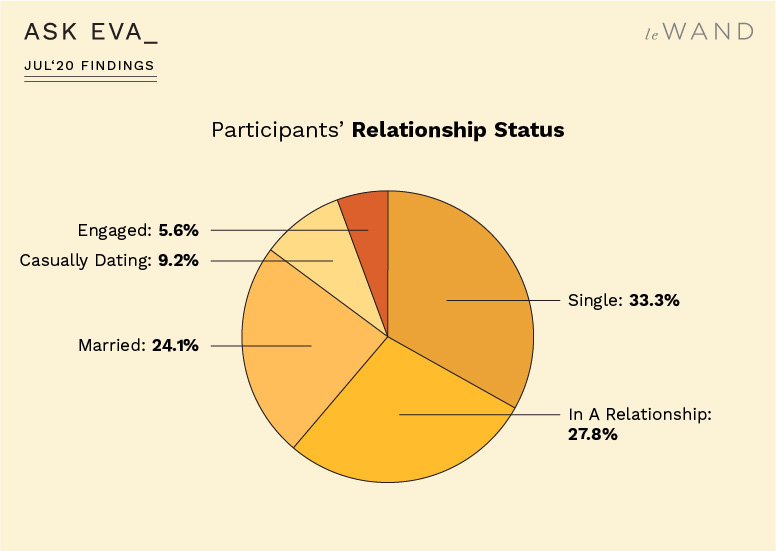 With regards to sexual orientation, the most commonly cited label was straight (45.2%), followed by bisexual (25.8%), and queer (12.9%). Several participants identified as gay, lesbian, pansexual, and/or demisexual.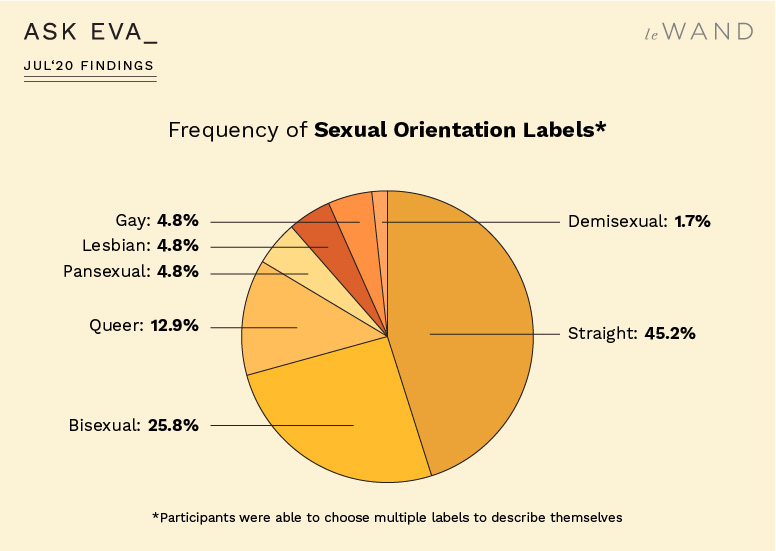 Let's get into the good stuff - solo vacation sex! Participants were asked to compare their solo sexual experiences on vacation to their typical masturbation experiences at home.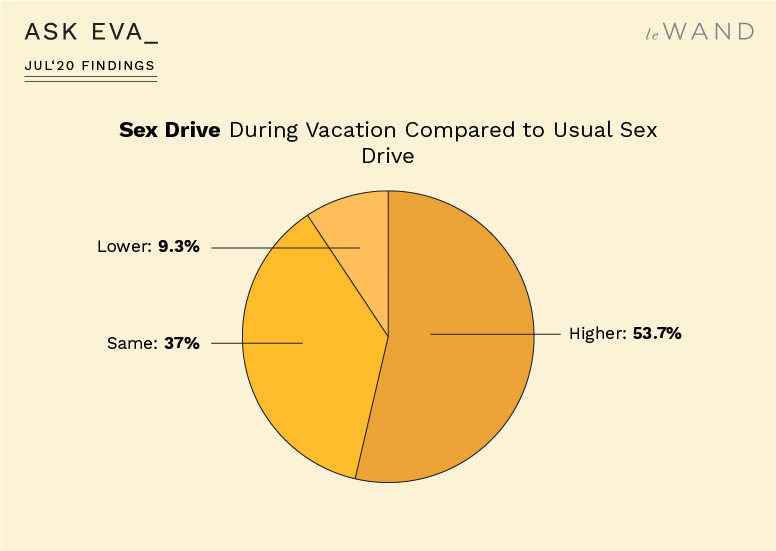 In terms of sex drive, more than half (53.7%) of participants said they had a higher sex drive on vacation, while another group (37%) had the same sex drive, and a minority reported a lower sex drive (9.3%). This might be the "sun, sea, sand, and sex" talking - an association with vacation and sexuality revving up participants' engines. Research has also explored how being in a different place can allow individuals to be a different version of themselves - perhaps a freer, more spontaneous, and anonymous version (Milhausen et al, 2020). Given our society's culture of sexual shame, this might provide individuals with the "permission" they need to tap into their sexuality.
However, in terms of how much masturbation individuals were doing on vacation, most reported less solo activity (64.8%). Participants were also given the opportunity to share a bit about their relationship with solo sexuality when traveling, and their responses shine on a light on why this might be. Some described having less energy or time after a day of exploring, feeling less comfortable in new places or out of routine, or focusing their energy on a partner.
One participant shared "I usually vacation with a partner, and we both tend to be more relaxed and therefore have a higher sex drive. We feel closer, more intimate, and so have sex with each other. My solo sex goes down, but not in a bad way. I enjoy the extra intimacy I have with my partner." Another participant highlighted the fact that having solo sex less often doesn't always translate to less satisfaction, saying that their relationship with solo sex on vacation was, "Less frequent, but more indulgent, slower and more satisfying".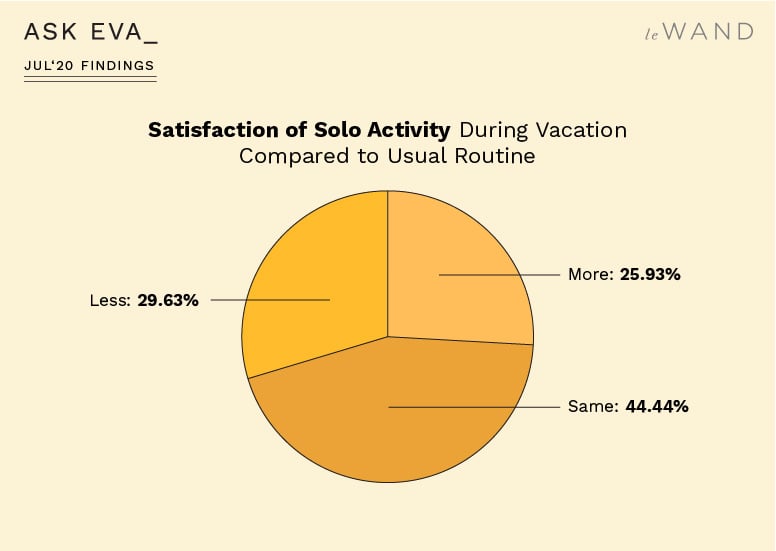 Speaking of satisfaction - we also asked participants how satisfied they felt with their masturbation on vacation compared to their usual routine. 44.44% said they had the same satisfaction, while 29.63% had lower satisfaction, and 25.93% had more. Delving into the higher end of satisfaction, participants were asked to think of a solo sexual experience on vacation that was particularly satisfying and describe what made it so good. Many described the excitement of being in a new environment, even that "something about the heat and humidity of a tropical climate makes you a little sweatier but feel sexier?". Others cited the experience of having to sneak around to get some masturbation in, "having to be quiet", "exhibitionism, the thrill", and even the "risk of getting caught". Another common reason for super satisfying solo sex with a lack of stress of vacation! Fewer responsibilities, "mental and practical concerns", allowing the mind to be clear, relaxed, and open to fantasy.
We couldn't talk about vacation solo sex without talking about sex toys and sexual exploration! First, we asked participants how the number and type of solo sexual behaviors on vacation compared to their usual routine.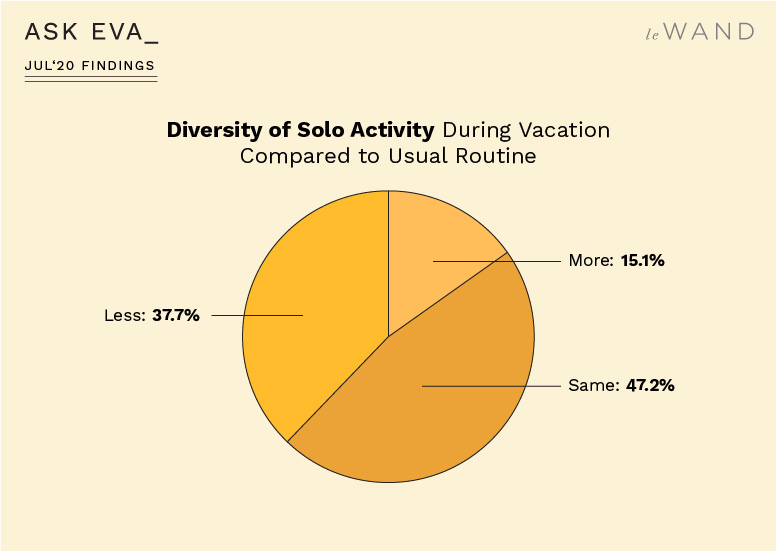 47.2% reported the same level of diversity, while 37.7% reported less diversity and 15.1% reported more. One participant described how she stuck to routine even on vacation, "About the same as home. I typically have more partnered sex on vacation. It's rare I'm on vacay by myself. Typically happens before sleep or a nap. #magicsleepingpill".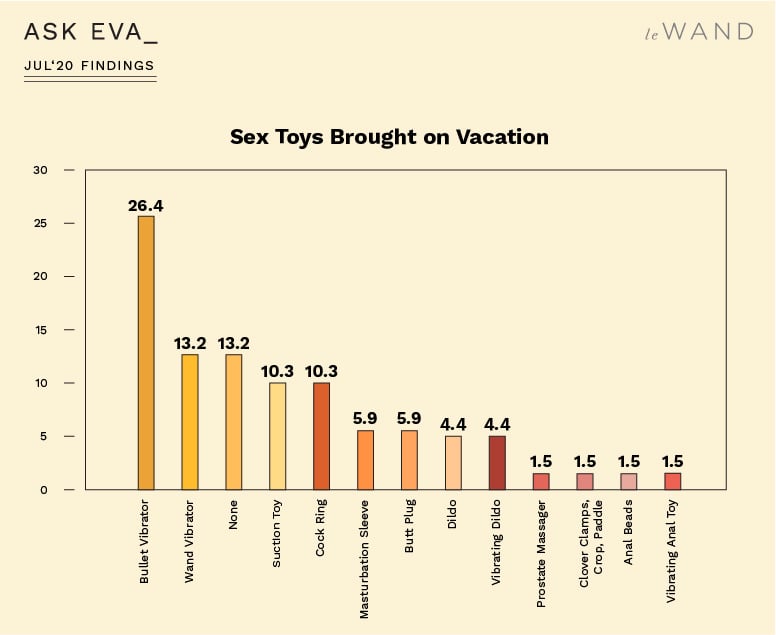 Over 85% of participants reported bringing a sex toy on vacation and vibrators were the most common addition, with 39.6% bringing a bullet or wand on vacation. Toys for penises like cock rings and masturbation sleeves were also common, followed by suction toys, butt toys, and dildos.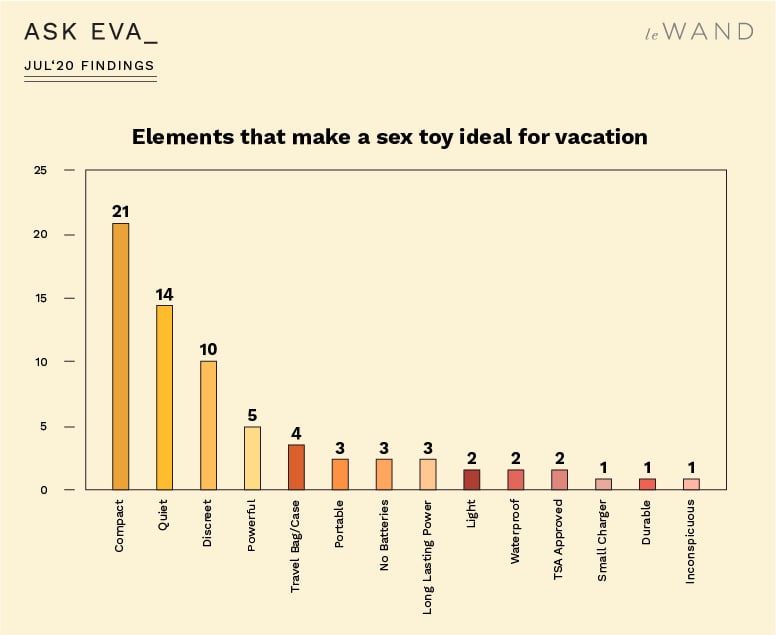 When asked to describe what made an ideal sex toy for travel, participants highlighted compactness (21), quietness (14), discreteness (10), long-lasting power supplies (6), power (5), and travel bags/case (4) as the most prized features.
Overall, people's experiences of solo sex on vacation are incredibly diverse and context-dependent! While being in a new environment and free from responsibilities might increase one's sex drive, factors like a lack of privacy, lack of energy from adventuring, or focusing on partnered sex might lead to lower rates of masturbation on vacation. On the other hand, a compact vibrator might be just the thing to get you feeling sexy while in a relaxed or exciting environment. Whatever the case for you, it's all valid!
References:
Berdychevsky, L., Poria, Y., & Uriely, N. (2013). Sexual behavior in women's tourist experiences: Motivations, behaviors, and meanings. Tourism Management, 35, 144-155.
Crick, M. (1989). Representations of international tourism in the social sciences: sun, sex, sights, savings, and servility. Annual Review of Anthropology, 18, 307-344.
Hobson, J. S. P., & Dietrich, U. C. (1994). Tourism, health and quality of life: challenging the responsibility of using the traditional tenets of sun, sea, sand, and sex in tourism marketing. Journal of Travel & Tourism Marketing, 3(4), 21-38.
R. R. Milhausen, C. A. Graham, R. A. Crosby, H. Ingram, M. Tetro, N. Bransfield, S. A. Sanders & W. L. Yarber (2020): 'What happens in Banff, stays in Banff': contextual and interpersonal factors contributing to sexual-risk taking among tourism workers, Tourism Recreation Research, DOI: 10.1080/02508281.2019.1697549