|
Couples Play
|
Position Guide
|
Product Knowledge
The Top 10 Benefits of Using Sex Toys With Your Partner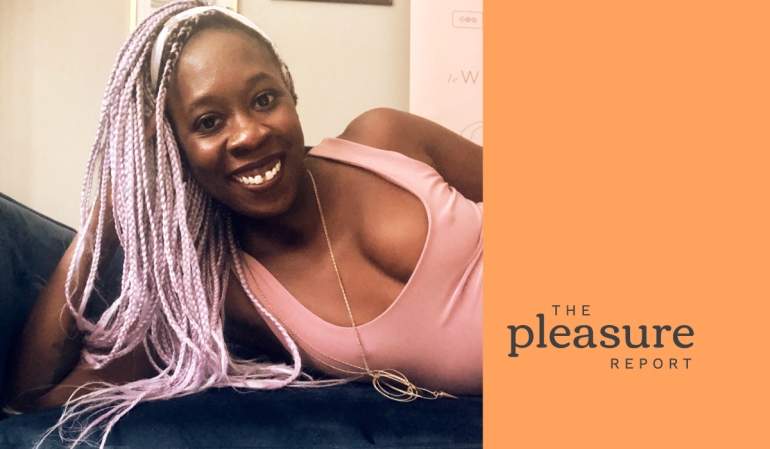 Last Updated: Mar 11, 2021
You've shook hands with your boo and decided to work it out by sweating it out. But how do you ace the O and burst through the stress you've just had? Grab a toy and let it do the work for you! In this Pleasure Report, Tracy shares the 10 benefits of using sex toys with your partner, and also the best positions when you add a toy to the plate.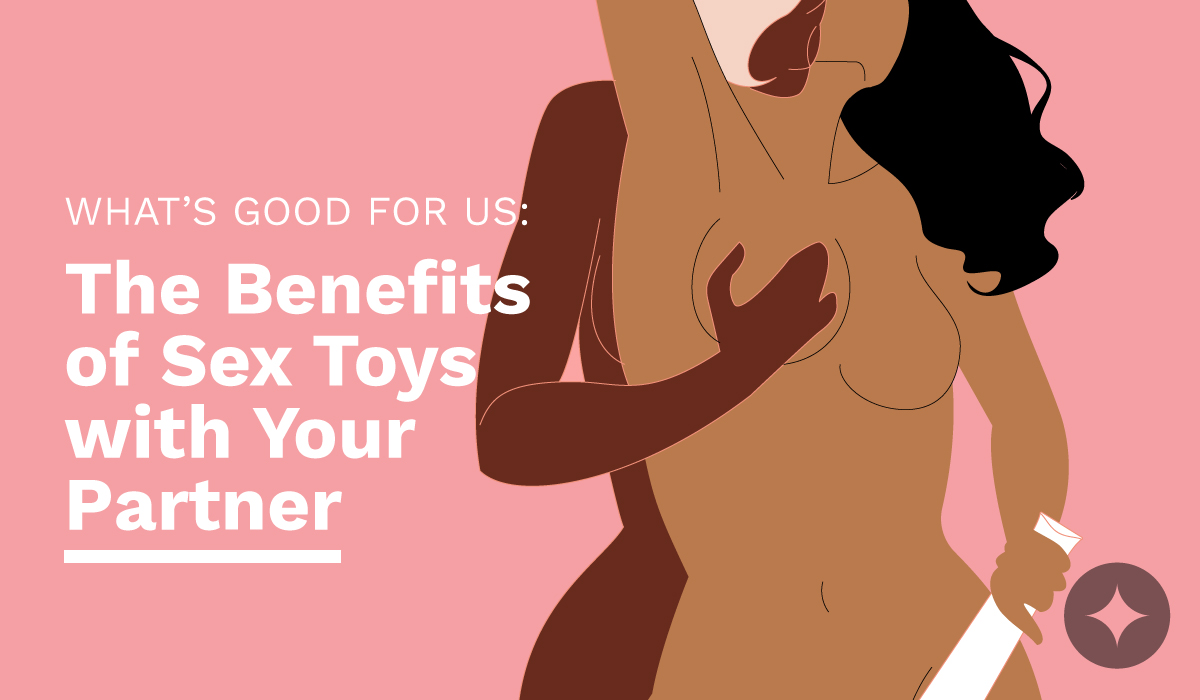 I always go by a motto when it comes to being in relationships: What's good for me is good for us, or what isn't good for me isn't good for us. This motto is totally a great one to use when it comes to bringing sex toys into the bedroom with your partner. Using sex toys doesn't mean that you're replacing your loved one's body part for the other. It simply means you're adding a little (or a lot) of toppings to your favorite ice cream from time to time. Yum. So, what's good for us? Read on!
Top 10 Benefits of Using Sex Toys With Your Partner
1. Finding toys to excite your partner can be thrilling! When you find the one that takes you and them to a different level is a plus. 2. Sex toys can increase your libido. 3. Using sex toys on your partner allows you to focus on pleasing them rather than allowing your ego to focus on yourself. 4. Just like lingerie or erotic games, sex toys are another avenue to raise good vibes in your body from head to toe. 5. Does your tongue get tired trying to bring the clitoris to its final "O"? Applying a vibrating toy can give your mouth a rest or the option to kiss or suck on another body part. 6. Vibration, in general, travels from body to body. So, whether you, your partner or both of you are wearing or holding a vibrating toy, the vibration will be felt when bodies are connecting. 7. Up for a quickie? A sex toy can speed up the time to a faster orgasm while on the go. 8. Sex toys are perfect for warming up the body during foreplay. 9. Use that vibe as a massager to release muscle tension in minutes. 10. Sex toys will forever be PPA friendly -- Portable, Powerful & Adaptable! So, are you ready to use sex toys in the bedroom? Sweeeet! Which ones should you get?
The Best Sex Toy for Couples Who Want to Try:
Sensual Foreplay
Whether you're looking to warm up the body with a little shower play or an erotic massage, the 
Le Wand Grand Bullet
 and 
Le Wand Point
 are going to be your go-to for sensual play. The Grand Bullet is an easy to hold bullet vibrator with an 'oomph' of rumbly vibrations. There's a texture sleeve and ring that can be used to level up the sensations during any foreplay scene. Use the Point as a great start to massaging your partner's neck and any tense spots. I love this palm-shape device as it can be used to massage any curve. Cup the testicles, massage the butt, have it lay in-between you and your partner for a grinding session.
Squirting
Okay, so there are 2 ways to achieve 
squirting
. The most common way is applying pressure onto the G-spot by gently tapping or squeezing your pelvic muscles (a.k.a Kegels) using the vibrations of the Le Wand Petite and Curve attachment. The other way is by massaging the clitoris with the Le Wand Petite head and going through the dope vibrations and patterns. For the most desirable and explosive experience, try using both wand and attachment anally for a P/G/A-spot wall to wall pleasure play.
Every Type of Orgasm
For every type of orgasm inside and outside the body, the 
Complete Le Wand Pleasure Set
 has you covered. You can use your Le Wand from head to toe. Think of the attachments as a gamers code pack for all of the special moves. Use the Shiatsu Attachment to get those tense knots out of any muscle... your neck, your back, your ass just like that! Use the Ripple Attachment for moving in and out of the body and the Curve Attachment for targeting pressure on your P/G/A-spots by tapping or allowing the vibrations to do the work. The Silicone Texture Covers offer next-level sensations while protecting your wand head when sharing the toy with multiple partners. Condom your wandom!
Temperature Play
So, the 
Le Wand Stainless Steel
 collection is probably the coolest pleasure tool for the summer season! Place these babies in the fridge for a few minutes and experience coolness all over your body. The small shocks of cool stainless-steel metal are going to feel really good when they enter in and out of the body. A bonus is that you can use any lube you want since it's not made from silicone.
Anal Play
The 
b-Vibe x Le Wand Anal Massage & Education Set
 is the grand-poohbah of focused anal massage and prostate play. This set is an amazing collaboration that can be used from just starting on fingering the butt to prostate and G-spot stimulation. There are finger gloves and hand gloves made of latex-free material so that you can start fingering without having to worry about the fear of mess. A towel for clean up is clutch, 
lube shooter
 for easy application, and an 
enema set
 for preparing the booty. Your main components are going to be the Snug Plug (which can be used anally or vaginally) and the Le Wand Petite with Curve Attachment for the most delicious booty pleasure feeling. Not to mention everything here is shower-friendly! Yasss!
LEARN: How to prepare for anal sex like a pro!
Harness Play
The Pegasus 6 inch pegging dildo set is going to be your "just the tip" or "put it in" harness play scene. I recommend this set for the average anal user as folks are using more pressure and weight onto their partner when it comes to anal play. Since the dildo has the option to vibrate using the remote control, it's great where you can massage or rim the butt in some rhythmic motions. Clockwise, counterclockwise or tracing letters along the anus can relax your partner's sphincter for easier insertion. Trust me, it becomes super tasteful to hear your partner moan and slowly back onto the dildo when they're ready for more.
Before You Begin - Set the Mood!
Though some pros are excellent in jumping right into a desire sex position, most of us prefer setting the mood to be the catalyst of any positional play. So, here's a great tip to keep in mind: We have 5 senses- smelling, hearing, tasting, touching, and seeing. Focus on at least 2 of the senses to stimulate your partner before getting into your positions. Stare into their beautiful eyes. Whisper sexy, sultry or dirty words into their ear. Use flavored lube to lick and suck on their most sensitive spots. Massage their butts. Light that scented massage candle for aroma. And have fun.
Best Sex Positions to Use With Sex Toys
1. Standing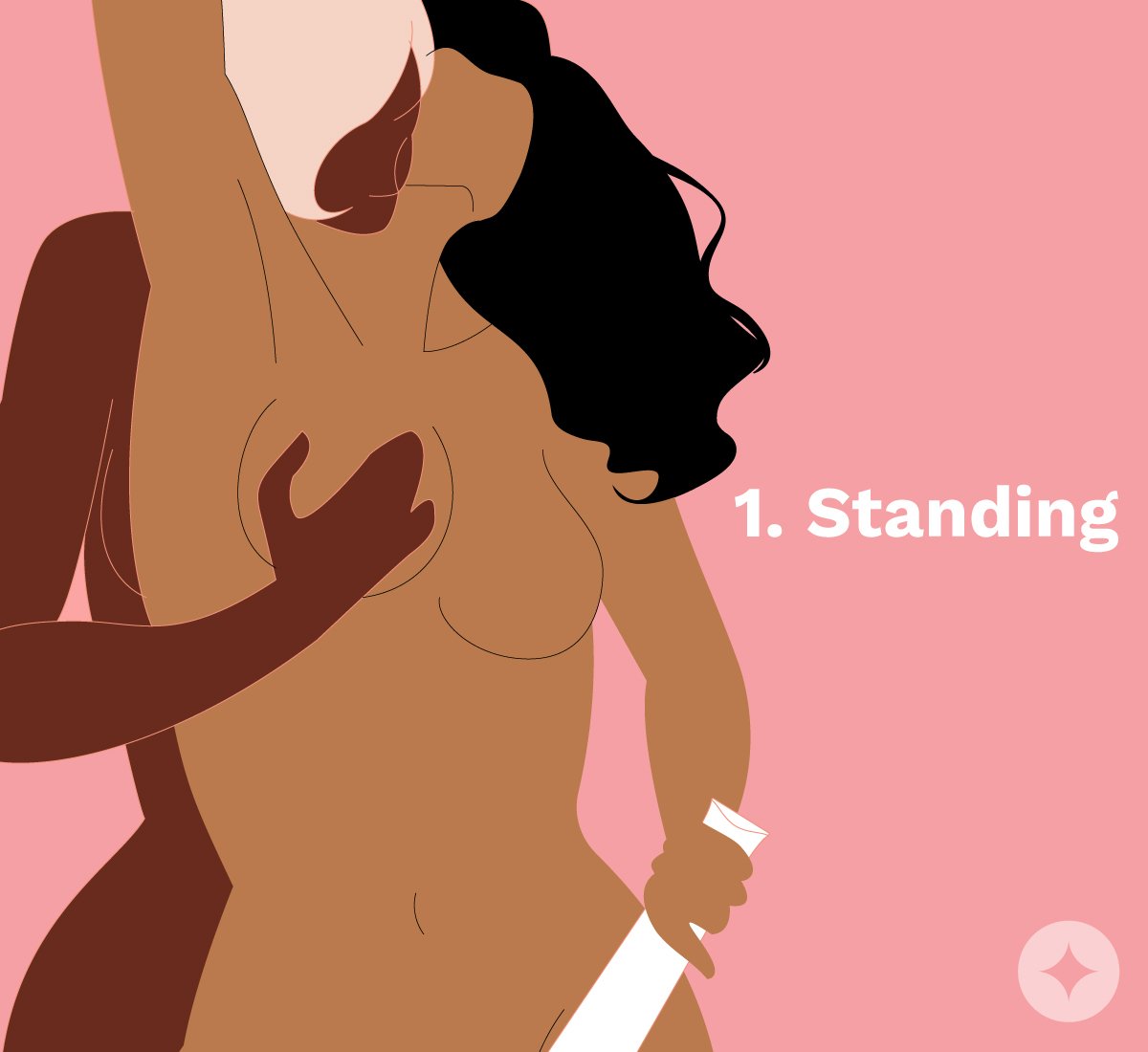 2. Side-lying/ spooning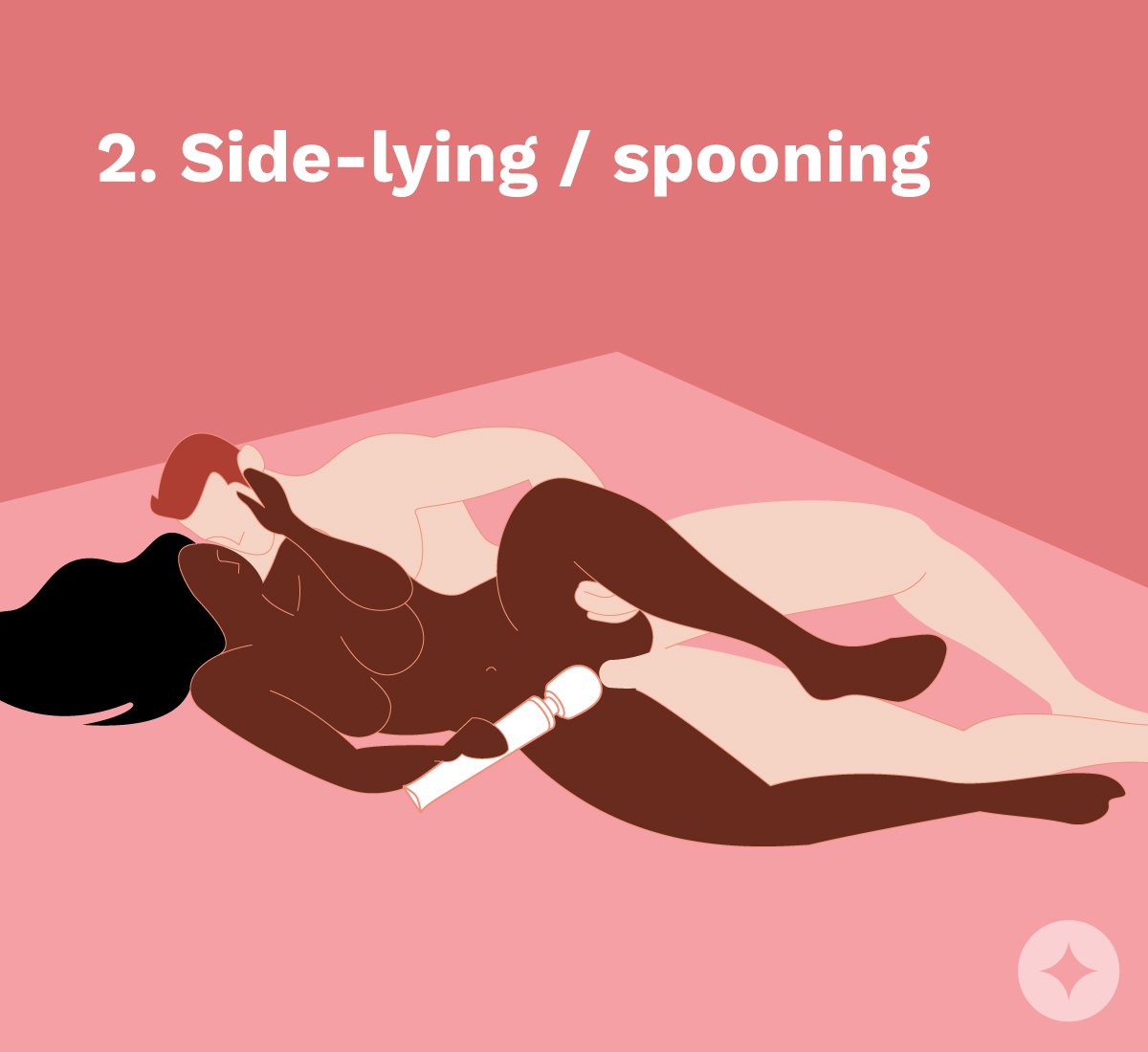 3. Doggystyle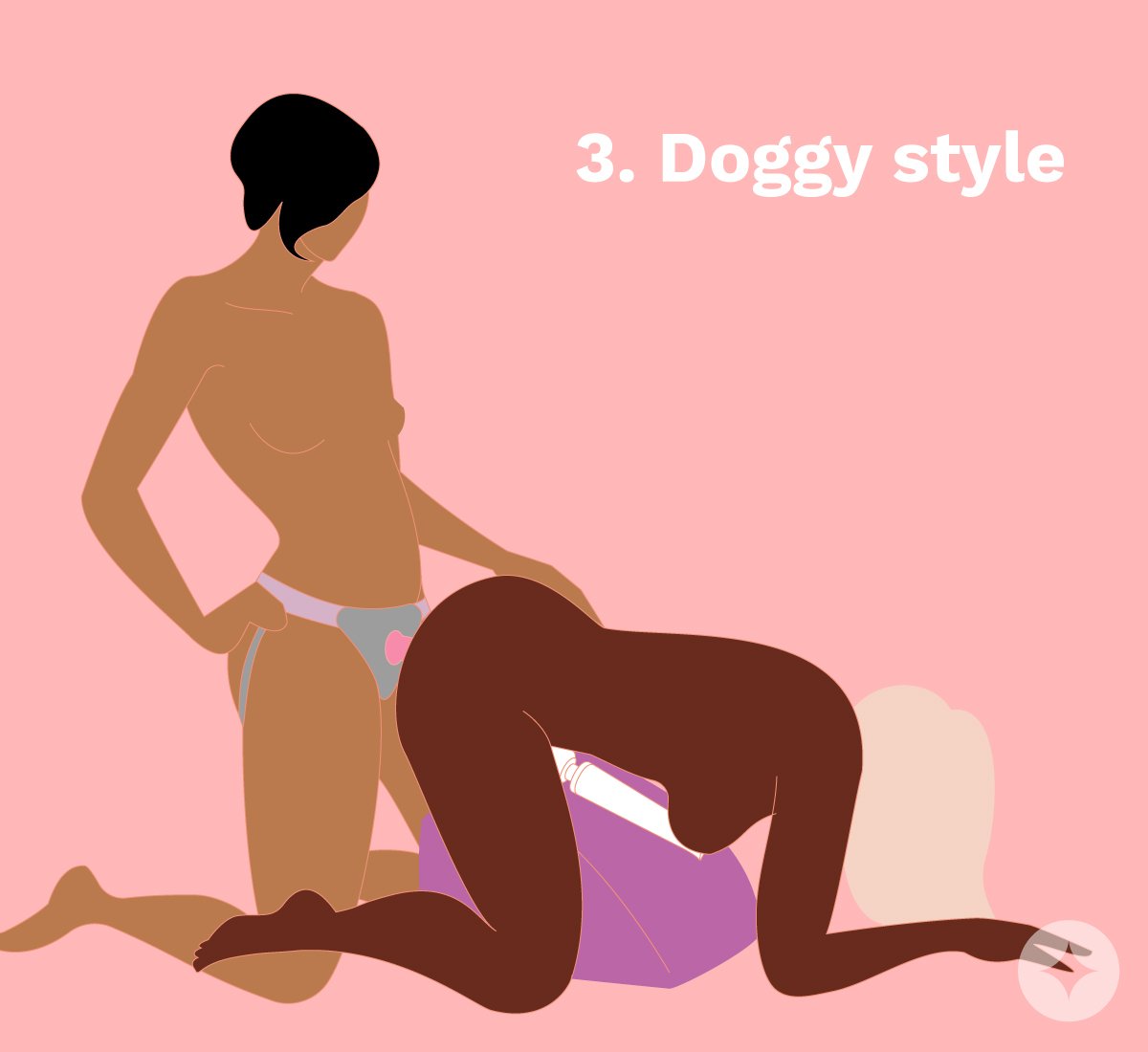 4. Woman on top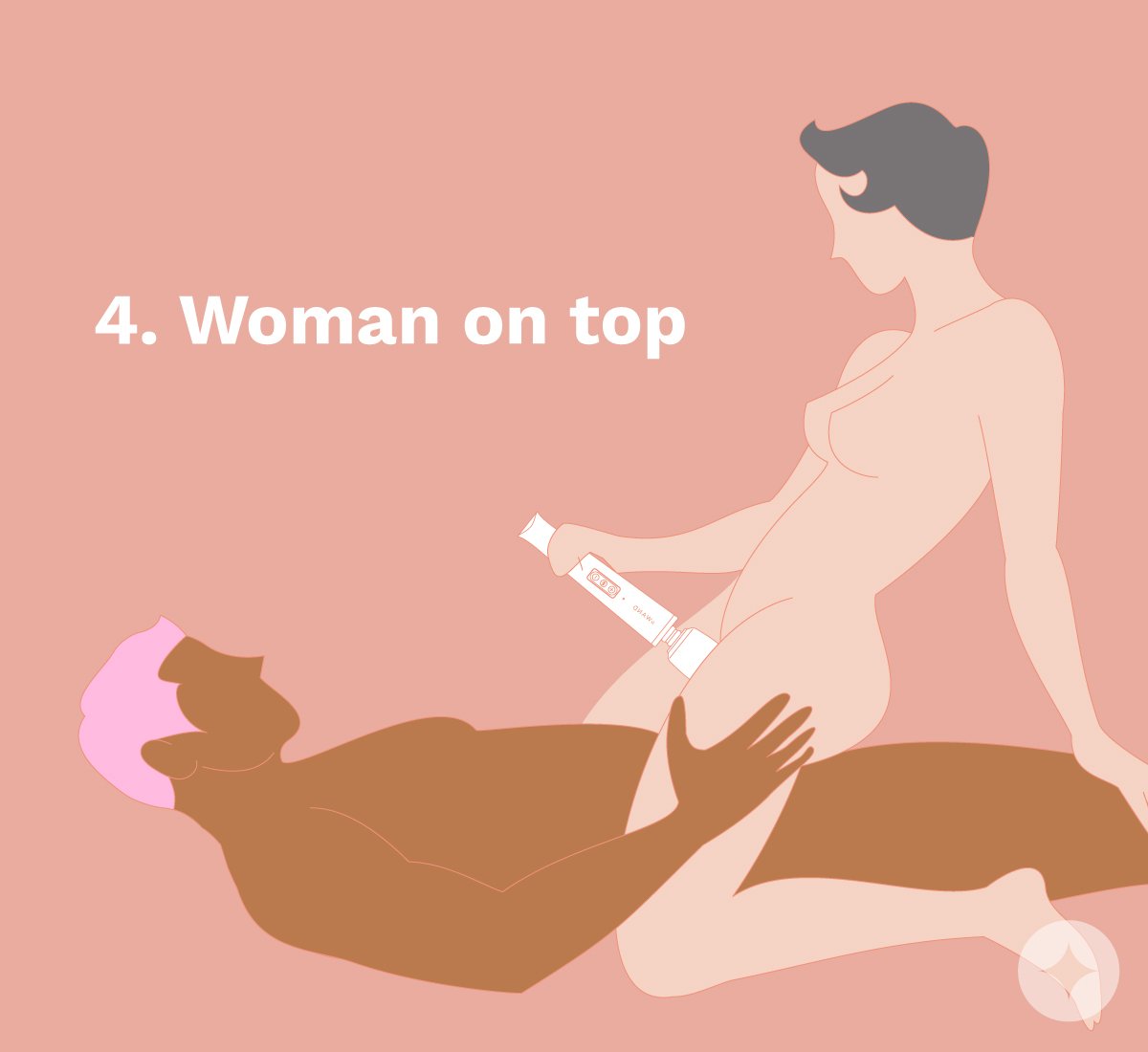 5. Dual-action -- partner fingering while Le Wand stimulates the clitoris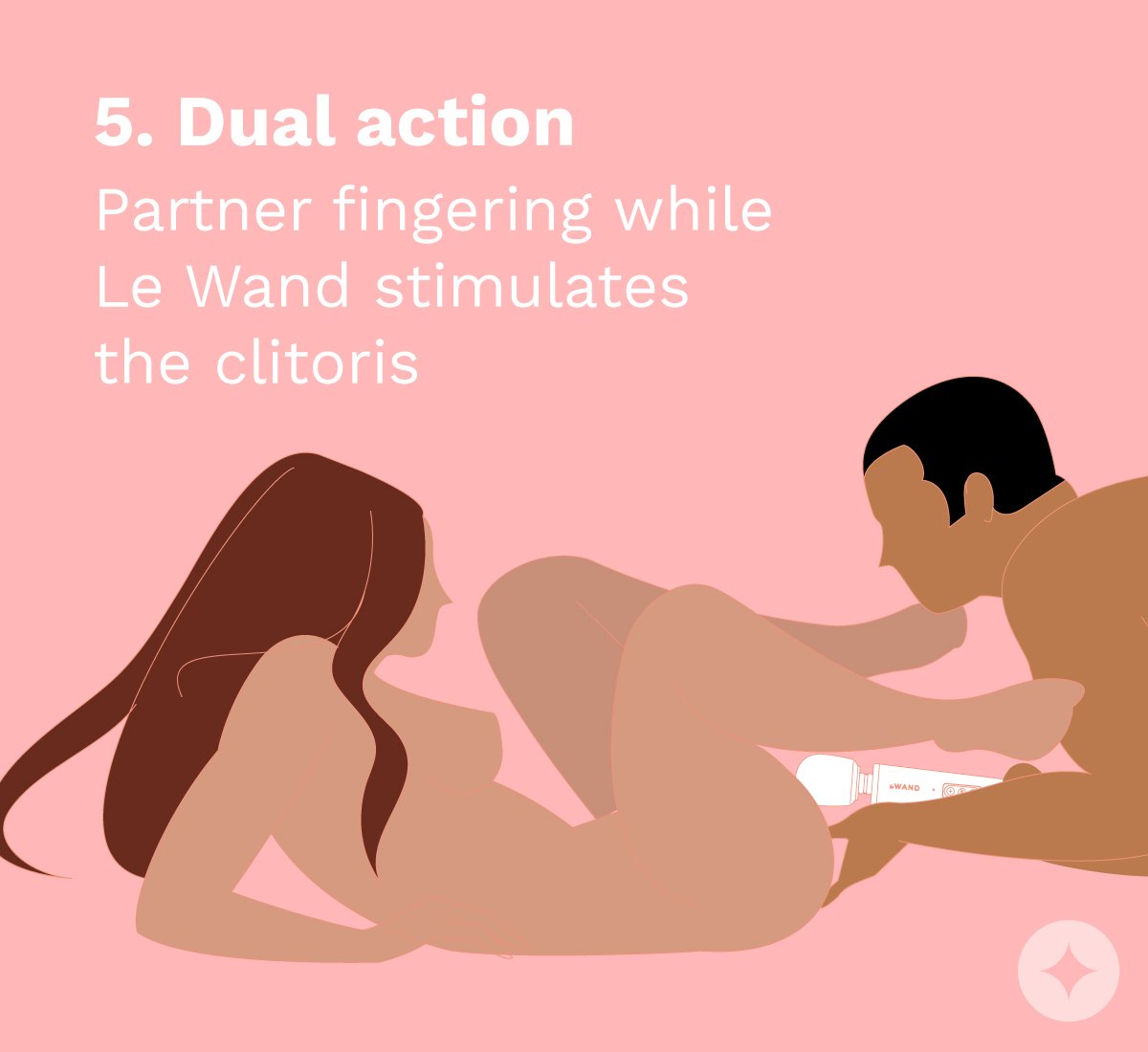 6. Dual-action -- self-stimulation using a wedge while giving oral to your partner