Lustline #1: First Issue of Our New Monthly Sex Advice Column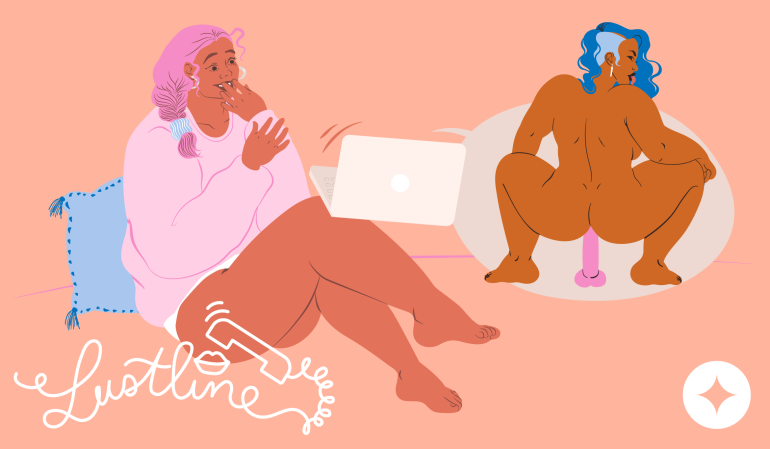 Last Updated: Aug 18, 2021
Looking for the honest truth, or need some helpful advice to get through your sex life slump? Join us for Lustline; our newest monthly sex advice column where we answer your burning questions! For our first installment, we invited one of the freshest voices on modern relationships and sex sex, Psychotherapist Rachel Wright (she/her), to tackle your topics.
Is it healthy in a marriage to incorporate threesomes? - Doughboy
Hi Doughboy,
First, off, I want to acknowledge how well this question is phrased. Often, when we ask things like this, we ask if they are "normal," rather than if it's healthy for us. Okay, back to your answer -- Threesomes (just like anything else in the realm of relationships) can be a fabulous addition IF both people are consenting and excited about the possibility. Having a threesome should never really be a spur-of-the-moment decision or something a couple does to "fix" their sex life. if a threesome sounds exciting to you and your partner, start discussing what that would look like, what each of your expectations are, and what each of your boundaries are. Another thing to discuss beforehand is what your WHY is -- why do you want this threesome? Understanding your partner's motivations and reasons is so helpful in understanding them as a human.
Then, take it into the bedroom (just the two of you first though)! During sex, talk about what it would be like if you were having a threesome and what positions you would be excited to try–talking like this can make it feel more realistic. Then after you have over-communicated and talked about it during sex, maybe you are ready to have a threesome! The most important things to remember are always this: consent and communication. When it comes to sex (and relationships in general), our partners deserve our full honesty. Whether it be us disclosing we are desiring a threesome or disclosing we don't desire one. Speaking with love, acceptance, and openness is always the best route. It will lead to happier, healthier, and more fulfilling sex lives + all around relationships.
One final thought. When/If you decide you want to have a threesome and you start discussing how you're going to find your guest star, think about if you want it to be someone you know already, someone you meet on an app, or a friend of a friend.. You just want to be sure that you are honest with your potential guest star about what they can expect so they can consent as well.
Is it weird to watch your friend's pornography? Is it weird to like it when you know the person well? - Anon
Hi Anon,
My initial question is — has your friend consented to you watching their porn? If no, there will definitely need to be a discussion (consent, consent, consent!).
If yes — no, I don't there is a problem with it! When it comes to what we find sexy, we all have different core desires. Perhaps one of the reasons you find it sexy is because you are watching someone you care about engaging in a pleasurable situation. This could in fact make you like it more because you have some sort of emotional attachment to your friend! There are many platonic friendships that are sexual — purely because two people who care about each other want to meet each other's needs. It doesn't always have to be romantic! We just weren't taught in our society that it's okay. So, my advice for you — make sure they are consenting to the viewing and if they are, enjoy! Having an emotional attachment to someone you are watching porn of, might make it that much hotter for you!
What toys are best for couples? Can Le Wand be used by couples or is it better to have something discreet and suitable for positioning between both partners? - Dave
Hi Dave,
While almost all toys can be used during partnered play, some are better designed for it than others. One of my favorite vibrators for partnered play is Dame Eva. If you are having penetrative vaginal sex, it perfectly positions into the vulva and allows for penetration at the same time. It's fab! Another personal fav of mine is Le Wand. It has so many different variations of the most wonderfully rumbly buzzing that you can absolutely hold it wherever feels pleasurable during intercourse. Really, it comes down to what you and your partner(s) are looking for or what to play around with. To answer your question, "can Le Wand be used by couples" — any toy can be a couples toy if you want it to be!
xo,
Rachel