Lustline #2: September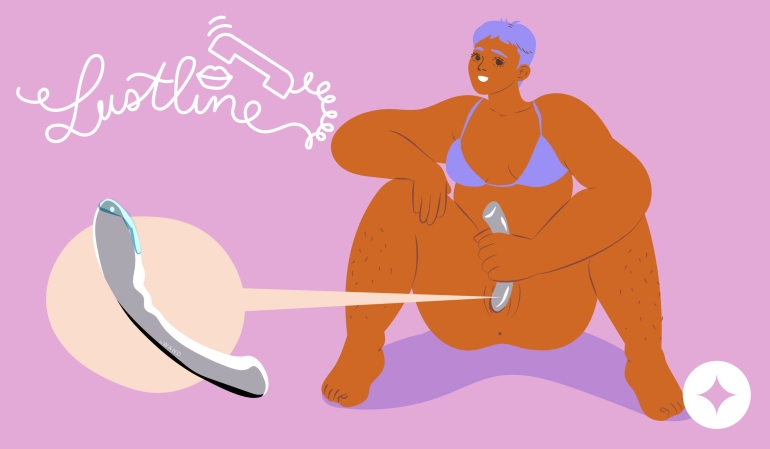 Last Updated: Oct 19, 2021
Looking for the perfect finger vibrator? Problems with a married man? Looking to polish your stainless steel solo skills? We have all your answers and more in our second installment of Lustline!
What is the best finger vibrator? We love doggy style, where she uses the larger LeWand. If we had a finger one, it would be better. Also…she isn't into trying anal, but I think it could feel so good to us both. - Fun Husband
Dear Fun Husband,
Bellesa has a fantastic finger vibrator option— Finger Pro by Bellesa. It is one of their top-rated toys and raved about by many! It also isn't very pricey, so that might be a great place to start. If you don't want something ON your hand, I'd look into something like the Le Wand Deux or Double Vibe.
When it comes to booty play, going straight for anal can feel very.. overwhelming. I suggest starting by asking your partner if she would like to try a finger or a buttplug (the Novice Plug or Snug Plug 1 by b-Vibe are great places to start) and go from there! With booty play, it's always best to ease in and really figure out what you and your partner are comfy with before jumping into penetrative sex. Use lots of lube (make sure it's compatible with the toy you're using if you're using one) and take it slow!
You mentioned that your wife "isn't into trying anal," and I want to break this down. Firstly, has this been a conversation between the two of you or something you have mentioned? Try asking her, "Hey babe, are you open to any booty play, or do you not enjoy booty play at all?" Be intentional with her— is there a specific reason? Does it seem scary? Is there a stigma around it? Most of the time, we need to have an in-depth conversation and get down to the nitty-gritty of it all.
Also, if she genuinely just isn't into it, ask her what she IS into, and would be open to trying! Here is a list for you to look through and discover new possibilities together. Boundaries are wonderful and vital because they show us all our potential options while honoring our sex partners' limits and desires.
Something that might be worth mentioning is that not all of our 'sexual bucket list' items, or even acts of interest, will most likely not match up with our partners— and that's okay! There are so many beautiful possibilities of things you still have yet to try together. So focus on where your wants do overlap and start there!
I have a man in my life that is, with no word of a lie, the best lover I have ever had. The dilemma is that he is married to someone else. Neither of us is willing to end our relationship, but he won't leave his family either. - Deliciouslea
Dear Deliciouslea,
I'm going to give you a bit of tough love, okay? And it's not because I think you are a terrible person (I don't), but because sometimes, when we're in messes like this, it can feel so confusing to distinguish right from wrong.
Ethical Non-monogamy (ENM) is when multiple people are consenting to their partners having multiple partners. This isn't ENM. This, Deliciouslea, is cheating. Cheating, no matter how much you may care for this person, just isn't ethical because there are people who could be so hurt by what is going on.
What are you hoping to come out of this situation? What do you want? How do you want to feel? We all deserve amazing sex, happiness, and love, but not at the expense of someone else's. Have you decided what your deal-breakers are? I have yet to meet a person who can stay in a relationship like this long-term without feeling guilt, resentment, anxiety, or a combination of those, plus more.
Every situation is unique and by no means is this response telling you that you're wrong and you should end things. What I do want to encourage you to do is sit down and ask yourself the questions above, in addition to asking yourself if you want an ENM relationship or if you're looking for a monogamous relationship and happen to find someone who is already in their own monogamous relationship.
I genuinely wish you all the best—both as a human who has been in your shoes and as a therapist who has had many clients in scenarios like this. You are going to be okay. Stay true to yourself and the relationship you want to have.
I don't understand how to use stainless steel toys when I masturbate. Like, I get it with a partner, but when I masturbate, I just want to orgasm and go. How can I use some of the stainless steel wands we've invested in on my own? - Confused with Steel
Dear Confused with Steel, I hear ya— sometimes, when we're by ourselves, masturbating almost seems like more of a practical task than a sexy one. Firstly, I want to encourage you to take some time when you masturbate to focus on pleasure and not orgasm.
Orgasms are fabulous, but it can be equally as liberating to discover different kinds of pleasure all on your own.
Second, check out this fantastic guide on stainless steel sex toys. It goes over the basics like maintenance, cleaning, longevity, storage, and then more into usage and ways you can use stainless steel toys.
Sometimes we forget that we can be curious and playful with ourselves, and that's what I would encourage you to try -- play without the goal to orgasm. You can't mess up; you can't do anything wrong; it's not weird— just explore and play.
One way to do this with your stainless steel toys is to try booty play on your own! You can lube up your toy, insert it in your booty, and proceed to masturbate your usual way. And, if you're a vagina owner, you can try inserting it in your vagina as well.
I recommend using the Le Wand Arch for G-Spot (vaginal) masturbation/exploration or the Le Wand Swerve for anal masturbation/exploration or some prostate play with your partner. The Swerve is designed for all genders to experience deliciously pleasurable anal stimulation. Stainless steel sex toys are some of the best ways to explore your body because they do so much on their own for you with their natural weight, etc.
xo,
Rachel