8 Sex Games to Spark Up Your Sex Life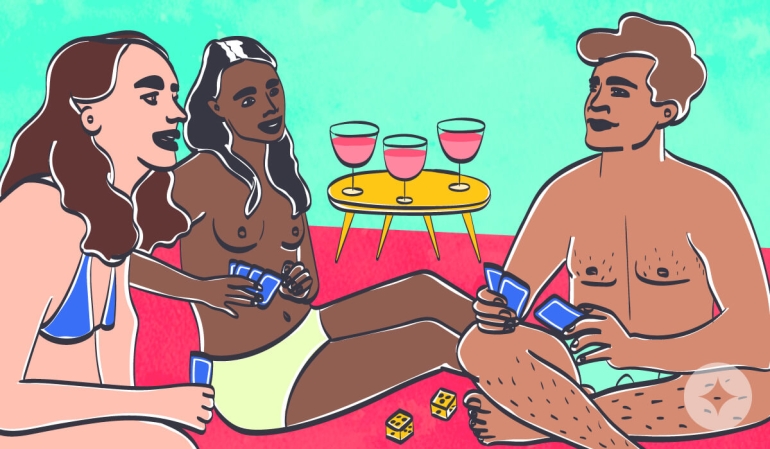 Last Updated: Mar 11, 2021
If you've ever been perusing the aisles of a sex store, you may have come across the sex games section with a deck of cards or sexy dice and thought to yourself, surely nobody actually uses those except bachelorettes, right?
I'm here to tell you that sex games are not only totally normal but incredibly fun. From using them alone with your partner to sex parties with a group of strangers, sex games are for everyone.
What are sex games?
To talk about sex games, we first need to break down the term. Sex games is a broad, all-encompassing way to say "add a game element to your sex life," but, in general, they break down into three categories:
1. Actual Sex Games Made for Sex
2. Games You Already Have That Can Be Used for Sex
3. Games That Require Nothing But Your Bodies (and maybe a Le Wand!)
Lucky for you, I've broken down these sex games as to how to play them, who they're best for, and why playing them can spark up your sex life in a whole new way.
Here are the best 8 sex games to spark up your sex life!
Actual Sex Games Made for Sex
1. Sex Dice
What are sex dice?
This is a pretty simple sex game. Containing two or three dice, this game tells you and your partner(s) what to do to each other with the added excitement of chance.
Roll the die to tell you whether to bite, suck, smack your partner's fingers, tush, clit, etc. Some kits add a third dice for the amount of time to do said task. Die can range from oral to kink-focused and can be mix and matched for added fun.
Who should I use sex dice with?
Use sex dice with a partner to add an element of chance to your foreplay and playtime or during a play party with a larger group of people.
When using them at a play part, combine them with a game of spin the bottle for the ultimate sleepover fantasy. Just make sure to ask for consent before playing!
Why should I use them?
Because sex dice are fun, they're easy to use, and they can spice up any sexy time. Taking away the control during sex can be exhilarating, especially for those in partnerships with a lot of dominant energy (hellooo double Aries couples!).
2. Sex Cards
What are sex cards?
Sex cards are just what they sound like, a deck of cards with sex things to do on them.
Ranging from foreplay massages to full-blown sex positions. Draw a card and let your sex adventure begin. These are great for the improvisers among us whose versatility allows for the creation of all kinds of rules.
Who should I use sex cards with?
Best for a pair of people as these cards usually include a single position or an exchange between two people.
They make specifically lesbian/ gay cards as well as penis-vagina cards, so these are great for all combos of genitalia!
Why should I use sex cards?
Once you know what you like with your partner, it can become second nature to have sex in the same handful of ways every time. Sex cards introduce you to new positions and remind you of oldies but goodies.
3. Nookii
What on earth is Nookii?!
It's an actual game created for sex. Nookii combines cards, dice, and your bodies to create a full game night experience.
Though this game certainly leans hetero, it can definitely be finagled a bit to fit all genders (just add a Le Wand penis attachment, a strap-on, or even a vibrating butt plug like the Rimming Plug)
Who can play Nookii?
Couples who are new to the world of sex games/sex exploration in general or couples who just really love board games.
Why should you try Nookii?
It's a great introductory foray into sex games and gives you & your partner an easy way to break the ice into trying new thing. Plus, everything is a little more fun when it's gamified.
Games You Already Have That Can Be Used for Sex
1. Poker
What is it?
It's poker! Whether it's Texas Hold 'Em or Five Card Draw, you can replace the chips with sexual favors and get betting.
Decide in advance what favors will align to which amount- for example, a kiss might be betting $1, oral sex is $20, and ALL IN means penetrative sex or position that you normally wouldn't do.
Who can play it?
Partners, predominantly. But if you're playing with a group, switch it to strip poker.
Why?
It's one of the easiest (sex) games, it's fun, and you probably already have a deck of cards lying around.
2. Bananagrams
Banana what?!
Bananagrams (similar to Scrabble) uses lettered tiles to spell words. Change up the rules and only allow sex words to be played.
Before each round, deiced what you'll give your partner if you lose i.e. a lap dance, a blow job, etc. If you happen to get stuck or need to pick up more letters, you'll have to pay the (sexy) price.
Who is it for?
The sexier version of Bananagrams is definitely recommended more for a couple/ sex partners.
Why should you play this sex game?
For starters, it's Bananagrams and it's a great game for the nerdy, word lovers amongst us who want to sexy up their weekly board game night.
Get your brain working before you get your blood pumping!
3. Twister
What is Twister?
One of the best physical games around. Sexy twister is an excellent ice breaker for sex parties.
Once you've established consent, use sexual acts as distraction or redemption if you fall.
Who is sexy Twister for?
Best for groups of people as Twister isn't as great with only two people.
If you do fancy playing with one person, focus sexual acts as a distraction whilst your partner tries to hold a position or use it to discover new sex positions that you've never tried.
Why Twister?
Twister is a super fun, physical game that's always had a sexual connotation. A game made for tangling bodies, Twister is just asking to be used for a sexy night in with friends.
Games That Require Nothing But Your Bodies
1. Strip Never Have I Ever
What's this sex game?
Ice breaker games like Never Have I Ever can be used as an intro game for sexy parties or even to get to know your partner better.
Replace drinking or putting a finger up with taking off a piece of clothing. If you're playing with two people, whoever "loses" (a.k.a. gets naked first) owes the other person an orgasm.
Who is this sex game great for?
Gr
oups or partners - ice breakers are for everybody!
Why should you play it?
Because you don't need anything but your clothed (and then unclothed) bodies. Plus, ice breakers are a good way to gamify getting vulnerable- and the more vulnerable and open that you feel with your sex partner(s), the better.
2. See Who Can Stay The Quietest
What's this sex game all about?
The clue is in the name. It's a super easy game that you can do with nothing but also with a Le Wand and your bodies.
Before you start, decide what you're wagering! It can be anything from your sexual act or something that you don't do often. Then take turns using your Le Wand (and attachments) on each other for 5-10 seconds at a time.
Whoever makes a noise first loses that round and owes the other person what they bet them. Play until you're exhausted ;)
Who is this sex game for?
It's great for partners who want to explore using sex toys in the bedroom but haven't found a way to incorporate them into their normal sex routine.
Why this game?
It's fun, it'll help you explore new ways to play in the bedroom, and best of all, it allows you to play with all of your Le Wand attachments.
It's also especially great for those who want to explore games in the bedroom but don't want to invest in anything new.