|
Couples Play
|
Product Knowledge
6 Le Wand Products That Can Enhance Strap-On Sex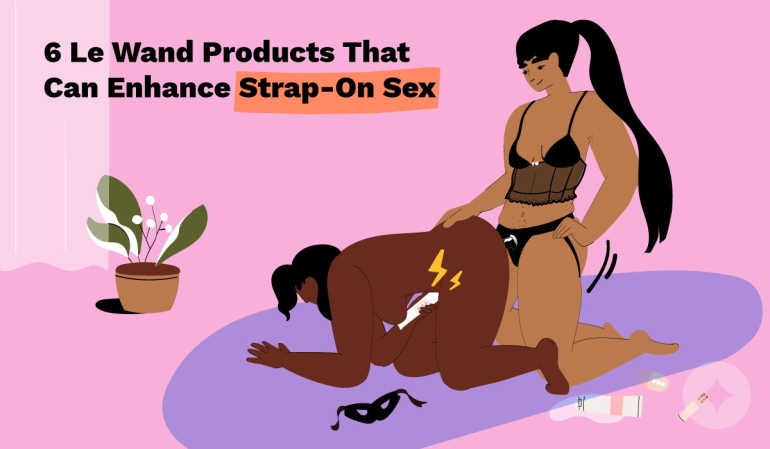 Last Updated: May 25, 2023
Choosing a favorite sex act is like choosing a favorite ice-cream flavor: nearly impossible. But for me, just as Oreo inevitably comes out on top, so does strap-on sex.
And just as rainbow sprinkles upgrade any ice-cream flavor, in my experience, Le Wand products offer the same benefit to strap-on sex.
Here, I explain why strap-on sex is my personal creme-de-la-crop, and share the sexessories that make it even (ahem) creamier...
What is strap-on sex?
You'd be forgiven for thinking strap-on sex is only dildo-in-vagina sex. After all, movies like Pariah make it seem like that is the only way to use a strap-on. But there is wayyyy more than one flavor of strap-on sex. (That's the last nod to ice cream! I promise!).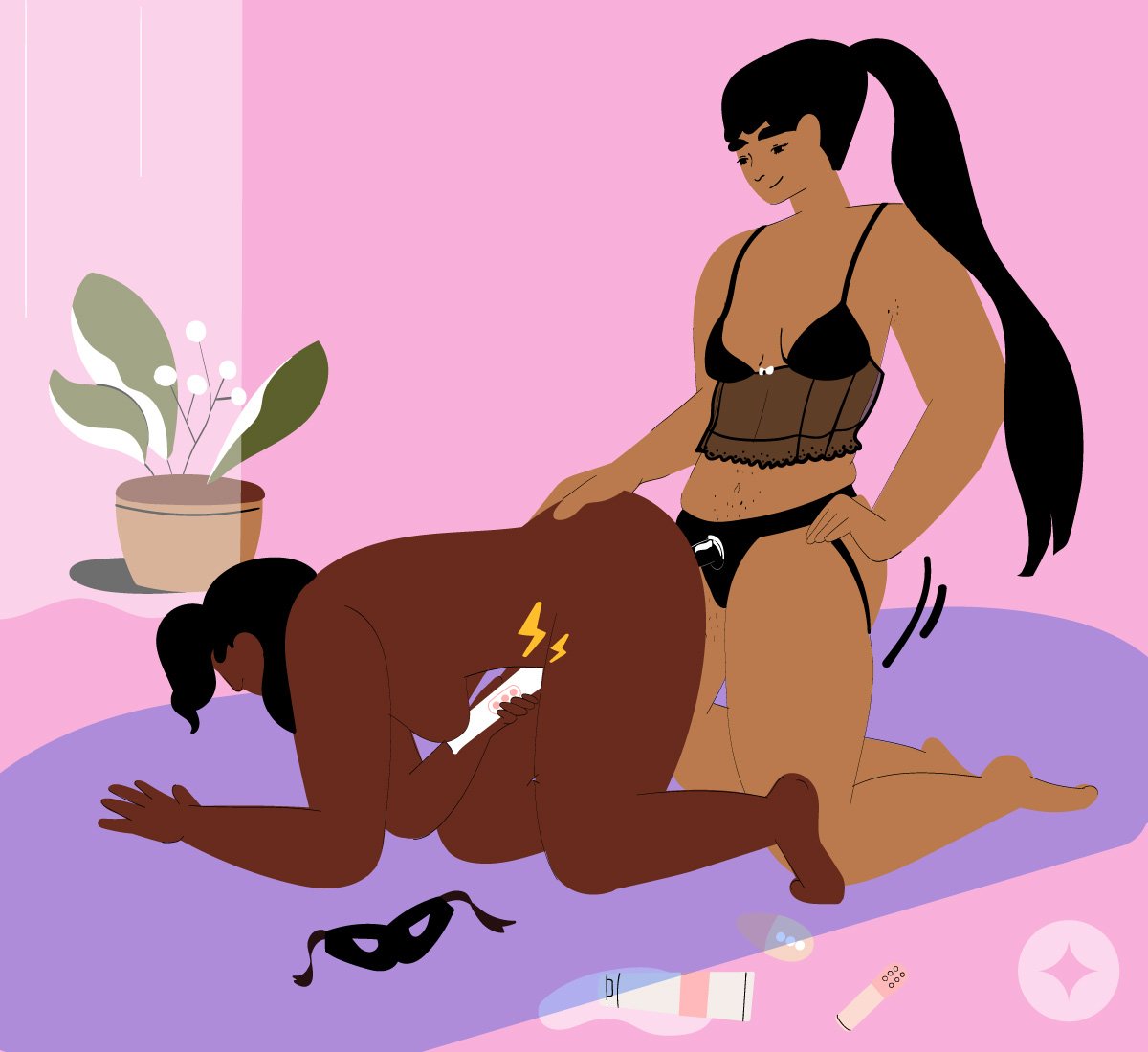 But strap-on sex is a-n-y experience of pleasure that involves a harness and a dildo—and it's the versatility of the toy that makes me love it so. In addition to being used for vaginal penetration, strap-ons can also be used for anal penetration (sometimes known as pegging), as well as during hand sex, oral sex, solo sex, and more. There are even harnesses that also have strap-ons to be used for double-penetration, double anal penetration, double-vaginal-penetration, thigh-riding, face-fucking, boot-bouncing, and more.
Personally, nothing turns me on quite like having a partner lick, deep-throat, such, and worship my dildo. In addition to being INCREDIBLY visually stimulating, it's also physically stimulating; the base of the dildo rests directly over my pubic mound, so with every tug and twist, the base massages the nerve-dense clitoris beneath. Hot, right?
MASTER: 7 Creative Ways to Orgasm from Clit Stimulation!
Strap-on sex also makes an occasional appearance in my solo sex practice. On my gender-playful days, I enjoy wearing a strap-on while I masturbate because it allows me to imagine that I am jacking off a biological penis. Fun!
The best additions to strap-on sex
Not to sound like Captain Obvious, but for strap-on play you'll need a harness and dildo. But that doesn't mean there aren't other pleasure products that can be used during strap-on sex. There are! Many!
Here are my favorite 6 products to use during strap-on play below.
Did you know that most underwear-style harnesses have one (or two!) pockets in them specifically for a bullet vibrator? Yep! The idea is that the bullet vibrator can pleasure the wearer's clitoris and (!) send sensations down the dildo, to give the receiver an extra bit of pleasure.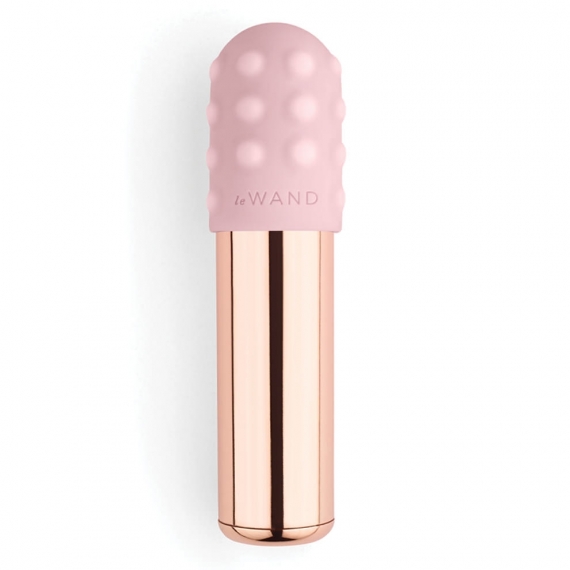 Welp, no bigger than your pinkie finger, this bite-sized vibrator will fit perfectly into any bullet vibrator. Best part? In addition to holding a charge for a full 60 minutes, the Le Wand Bullet offers four different intensities which range from not-very-intense to VERY intense, making it enjoyable for Sensitive Lovers and Intensity Seekers alike.
Nearly 5 inches tall, the Le Wand Grand Bullet is going to be too big for most harness pockets. But you know what it's *not* too big for? Most vaginas!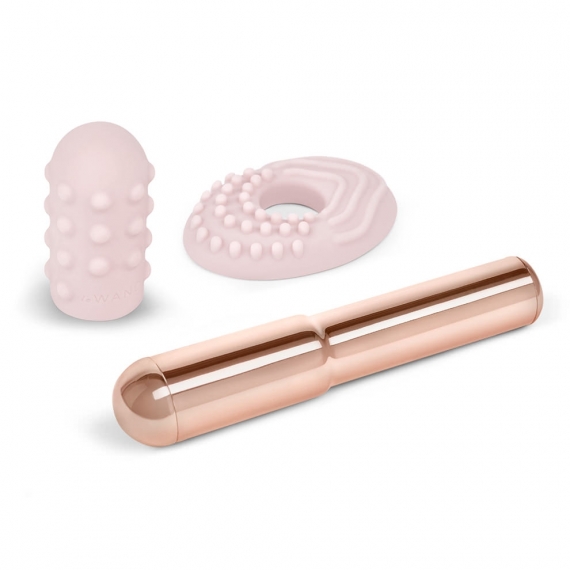 Inserting the Le Wand Grand Bullet into their vaginal canal under their harness allows the partner doing the penetrating to experience a feeling of fullness and G-spot stimulation during the fuck fest.
Made out of solid, body-safe metal, this pleasure product is heavier than most bullet vibrators on the market. SO keeping it inside your vagina will require the use of your pelvic floor muscles. But, it's good practice for when you and your partner decide you want to try a double-sided dildo.
My recommendations: Spend some time getting fully aroused before strapping-on. When you're ready to strap-on, add a dab of water-based lubricant on the textured end of the vibrator and slide it inside you. Saddle up in your favorite underwear harness—which will help keep the toy inside your body even if your pelvic floor muscles get tired. Pop the dildo through the O-ring, and then have at it.
It's no secret that the Le Wand Point is my favorite sex toy of all time; I recommend this rumbly palm-shaped vibrator to strap-on lovers and strap-on haters, alike.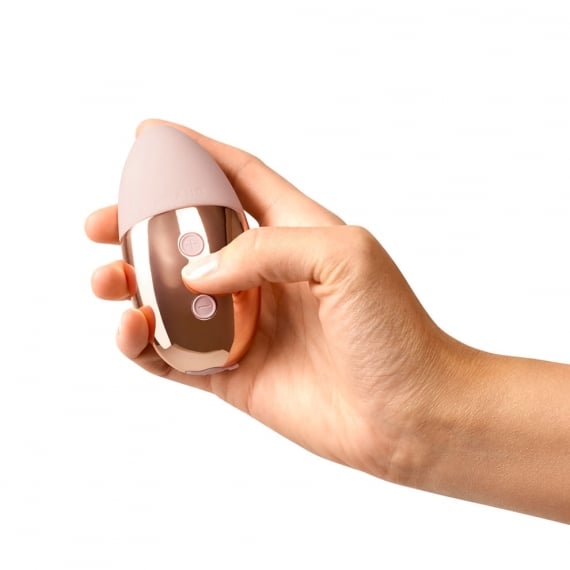 But part of the reason I love it so much is that its flat-lay design allows it to fit perfectly inside most underwear-style harnesses, providing rumbly stimulation to the wearer's pubic mound, clitoris, and labia. When I use the Point during strap-on sex, I plunge the water-proof toy into a glass of ice water. Then place it between my bits and harness so I can feel it heat up as things between my partner(s) and I do. *Devil emoji*
Worth mentioning: weighing in at 6.4 ounces, the Point is on the heavy side, which can make it feel a little unruly when the penetrator is on top. But that concern completely disappears when the wearer is on their back... just sayin.
The above three pleasure products are all designed to provide clitoral stimulation to the person wearing the strap. But the Le Wand Petite excels at stimulating the clitoris of the person receiving the strap.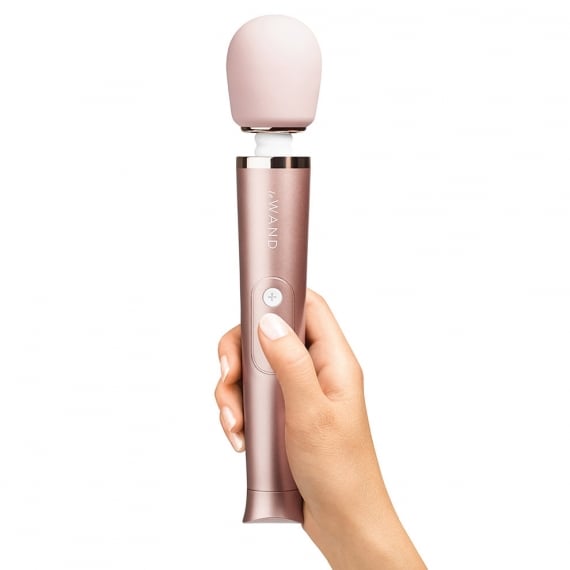 This smaller version of the iconic Le Wand Massager, the Le Wand Petite features a long arm for easy reach, 10 rumbly vibration speeds, and 6 vibration patterns.
While it can be used during nearly any sex position, I like to have my receiver hold it against their own hot-spot during doggy style and spooning sex. And because it's 10 inches long but slim, it also fits seamlessly between bodies during classic missionary.
Do you use lube during strap-on sex? For hand, vaginal, anal, and solo strap-on sex, I do! Why? Because lubricant is the thing that reduces irritating friction and increases pleasurable slide and glide. Without lube, penetration can hurt and even injure the delicate genital tissues.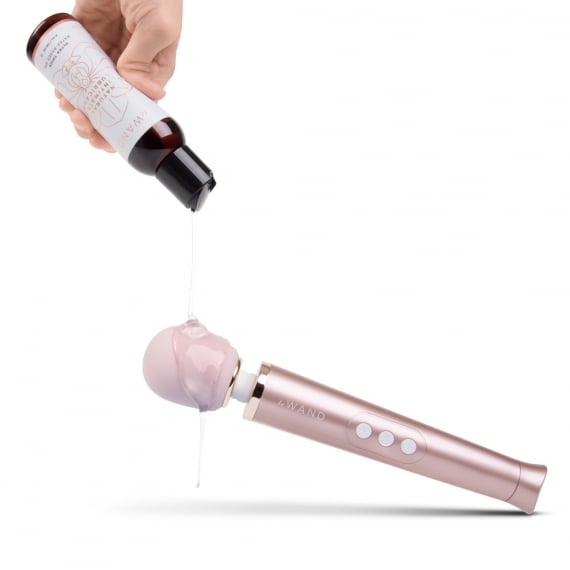 While dildos care available in a wide variety of materials, most harness-able dildos are made out of medical-grade silicone. Silicone toys can't be used with silicone-based lube (the silicone sticks to itself, which can warp the shape of your dildo!). That's where the Le Wand Natural Lubricant (ahem) cums in.
A water-based lubricant, this thick lube is compatible with any dildo of any material. The Le Wand Natural Lubricant will not ruin your sex toy, it will do the opposite of ruin (read: improve) your strap-on sex session.
I live alone, so I can stroll from sack to sink post-play to wash my dildo and sexessories without worry. And while not wanting to shock your roommates or parents is a good reason not to gallivant through the house with your just-used dildo, it's not a good reason to opt-out of washing your toys.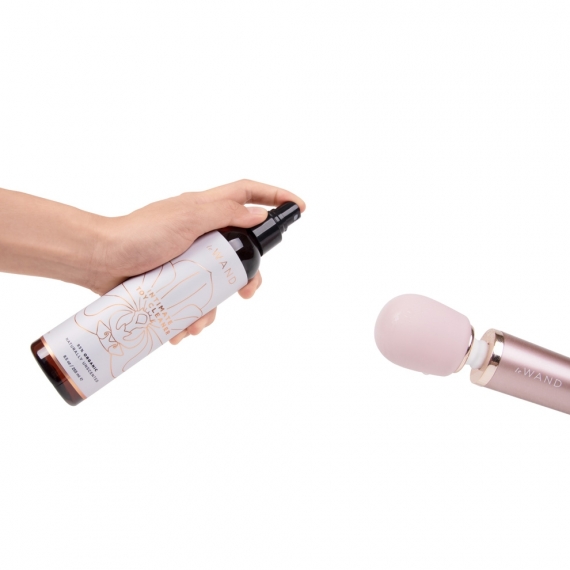 Bacteria can latch onto a toy and multiply exponentially. Even more alarming: because the genital tissues are sensitive, the invisible germs hanging from your pleasure products could lead to an infection like bacterial vaginosis, a urinary tract infection, or yeast infection. Pass!
Luckily, for cohabitors—and their coochies, cocks, clits, and cabooses—there's the Le Wand Organic Toy Cleaner. Made entirely of body-safe, but bacteria-killing ingredients, the Le Wand Organic Toy Cleaner helps remove unwanted sex leftovers (read: body fluids), without leaving any residue.
Hypochondriac levels tingling? Combine it with the b-Vibe UV Sterilizer Pouch for good measure!