TSA & Sex Toys: How to Get Your Vibrator Through Airport Security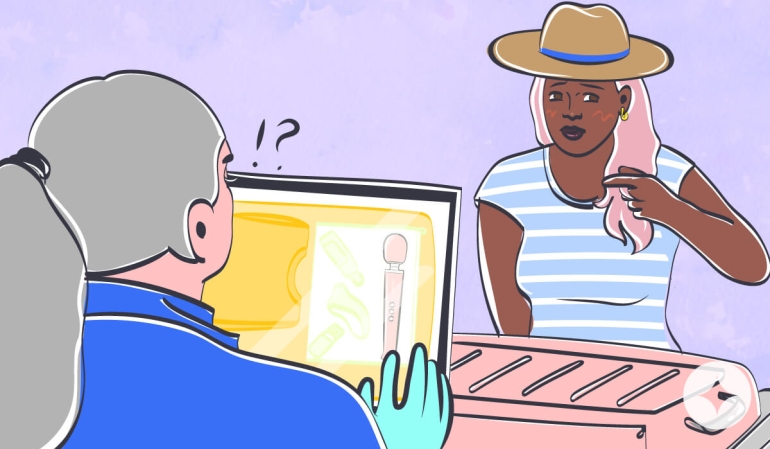 Here are 7 tips and tricks for traveling with sex toys and getting past TSA personnel with ease:
1. Check It & Forget It
If you're trying to avoid any awkward interactions with TSA personnel, play it safe and save some room for the toys in your checked luggage.
Remember, sex toys are fair game when it comes to security screenings. Electronic items with batteries or electric cords may trigger an alarm in the X-ray machine. If that happens, security officials might try to open the bag to make sure that the item doesn't present any danger.
2. Drain the Juice Before You Meet the TSA
If your toys do end up in your carry on luggage, there are specific measures you can take to avoid unwanted TSA attention.
If you're traveling with a battery-operated sex toy, take the batteries out before hitting the airport. If you're dealing with a rechargeable sex toy, you can always try draining it of juice before the flight. But maybe the most convenient option revolves around investing in a vibrator that comes with a built-in travel lock feature. It saves you time, energy, and peace of mind.
3. Pack Wisely
It's always possible that you'll encounter a moody and methodical TSA employee at some point during your travel. In such situations, it's still best to stay prepared. Think about packing your toys in a clear, zip-lock bag. In that way, if you get stopped and searched, security will be able to identify the item easily. It also keeps your sex toys safe, clean, and out of strange hands.
4. Leave the Kinky Stuff at Home
So you want to bring your favorite vibrator on vacation. Great. But do you need all of your OTHER accessories? Maybe not. It's possible that certain kinds of BDSM gear could cause problems with the TSA.
Whips, chains, and other heavy-duty equipment could be categorized as "weapons" and get taken away by TSA officials. If you're on the fence about what might make the cut, play it safe and leave the kinky stuff for your return.
5. Do Your Research
In most cases, it is entirely legal to travel with vibrators and personal massagers. But exceptions do exist when traveling to regions where pleasure products are banned by law.
If you aren't sure where these rules apply, make sure to do your research. Or better yet, let us do it for you. Customs officials in Thailand, Vietnam and the Maldives reserve the right to confiscate your sex toys upon arrival should you attempt to bring them in. Officials in Saudi Arabia, the United Arab Emirates or India might even take things a step further and greet you and your sex toy with a fine, or in more extreme circumstances, a detainment.
6. Don't Overreact
It's important not to overreact should your vibrator make an appearance during a routine bag check. At best, your interaction with airport security will get treated with respect and maturity- unless it's an airport sex toy prank for a bachelor or bachelorette, in which case they'll probably laugh at your expense!
If the TSA personnel need an explicit confirmation on what they are handling, answer proudly, and without shame. If the person you're dealing with fails to operate within this manner, you are free to assert some boundaries. You are free to refer to the sex toy as a "personal care item" and move on from there.
7. Know Your Rights
Last but not least, know that you can request any baggage search to be conducted behind a privacy screen. And if you feel as though a TSA officer has behaved in an unprofessional manner, you can request to see a supervisor to discuss the matter or file a formal complaint.
That's all there is to it! Put these tips to the test and say goodbye to toy-free adventures from here on.