How to Gift a Sex Toy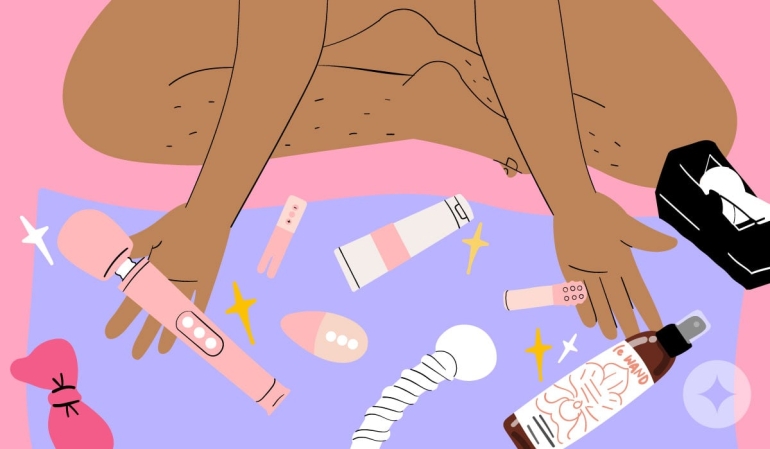 Last Updated: Feb 03, 2021
So you've got a special occasion to spread some good vibes, but you're not sure exactly how to share the magic? We've put together these helpful hints and tips to make sure your gift is expected and respected.
Do your homework
A good gift-giver is an educated gift-giver! If you're now to the sex toy party, don't worry, we've put together a comprehensive set of guides — from the majestic wand vibrators to the versatile mini vibrators and stainless steel sex toys — to help you pick the right pleasure product that you and your partner will enjoy.
Read up, show them that you care by understanding what turns them on.
Have "the talk"... or at least A talk
We all love a good surprise, but there's a fine line between surprise and shock. It is always the best idea to have a talk with your giftee about their interest and comfort level before booking that one-way trip to vibrator town.
If you're at the point in a relationship to be gifting a sex toy, then asking your recipient about it shouldn't be a nerve-wracking experience. One of the kinkiest and easiest ways to find out is by working it into your sex talk. Try talking about a sensation they enjoy and ask if adding a toy would elevate the experience. Like, "I love how you shiver when I touch you there, would you want to try it with a toy?".
This takes the taboo off the table (unless doing it on the table is your thing) by letting your partner build on your join fantasy and if that fantasy includes pleasure products.
If one or both of you are new to getting your vibe on, take the opportunity as a joint learning experience. Approaching your partner with a "Hey, I saw this toy that I think could be fun for us to learn together." This opens up the conversation as an activity you can both experience together.
What's Their vibe?
Now, you've got the consent and the fantasy. But, before you wildin' out on that Le Wand Contour, you should consider your partner's comfort and experience level. What kind of sensations do they react to? How experienced are they with pleasure play?
If touch and nipple play gives your partner the "ooh-ah-ah" sensation, consider a topical toy that is non-intrusive while stimulating the surface erogenous zones. If more advanced penetration play gets them going, a solid penetrative toy like Le Wand Bow can allow for versatility. Or for a well-rounded and versatile vibe, consider a starter Pleasure Set with changeable attachments that can be switched as they explore.
Do you have everything They need?
Sometimes, a sex toy can't be used directly out of the box (we'd suggest you clean it first in any case, buckaroo). Be sure if the sensation you're looking for requires an accessory you purchase together, or if the toy you're buying is penetrative that you also get some lube. (Nothing is worse than the joy of receiving a sex toy and the defeat of realizing there's no lube to use it with). If you're aren't sure what their perfect combination is, check out some of our bundles, perfectly assembled for outrageous orgasms.
Stick the dismount
With any gift, presentation is key. And when the present is a sex toy, it's probably not best to bust that baby out in the middle of your anniversary party at Olive Garden. Be discreet and make sure the gifting is done privately and with respect. It may even provide the perfect setting for an immediate test drive!