5 New Play Traditions with Sex Toys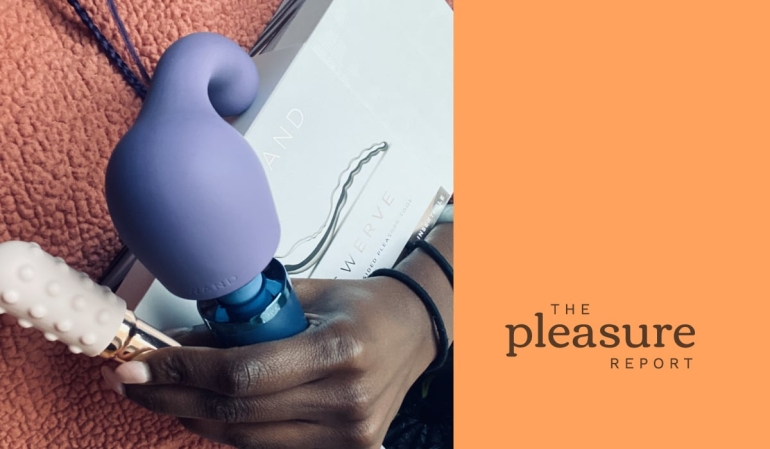 Last Updated: Mar 09, 2021
If your sex life hasn't changed during 2020, then where have you been hiding and give us the map! I'm sure by now, our new sex lives have us asking more questions on how to bang out the next level orgasm while trading old traditions for new ones. After all, we have the capability to utilize our bodies in marathoning pleasure for the win.
Here are 5 ways of creating new play traditions with sex toys.
1. Think in Multiple Uses
There's nothing wrong with buying a toy that works one way for you as opposed to your partner. Essentially, the idea of reaching climax and pleasure by using sex toys becomes super helpful when stimulating both inside and outside the body.
So, when shopping for new toys, ask yourself how will this stimulate my partner(s) AND myself? Two great products from Le Wand that can answer your question are the Le Wand Squirting Set and the Le Wand Swerve. Prostate owners can use this dop set to have mind-blowing orgasms just like vulva owners. Squeeze onto the bulb or allow one of the sexy vibration patterns on the Le Wand to knock, rumble, and purr onto the P-spot while having the external bulb rest along the gooch for increased stimulation.
Prostate Play: Learn How to Have (or Give!) A P-Spot Orgasm
The Swerve is an exciting double-ended pleasure tool catering to first time anal play that can be shared between partners quickly. Just imagine, using the Swerve's beaded ends to play with your butt, quickly wash with mild soap and water and pass off to your partner for them to use within minutes.
2. Add Fries to the Shake
So, you're searching for a toy that's non-vibrating and stumble onto the Le Wand Arch. This girthy piece is going to satisfy every pleasurable nook and cranny inside the body whether it's with your favorite lube or in the bathtub.
But have you ever thought about adding a bit vibrating (aka your fries) to the scene? Why? Because vibration will transfer from end to end effortlessly! And a great pleasure tool to add that vibration is the Le Wand Baton. This powerful, portable, and hella adaptable toy will allow you to feel vibration when you need just the tip to send a might vibration to your dense Arch. Control the Arch in one hand and trace your body with the Baton in the other. Start from the head and move smoothly down to your nipples, your pelvic area, and booty. Feels so good!
3. Shop the Pop List
I'm a strong believer of if it ain't broke, then don't fix it! And that goes the same way for most of my go-to toy selection. But this is 2020 and our world has been flipped every which kind of way so there's room for something new. So, shop the pop list or learn what's also recommended.
Utilize the web store to serve your needs by enhancing your experience by adding a Ripple or Curve Weighted Silicone Attachment for your Le Wand, the best water-based lube recommended, and techniques to achieve the ultimate pleasure granted experience. Most of us share similar sexual experiences and goals and Le Wand reflects that from blogs, to press to testimonials.
4. Make it a Combo
There's always a set for you as the Anal Massage & Education Set is the most versatile item dedicated to stimulating inside and outside the body. Want to have anal stimulation without penetration? Let's do it! Use the Le Wand Petite and Petite Curve Attachment to massage in-between the cheeks up and down while switching through the rumbly patterns.
Ready to get fisted or ride your partner's hand and don't want to get messy? Use the latex-free hand gloves to get knuckle deep and discard when finished. Warm-up the body with vibration and lube up your vulva or the anal canal with the lube applicator. Work on that pelvic floor with the Snug Plug in the booty or vag to achieve next-level orgasms. DP? Yes please! Use both attachment and plug for double penetration for us single cats and kittens solo play experience. Make it wet and use all of these pleasure tools in the shower.
5. Sweeten the Experience Right
Sensual care is important. So, end your purchase with Le Wand Natural Intimate Water-Based Lubricant and Intimate Organic Toy Cleaner. Have lube already? Well, how long has it been sitting in your naughty box? Does it have a bit of dust on the bottle or is the label slightly faded? Been out of toy cleaner for a while? Well then, my friend, it's time to reload and refresh your product. Most lubes hold a yearly shelf life due to some ingredients that can go bad and breakdown. If used, you may have a higher chance of causing a bacterial infection or irritation to our delicate pussies, penises, and butt holes. Ugh! So be sure to cart up with lube and toy cleaner along with your pleasure product purchase. Besides, we can never have too much lube in our lives.