5 Awesome Ways to Use a Wand Vibrator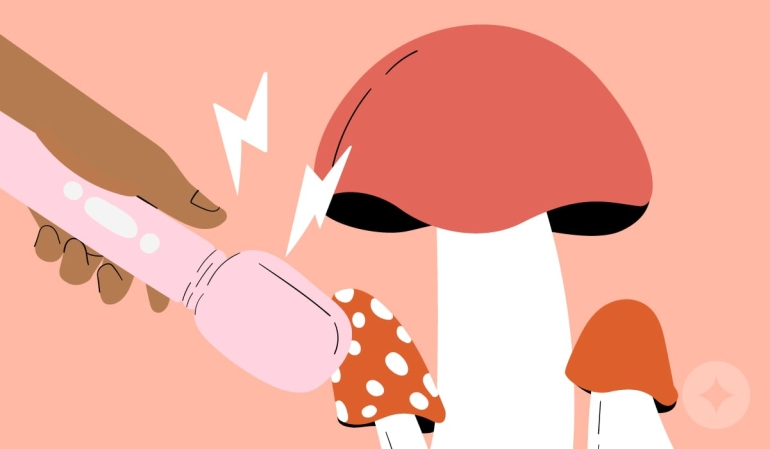 Last Updated: Aug 31, 2023
Wand vibes got a humble start as a "household appliance" in the 1960s and were frequently marketed as back massagers. I found a '70s version of the Hitachi at my grandmother's house a few years ago—see packaging for proof of just how thorough the "post-exercise massager" messaging is.
It didn't take long for people to realize their orgasmic potential, but it did take long for companies to be willing (and able) to acknowledge it.
Under the Comstock Act of 1873, it was illegal to send "indecent" or "obscene" publications through the mail and to own, sell, or gift an indecent or obscene item. That law didn't just affect toys and porn, it affected abortion and contraception legality, too. The Supreme Court eventually declared the Comstock Act unconstitutional in 1983, more than 100 years later.
Even though legally companies could now market their massagers as sex toys, many did not. Betty Dodson had popularized the wand vibrator (in particular, the Hitachi Magic Wand) in her body sex workshops, but Hitachi themselves didn't acknowledge the potential sexual purposes of their product until 1993, and even then, there wasn't a change in how it was marketed—that didn't come until 2013.
Today, wand vibrators are most commonly marketed as clitoral stimulation toys, but they're so much more than that. They can be used all over the outside of the body—regardless of the anatomy that you have. If you add an attachment, they can also double up as powerful G-spot and P-spot stimulators too.
Wands are an incredibly popular vibrator design for good reason—they're arguably the most versatile type of sex toy. They're also some of the most powerful and have helped countless people experience orgasm for the first time. Basically, wand vibrators give you the most bang for your buck.
If you're struggling to think of a way to use a wand other than on your clit (which is a perfect way, tbh), read on.
5 Ways to Use a Wand Vibrator
Wand vibrators can be used all over the outside of your body (and the inside, too, if you get an adaptor head). Not sure where to start? Consider this your pleasure to-do list. No matter which option you pick, remember to add lube!
1. Run it along the underside of the penis
The ridge that runs down the back of the penis loves the extra attention. You can lightly run a wand vibe from the frenulum to the base of the shaft and back again, pausing occasionally to extend the experience.
HEAD GAMES: 5 Ways to Use Vibrators for Penis Pleasure
Trans feminine folks may find this type of play especially affirming and enjoyable, too. If your genitals feel too sensitive for vibe-to-skin contact, try the same motion through underwear or a sheet.
2. Practice squirting with an attachment
A wand vibrator on its own is incredibly versatile, but if you add a wand attachment, the possibilities (and pleasure) are pretty much endless. The combination of strong vibrators, external clitoral stimulation, and internal G-zone stimulation makes for a gushingly good time.
Pro tip: Using an attachment can also make for incredible prostate stimulation.
3. Actually give yourself a back massage
The "it's a back massager!" excuse actually has some validity. Wands have a long history of being sold as back and neck massagers, and their powerful vibrators and broad head make them great for that.
There's no shame in using your vibe to get your rocks off, but there's also no shame in using it to get rid of tension in other places. For instance, a Shiatsu massage.
4. Use it for leisurely scissoring
Scissoring, or rubbing two clitorises together, can be a thrilling and pleasurable experience—but it can also be a pretty decent workout.
If you want a more leisurely experience, try wedging a wand vibe between you and your partner's vulvas. You can throw in some orgasm control play and give one partner complete control of the vibe's intensity.
5. Wield it for all-over sensation play
Wand vibrators make for incredible sensation play toys, especially when you pair them with a blindfold. Talk with your partner about the parts of your body and levels of intensity you're into and not into, then, blindfold yourself and give your vibe to a partner. Let them design your buzzworthy adventure—the anticipation is half the fun.
When you're taking a well-deserved break from all of those deliciously rumbly activities, you grab your wand and belt out your best Mariah Carey impression (hey, we told you it was versatile).