|
Masturbation Mythbusting
Masturbation Mythbusting: Why It's Important to Switch Up Your Sex Positions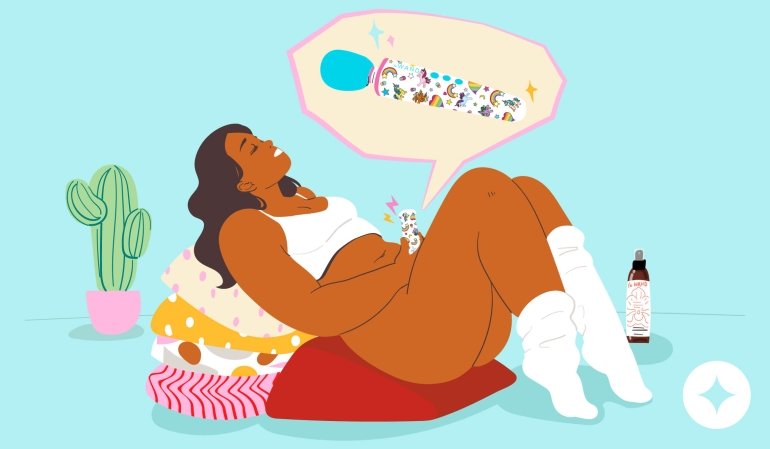 Last Updated: May 11, 2023
Solo sex is an integral part of any sexual identity for a number of reasons. The sex we have with ourselves is the most important sexual relationship we will ever cultivate in our lives. Don't believe me? Let's look at some of the reasons why we masturbate.
Solo sex has a variety of benefits including: better sleep, shorter and less painful periods (for vagina owners), increased confidence and self-image, relief of stress and sexual tension, better sex with your partner, higher overall sex drive, and it can help you relax and in general, boost your mood. Wow!
After reading all of that, it seems silly to think that we could ever feel guilty about touching ourselves when masturbation is clearly a tool of self-care. So let's dive into some of the most common myths about masturbation and how to find a new position (or three!) for yourself.
Myth #1: Masturbation is selfish, and being selfish is inherently bad.
Masturbation is selfish in the sense that it's something that's totally and completely for yourself. But that isn't a bad thing! If we peel back another layer and dive a little deeper from a holistic point of view, we can begin to see how solo sex is also a tool of self-love.
Masturbation is a wonderful and intimate way to reconnect with our bodies. We live in a world where body and mind generally seem to be divorced. Creating intentional space to devote to exploring our bodies and discovering where and how we derive pleasure is a sacred form of self-expression. Devoting time to our personal pleasure is a radical act of honoring our need to slow down and immerse ourselves in the present. In this form, masturbation is a grounding exercise.
Myth #2: Masturbation is just masturbation.
There are many benefits to solo sex beyond self-pleasure. Another valuable aspect of solo sex is that it can help us better understand our wants and needs. Being able to identify and communicate our wants and needs is a crucial element to any successful relationship, including the relationship we have with ourselves. How do we go about identifying these things? Patience, practice, consent, and compassion. Start by identifying your desires and holding space for them without judgment. It takes time to understand our bodies and how they operate. By being gentle, we take the pressure to perform off of ourselves and make our bodies more available to pleasure.
So often in solo sex, the sole intention of a session is to achieve orgasm. Most of us want to bust a nut and pass out after a long day, thus masturbation becomes a means to an end. When we remove the mindfulness from masturbation it becomes, in a sense, impersonal; more of an obligation than a practice in pleasure. Our instant gratification society conditions us to become impatient at anything that takes longer than 30 seconds. This is why, for some of us, masturbating can be frustrating if we have difficulties connecting with our bodies. Unfulfilled expectations of a quick and easy orgasm leave us feeling even more detached from ourselves, eager to fill the void.
Myth #3: If it ain't broke, don't fix it.
Because of these sexual anxieties, it's understandable that when we find a routine that works (works meaning it feels good and leads to climax) that we choose to stick with it. As the saying goes, "If it ain't broke, don't fix it!" As people, we are innately creatures of habit, but is that necessarily a good thing when it comes to solo sex? If the perspective we have of masturbation is as a means to an end, we might be satisfied in the immediate present, but it could potentially affect the future of our personal pleasure. Here's why it's important to switch up our sexual routines.
Masturbating in the same position with the same toy or in the same manner can routinely condition our bodies to only receive pleasure in that specific way. This can lead to a certain level of desensitization, making it harder and take longer to achieve orgasm, which can put a strain on personal and partnered sex and limit our pleasure potential.
To have a better understanding of our pleasure potential, it's important to take time to experiment with various toys, strokes, pressures, and positions. This will give us more information about our sexuality and how we receive pleasure. Our sexuality and our bodies are dynamic and change over time. Switching up positions and keeping our solo sex routine fresh will ensure we are connected and aligned with our pleasure potential in the present and future. The more open we are to receiving pleasure, the more pleasure will be integrated into our lives!
Switch up your solo sex positions!
Here are some fun positions to explore in your masturbation routine:
1. On Your Back
This is a popular position for strapon sex and for most folks because our genitals are easily accessible from this position, but if this is your go-to, challenge yourself to try something new. Spreading your legs wide in this position will open your body up to receive more pleasure. Also, moving your hips up and down (or in a circular position) will heighten sensitivity.
2. On Your Front
If you are a fan of grinding or dry humping solo, this is the position for you! In this position, you are lying face down and humping your hand, a pillow, the mattress, or your favorite toy. On Your Front is great for people who enjoy pressure on their clitoris. You can generate pleasure in this position fully nude or with your panties on for added friction and heightened stimulation.
3. On Your Knees
Where are my doggy-style enthusiasts at? On Your Knees is a table-top position that is fabulous for clit stimulation. Like in most of these positions, humping motions are recommended. Also, if you're into butt plugs (plugs, beads, vibrators, or any form of insertion), you'll want to give this a try. The angle of doggy-style makes access to your bum ideal for anal play- be it some light anal massaging, ass eating, or sex itself. It also allows full control over how deep you want your penetration to go.
4. The Assisted Lover
This position takes the classic On Your Back to the next level by focusing on G-spot stimulation. You can achieve this in a couple of ways. First, while lying down on your back, put a stack of pillows or a pillow wedge under the small of your back to elevate your groin (think p*ssy pointing at the ceiling). Second, sit up on your tushie and put a stack of pillows or the wedge behind you to recline on.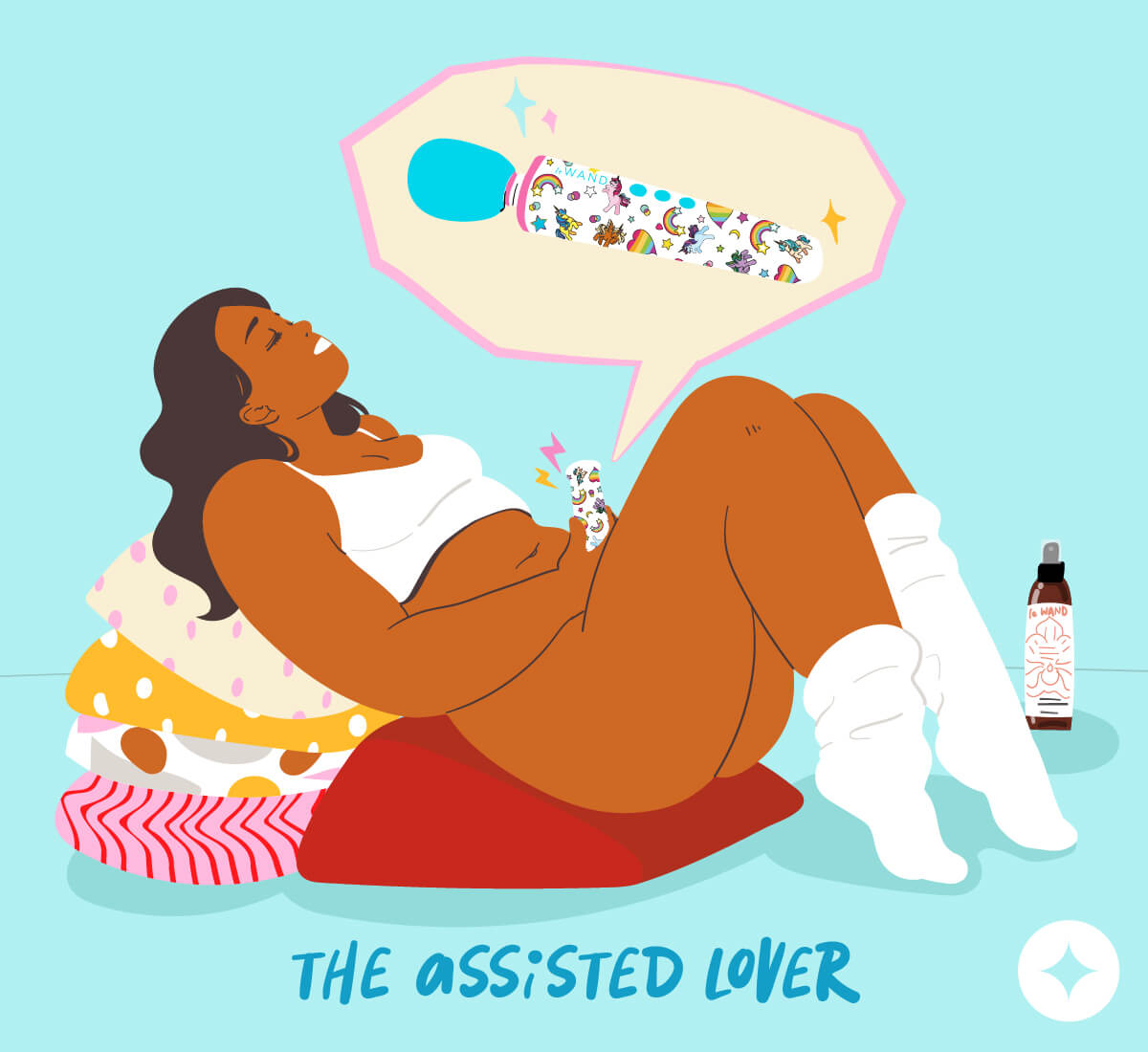 Reclining and lifted positions are great for g-spot stimulation and make self-penetration easy, pleasurable, and fun.
5. Mirror, Mirror
This position really turns it on! What's sexier than watching yourself get off. Utilizing a mirror in any position that feels most comfortable to you — and allows you to soak in your pleasure — is what this position is about. Watching yourself in a mirror gives you pleasure feedback in real-time, allowing you to see what pressures and strokes feel best for you. Mirror, Mirror is also great for building sexual confidence!
6. Stallion Squat
Naming this one after Megan Thee Stallion because she has the strongest knees in the game and is exactly what you should be channeling in this position.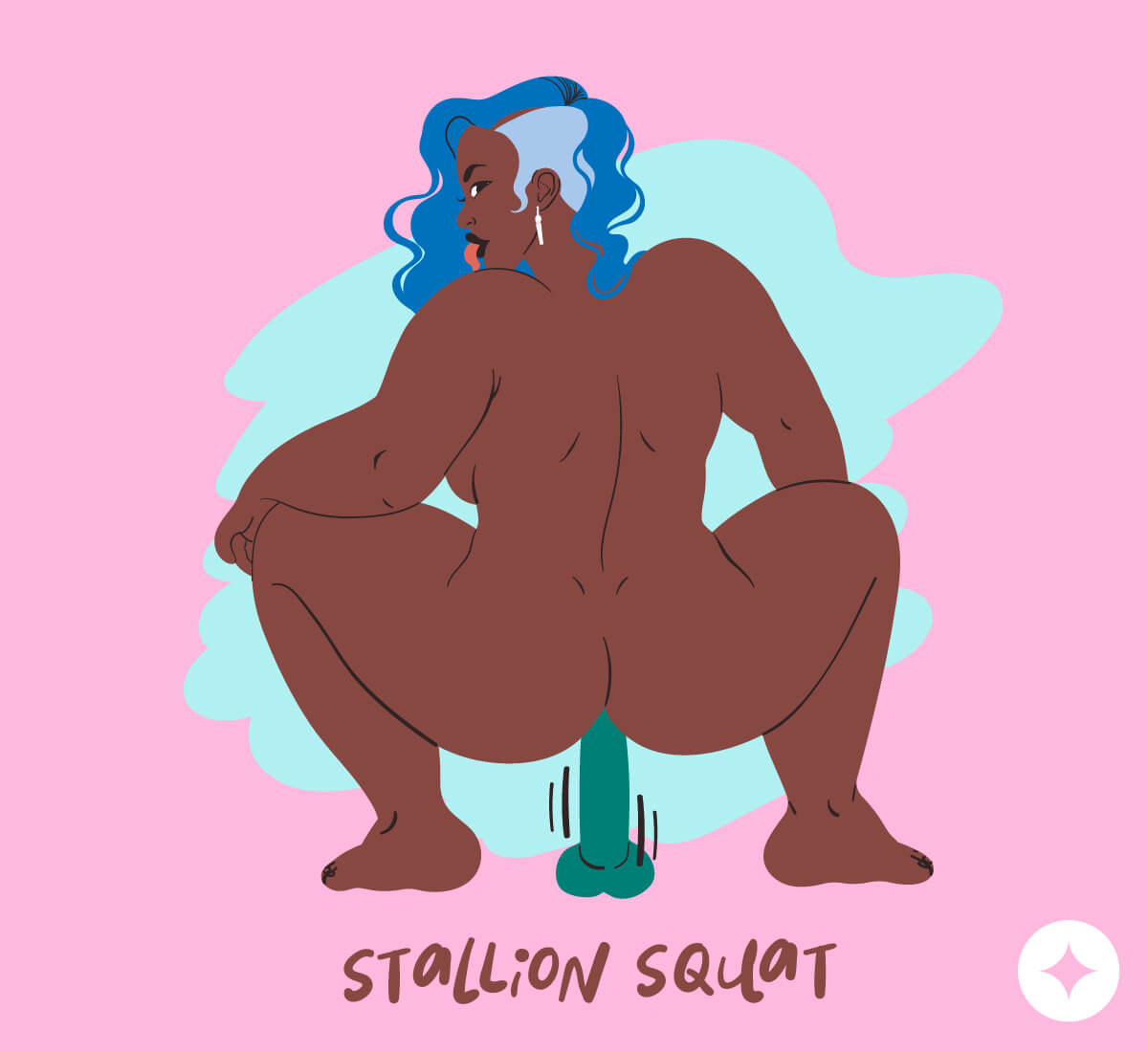 The Stallion Squat is for folks who love facesitting or using a suction cup dildo and lube (and the strength of your knees and legs). Lower yourself onto the dildo to penetrate your deepest erogenous zones. If your knee game isn't up to par, use a chair or a wall to assist you. Your comfort, as always, is a priority!
7. Lotus Butterfly
Perhaps after giving the Stallion Squat a try, you might want to relax into the Lotus position.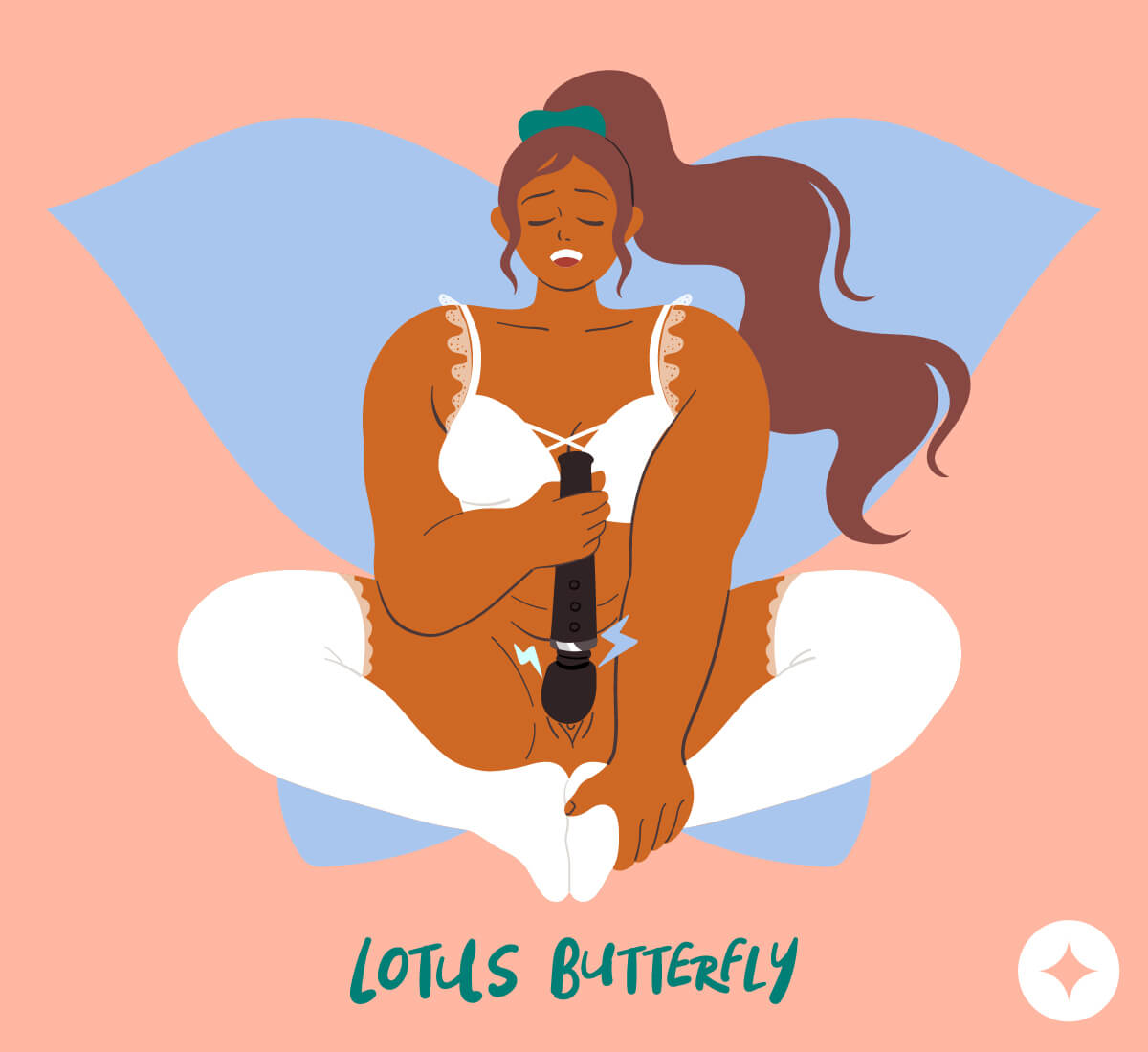 Sitting upright while spreading your legs, this position offers heightened clitoral stimulation and creates tension in your pelvic muscle, which can lead to stronger, more intense orgasms. If you really want to take things to the next level, try adding breathwork to this sexual meditation.
8. Wet N Wild
Some of you may be familiar with water sex or solo sex in the bath or shower. You can achieve this by running bath water over your clitoris or, if you're lunch enough to have a detachable showerhead, standing and directing the stream of your nozzle head over the same area. One of my favorite things about this position is that it gets you out of the bedroom and into a space in which you might not normally masturbate. Sometimes, just getting out of the bedroom and masturbating in another safe and discreet location is enough to make your body feel alive again! Get creative in your apartment, but be mindful if you have roommates.