How to Have Public Sex Without Getting Caught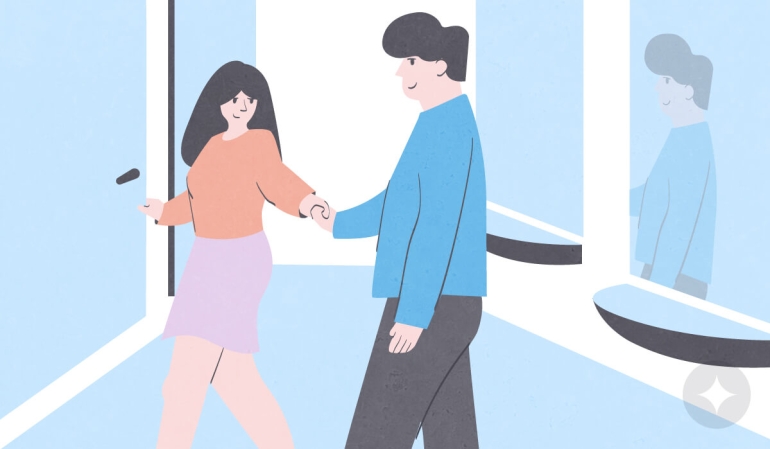 Last Updated: Sep 20, 2021
Ever had sex on a beach, given or received a handy in a hot tub, cum in the back of a parked car, or are a card-carrying member of the Mile High Club? If you answered Y-E-S to any of these sexuations, congrats (!), you've had public sex.
What is public sex?
As you might guess, any sexual interaction that happens in a place that is public property, and/ or can be (potentially) seen by the public qualifies as public sex.
Public sex can be a turn-on for a number of reasons and is one of the most common items on folk's Sex Bucket List. "For some, there's an adrenaline rush and thrill that comes from the risk of people [being] caught," explains Daniel Saynt, founder of NSFW, a club hosting sex-positive events and workshops. "Others are exhibitionists who want to be seen and get a high from the idea of others enjoying looking at you." And for others, it's a turn-on because it signals that they are desired by their partner so much that the partner can't stand to wait until they're not in public, he says.
So, what do you need to know about purposely not getting a room—and having sex in public? Scroll down for your public sex crib sheet.
How to have sex in public without getting caught
Before you dive in clothes-off, an important word of warning: In the United States, having public sex is illegal. The charge depends on the specific act, where the public sex act was performed, and the state that you're in. But charges of public indecency, indecent exposure, lewdness, and obscene displays are all possible risks.
"You may even have to register as a sex offender if you romp took place near a school or if one of your onlookers happened to be a child," says Saynt. Public sex is a risk game, which is why precautions should be taken before. So let's all pledge to be Responsible Law-Abiding(ish) Citizens, shall we?
Another disclaimer: There is also the possibility that someone secretly films or photographs you and your partner without consent. Due to the easy-to-upload nature of many (unethical) porn sites, it's possible that the content gets uploaded and circulates the world wide web. Is that likely? Probably not. But considering any recording could be forever, Saynt recommends keeping this possibility in mind, "especially if you're planning to run for a public office eventually."
Further, it's not cool to bone somewhere where an ~unsuspecting party~ could stumble across you. Anytime you can hear, see, or smell you have sex, they become part of that sexual scene and their consent is required.
How do I prepare for having public sex?
Because public sex isn't risk-free, you and your partner should craft a Public Sex Plan—ideally when you're *not* turned on.
1. Location & Time
Start by talking through where you might want to play. And get detailed because shagging outdoors at sunrise is a wayyy different fantasy than getting it on at the zoo after-hours. (Doggy to the smell of dung, anyone?). Time of day matters, too. Saynt says, "Dusk is always a good time for public sex as the sun begins to set, but mid- and late-night romps are also decent options." The why is pretty obvious: it's harder to get spotted at night.
2. Sex Toys
You're also going to want to make/ bring a play pouch with any necessary sexcessories and clean-up aids. The most important thing here is knowing your body and sex-style. Does your go-to sex position require loads of lube? Do you enjoy holding a Le Wand Deux against your clit while your partner thrusts into you from behind? Pack your supplies.
3. Cleaning Accessories
Other important things to consider: Do you squirt from clitoral stimulation? Does your man blow a large load from a prostate orgasm? Does wanking make you sweatier than a workout does? Get yourself some wet wipes, a rag, hand sanitizer, an absorbent blanket, or a change of underwear for easy clean-up. And if you pack a vibe or strap on, you'll need either sex toy cleansing wipes or a plastic baggie to transport your toy in until you get home.
4. Noise!
Also, do you tend to make a lot of noise? If so, you might want to consider picking someplace, say, near a well-traveled highway. Or plan to kiss as your life depends on it before you O. Or bring a gag, if you're into that.
"You're also going to want to come up with an alibi and an escape plan if you do get caught," says clinical sexologist Dr. Megan Stubbs, Ed.D. Just remember: having a fool-proof escape plan doesn't give you the green light to have irresponsible public sex. K?
How do I get in the mood for public sex?
Candidly, "public sex is best suited for quick romps, so you should try to get your pleasure as fast as possible to limit your chances of getting caught," says Saynt. That means warming up before meeting up.
Daniel's suggestion: sext your Hook-Up all day long to build the anticipation. Spell out for them exactly where you're planning to taste them. Or, let someone else's words do the work for you. Send them your favorite erotic soundtrack or erotic short story.
Also hot: meet your boo at a bar and pretend to be strangers. "Role-playing is hot and can infuse the situation with an even greater sense of novelty and adventure," says Stubbs. After flirting and teasing each other for an extended period of time, head to your planned hook-up hideaway.
Where should I have public sex?
Location, location, location is everything, Babes. According to Saynt, one of the most responsible ways to have public sex is to go to a sex party, adults-only resorts, or kink-focused events.
To find events in your area, hit up Google or ask your local sex shop. Then familiarize yourself with the rules of that space and do a deep-think with your boo on your boundaries.
Best places to have public sex
Sex clubs not yours or your partner's thing? Don't worry there are a few options for you, too #abundance. Scroll down for a few places experts have tried & tested:
1. Weddings
"If you're a public sex newbie, a wedding or a big party is a great route," says Saynt. "You can get wild on the dance floor and let your fingers find places to titillate and play." When you're ready, you should be able to find a bathroom, or a coat room closet where you can experience almost getting caught. "You're in a private space in a public space, so you're less likely of getting the attention of police," he says. Plus, everyone's an adult so you'll keep the kiddies safe.
2. Public Bathrooms (or Closets!)
Why wait until a wedding or Bat Mitzvah to make sure of the public restroom or closet? "Single-stall bathrooms will work, but please wipe down the services your bodies will be touching before boning," says Stubbs. Ha! Fair. Oh, and don't forget to wash your hands on the way out...
3. Music Festivals
"Music festivals like the Burning Man are a utopia for those looking to engage their inner exhibist," says Saynt. The easiest route? Wait until sundown then find a tucked-away corner. Or, get it on in a tent after hours.
4. The Beach
"The beach is a pretty common place for folks to get it on, especially at night," says Saynt. Wait until night time, then sneak away to a spot that's not heavily traveled.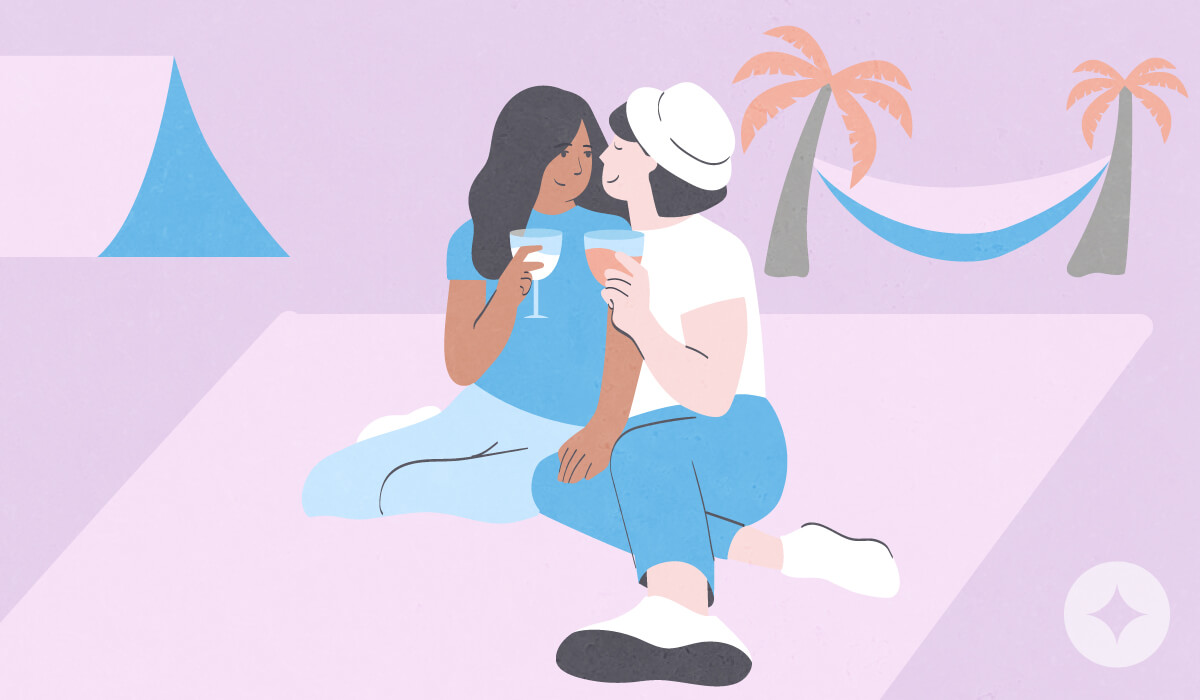 Don't skimp on the blankets or towels for the ground. Nothing's worse than getting sand in your snatch.
5. Family Gatherings
Getting frisky during a family gathering or friendsgiving in a spare bedroom or bathroom is also pretty safe, so long as your cool with your Aunt Becky or Pal Sally making a joke about your partner's package.
If you can use it without screaming, go ahead and bring your fave buzzy buddy in with you. You can't go wrong with any of the six discreet mini vibes from the Le Wand Chrome collection. Try placing any of the vibes on your bud as your partner penetrates you with a penis, dildo, or finger.
6. Hotels
Vacation sex? The best sex. Make it hotter by going to a hotel with public-facing windows. Keep in mind that during the day, sunlight creates a glare on the windows making it impossible to see inside. At night, that's not the case.
Pssst... Don't forget to pack your Complete Le Wand Pleasure Set for G-spot and A-spot stimulation.
Public sex is alluring, but how can I do it in a safe way?
Avoid copping a fine and/ or unfairly subjecting a passerby to your charade by knowing your surroundings. That means knowing when the spot is the least busy, making sure there are no surveillance cameras, and having an exit strategy. "Failure to plan for the worst-case scenario is planning to fail," says Stubbs.
And keep it simple. Now's not the time to rock your new romper or test out the wheelbarrow position. "Make your bits easily accessible by skipping the belt and underwear and choosing clothes that quick undress and redress in the event of getting caught like a dress or sweats," says Saynt. Manual sex (fingering, fisting, and handjobs), standing penetrative positions like Doggy and 3-Legged, and heavy petting are best.
If this all sounds like a heck of a lot of prep, Stubbs recommends opting for shared space within your own home (that's outside of the bedroom!) instead. Hallways, kitchen counters, the back patio, a car parked in the driveway, and the basement can all be settings of your erotic public sex fantasy. "You're still upping the sense of adventure, the risk-of-getting-caught factor, and creating an endorphin boosting scene," she says.
Ready, set, O-baby!